It is a place haunted not so much by the ghosts of those imprisoned within, but by the words they left behind on the walls.
Deep inside the dusty bowels of Raqqa's stadium – an infamous ISIS headquarters from where the terror group is said to have plotted attacks on the Western world – are a series of makeshift cells.
Some, squat toilets, have been converted into solitary confinement or torture chambers. Yet one room stands out, with names and time served etched onto the white walls, where ISIS held those they suspected of betrayal or espionage.
Most eerie are a series of sentences, scrawled in English in weak ballpoint pen, just above one of the holes militants punched through the walls, allowing them to move between the rooms without using the more perilous corridors. The tiny manifesto reads:
"If you are reading this, there are four main reasons why you are here. 1. You did the crime and were caught red-handed. 2. Using Twitter GPS locations! Or leaving GPS locations upon switched upon "turned on" the mobile phone (sic). 3. Uploading videos and photos from a sensitive WIFI internet source, i.e. you need your Amir's permission which you didn't get. 4. A suspect! Off the street! The Police have a good reason to do this! Be patience! Be Patience! Be Patience! The enemy of the Muslims Satan will do every whispering while you stare at the wall or the floor."
Just above it is the name of Hussam al Khwaj, "killed 25/2/16." Elsewhere, the names of former occupants can be seen alongside the length of their time incarcerated. Abu Maria - 113 days. Abu Hussein Duar (In Russian), writes "nightmare" under his name. Abou Karam, from France. It isn't clear who was released and who executed.
Related: US-backed forces delcare 'total liberation' of ISIS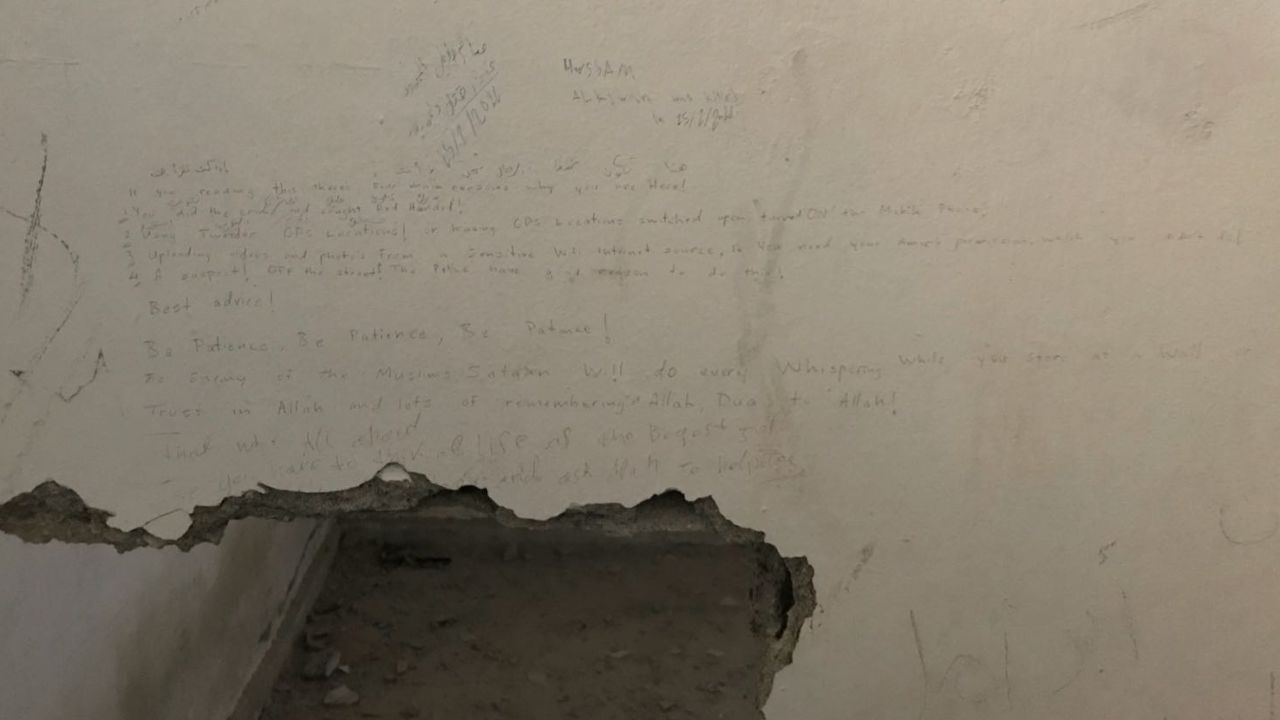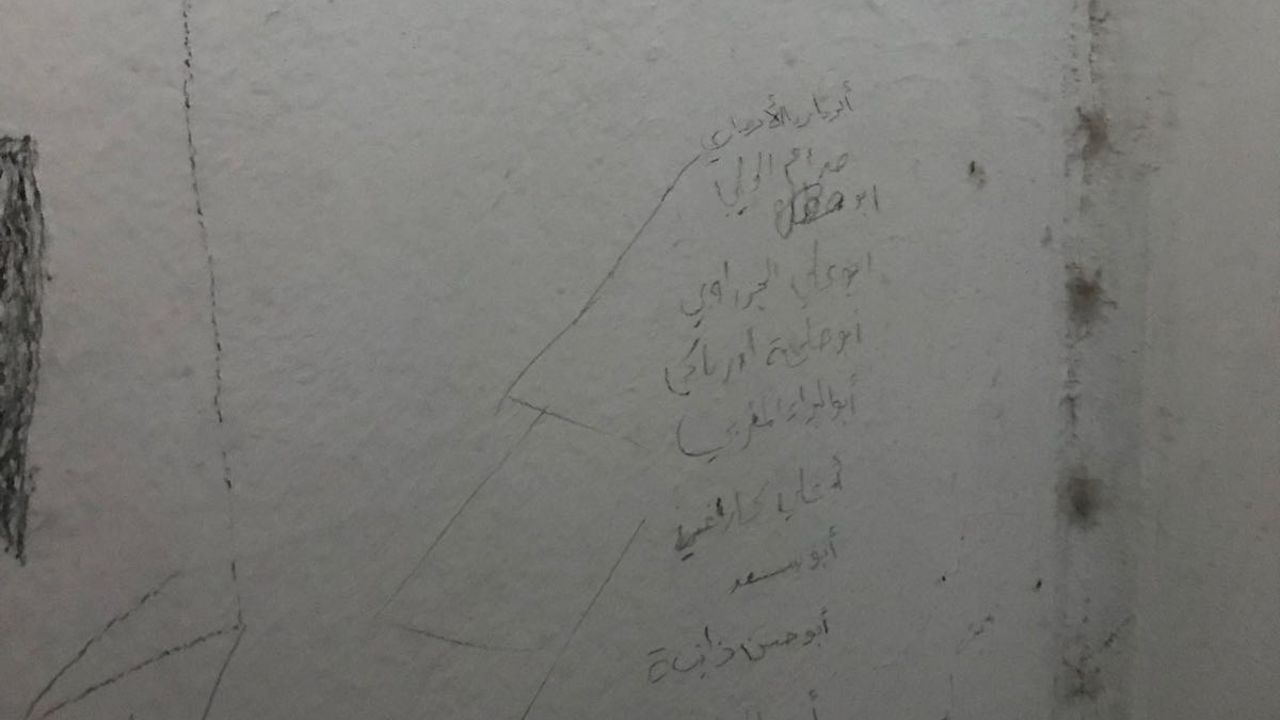 Endless shells litter the floor, along with rubble and crude homemade targets – circles on paper that ISIS fighters clearly used to practice their aim.
The battle to liberate Raqqa has been a global fight, and through the stadium walk a few international volunteers. One of those is Mike from the UK, whom I met a few months ago, and doesn't really want to answer the toughest question they face now: how do they get home? (The way out is a minefield of borders between states that only half-exist, and closed airspaces).
Another volunteer, 24-year-old John from Colorado, is less concerned about that. He left his sleepy job in customer support for an IT firm, but never expected he would be on the frontline in Raqqa.
"It's sad now that we are not fighting any more", he admits, adding he enjoyed it. "(I got) like 70 meters (from ISIS), you could see them running in the street. Better than sitting in the desert drinking tea, so yeah."
The fighting wasn't as intense as he expected, he says, adding "a lot of American money went into the bombing." He had no military experience and doesn't intend to join on his return. I ask whether he will go back to computing: "Probably not that," he replies.
Down the corridor, they drag a large metal sheet away from the mouth of a deep shaft in the concrete floor. One fighter from the Syrian Democratic Forces, the US-backed group that defeated ISIS, drops a large rock down it followed by a lit paper to show how deep this underground network runs.
What is startling about Raqqa is less the destruction – ISIS leave most cities in that state of repair, and the coalition bombing spared few buildings – but the utter absence of human life.
Even in the Old City of Mosul, Iraqis crept back in quickly even as the fighting continued. Here, there is nobody.
The SDF warned locals not to return as the city is heavily mined, and that warning has been heeded. Absolutely nobody is here at all, bar the victors.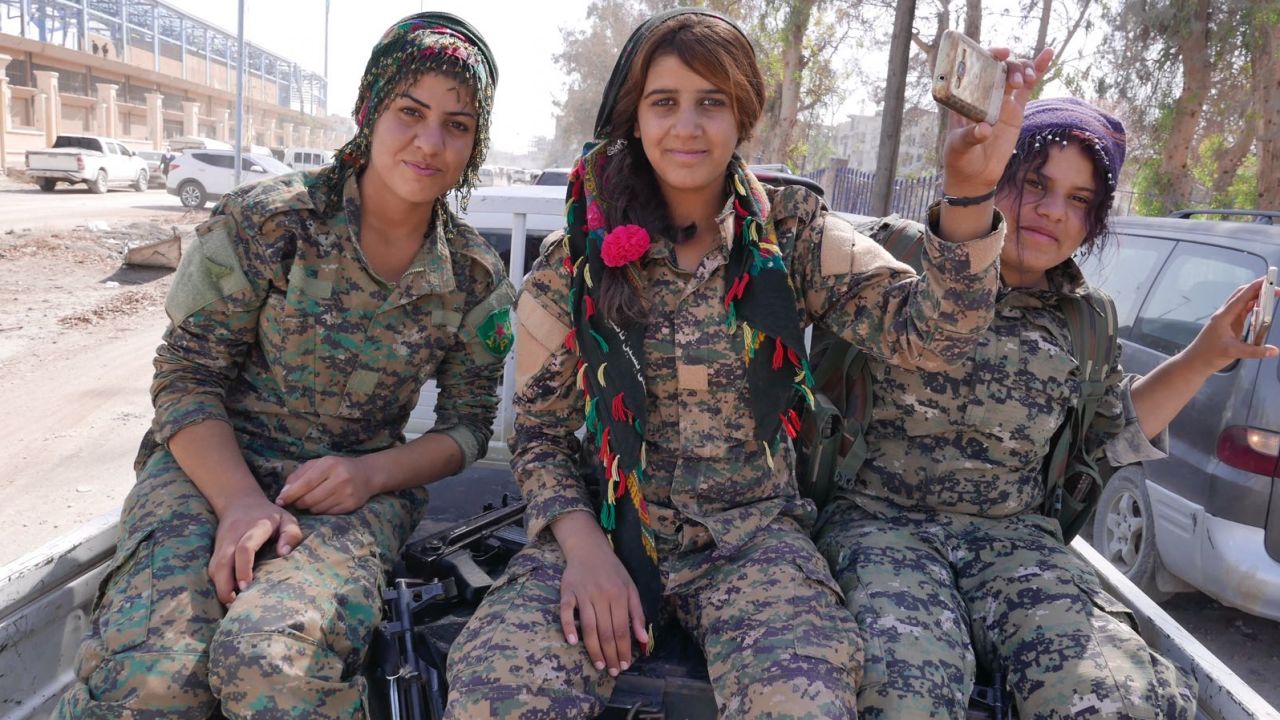 Perhaps the only building that was spared total evisceration is the national hospital – possibly because ISIS held hundreds of human shields inside, before a deal with the SDF meant they were taken away by foreign fighters as they fled, one SDF soldier said.
In fact, the SDF has been very speedy at collecting even ISIS bodies: we saw only one in the streets. The other fighters – the locals who surrendered in a deal about a week earlier – have met a rosier fate.
An hour's drive away, up the road around the dust and squalor of a refugee camp where most have fled to live in poverty, are a set of new and shiny white tents, marked with the name of a prominent British charity.
Inside live 200 ISIS fighters and their families. We are not allowed to talk with them, but they sit apart from the other displaced, their fate even more uncertain.