Story highlights
Anonymous STD tests aim to bypass social stigma
Nigeria has one of the highest rates of HIV infection in the world
Government, health experts cautiously support self-testing
Sexual health tests in Nigeria can be a harrowing ordeal.
In addition to the anxiety of discovering their results, visitors to public clinics must face the stigma around sexual activity that remains prevalent in Nigerian society.
"People stare a lot when you go for testing, especially if you are unmarried," says Vivian*, a cosmetics store manager from Abuja.
"They look at you like you are wayward or naughty."
Many Nigerians escape social judgment by avoiding tests, with deadly consequences. In a country with one the world's highest rates of HIV infection, just 10% of the population has been tested for the disease, according to government statistics.
Prevalence of Hepatitis B, another sexually transmitted killer, is even higher.
But Vivian is one of the first customers of a service that allows Nigerians to avoid choosing between their safety and their reputation.
Anonymous service
SlideSafe packages are brightly-colored and give no indication of their contents.
"You could have it in front of your mother and she wouldn't know," quips company founder Florida Uzoaru.
The Lagos-based startup is distributing self-testing kits for HIV, Hepatitis B and Syphilis on a strictly anonymous basis, as well as contraceptives for men and women.
Users can order the packages through the company website for between 2,000 to 7,500 Naira ($5-20), and then perform simple blood tests in their home, receiving the results in 15 minutes.
SlideSafe provides provides a step-by-guide to the process, as well as counseling before and after the test for users who are often nervous.
The major challenge for the company is to earn public trust, says Uzoaru, who has a degree in public health policy and a background at healthcare NGOs.
"People are very sensitive about sexual health and want to know you can be trusted," she says. "Trust comes from people knowing you are reliable, but our customers don't want to tell other people about us because of the stigma."
These are early days for SlideSafe, which has sold around 600 kits in the Lagos area. But Uzoaru has big plans to expand into new cities, to test for more diseases, and to establish a dedicated sexual health clinic.
Qualified support
There is growing support for self-testing as a method of controlling sexually transmitted diseases (STDs) in Nigeria.
The head of the National Agency for the Control of HIV/AIDS (NACA) has given a qualified endorsement of self-tests, with the caveat that the products must be government-approved and used in conjunction with expert counseling.
A survey of policy-makers and stakeholders found a majority in favor of introducing self-tests for HIV.
Medical experts in the field are also supportive.
"The self-test is a wonderful alternative to visiting a healthcare provider," says Dr. Brandon Brown, an epidemiologist at UC Riverside School of Medicine who has studied infectious diseases in Nigeria. Such kits can be particularly useful for high-risk groups who are less likely to visit a public clinic, he adds.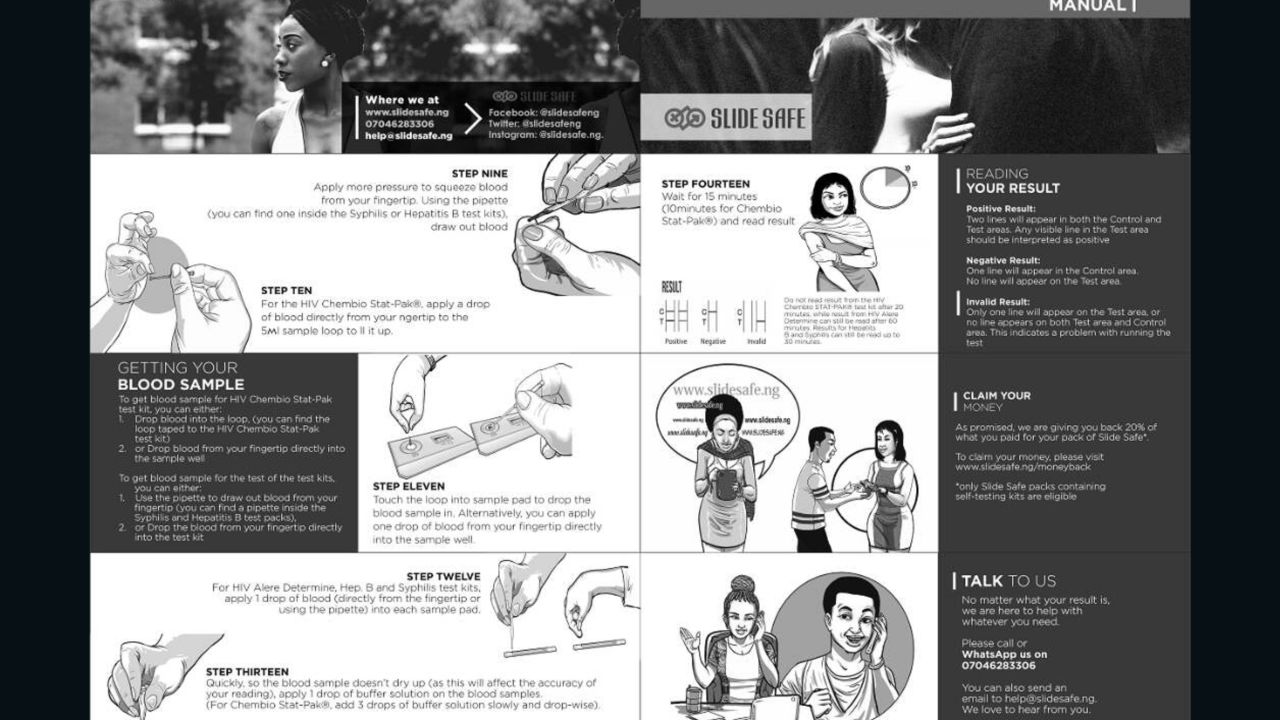 But Brown notes that there are also risks associated with self-testing including "suicide for those who discover they are HIV positive without proper counseling, and potential partner violence if the self-test is discovered."
Damilola Junaid, director of a sexual health NGO called ARISE Africa Foundation, believes SlideSafe kits will improve access to tests and treatment but do not eliminate the need for expert guidance.
"The rapid kit only checks for surface antigens (toxins)," she says. "If a patient is diagnosed as positive, a confirmation test is done, and this is when counseling and the healthcare providers play a crucial role."
This partnership is critical to avoid eroding public trust in the healthcare system, says Junaid, which could have damaging consequences.
Out of the shadows
Junaid also believes self-testing must be part of a wider overhaul of sexual health provisions in Nigeria, involving "healthcare providers, educational institutions, government, media and patients."
She suggests that priorities should include improving sex education in schools, and training more specialist nurses.
Uzoaru agrees that profound cultural change is required. She hopes that SlideSafe can be part of a movement toward bringing sex out of the shadows and into the open, so that anonymous services are no longer required.
"I want to get to the point where we can talk about sex publicly," she says. "For now, we are redesigning our packs to be even more discreet to make it easier for people to get the help they need."
"But we should not continue this way. I hope we can get to a point where we don't need to hide."
*Name changed to protect identity