The 80-year-old woman's suicide note was ready when the volunteer nurses knocked on her door in the northern coastal town of Rio Grande. She'd had enough.
"Her caretaker was abusing her," Bita Mehrjou, a New York-based nurse assisting with relief efforts in Puerto Rico, said Thursday. "She was alone. There was little food and water. The situation wasn't getting better. She wanted out. She tried taking all her pills."
It's been three weeks since Hurricane Maria plowed across the island.
Since then, Puerto Rico's 3.4 million American citizens have been plagued with power outages and a dangerous shortage of drinking water. More than a hundred people remain unaccounted for. Animal corpses rot in stagnant water, providing a breeding ground for infection and disease.
Over all of it, the shadow of debt looms. The estimated cost of Maria's damage is $95 billion – almost an entire year's economic output for the island.
For many, desperation has taken over. Mehrjou, traveling across the island since last week with more than 20 American Federation of Teachers nurses and health professionals, said the elderly woman who contemplated suicide was rushed to a hospital after the nurses alerted the town's mayor.
In a phone interview, Mehrjou said her team also came across a woman trapped on the sixth floor of an assisted living facility. She had not eaten in three days. They met an elderly woman with a gangrenous foot. She was bedridden and dehydrated. Her heart rate was in the 180s. Her family could not get her an ambulance.
The nurses met a colon cancer patient who had been unable to receive chemotherapy for three weeks, Mehrjou said. One family lacked the psychiatric drugs needed to control the violent behavior of a 30-year-old relative. So they kept him locked in a hot room.
"People are scared," she said. "They're not sure what to do."
Trump: Sending aid too burdensome
As Puerto Ricans continue to struggle to find basic necessities, President Donald Trump criticized the island's dated infrastructure and implied that sending aid there was becoming too burdensome.
Puerto Rico's unbelievably slow recovery in 2 depressing charts
"We cannot keep FEMA, the Military & the First Responders, who have been amazing (under the most difficult circumstances) in P.R. forever!" Trump tweeted.
San Juan Mayor Carmen Yulin Cruz, who has feuded publicly with the President over the federal response to Maria, said his "actions are unbecoming of a leader of the free world."
"Your tweets and comments just show desperation and underscore the inadequacy of your government's response to this humanitarian crisis," she said in a statement. "It is not that you do not get it. It is that you are incapable of empathy and frankly, simply cannot get the job done."
So how is Puerto Rico faring? If the federal government pulls resources from the US territory, is the island ready to move on without aid?
The short answer is, absolutely not.
"Everybody that we're seeing is quite desperate and desperate in a different way," said Andrea Gentile, an Oregon-based nurse practitioner traveling with the AFT group.
"We saw an elderly woman who was being cared for by her nearly equally elderly daughter. The woman was in her early 90s, her daughter in her 70s. And this little woman grabs my hand, looks me in the eye and says, 'I am just terrified and all I can do is cry.' Everywhere we turn there is an equally desperate story."
How bad is it?
RICARDO ARDUENGO/AFP/Getty Images
So far, Maria has claimed the lives of 45 people in Puerto Rico, and that number may climb, as 117 others remain unaccounted for. "You can expect that most of those missing people are dead," said John Mutter, a Columbia University disaster specialist who studied the death toll after Hurricane Katrina.
Mutter believes the number of dead in Puerto Rico is considerably higher. "It's just seems implausible that it could be so low," he said.
Some 83% of Puerto Ricans have no power. That means no internet, no way to get cell phones working, and limited means to communicate or get information.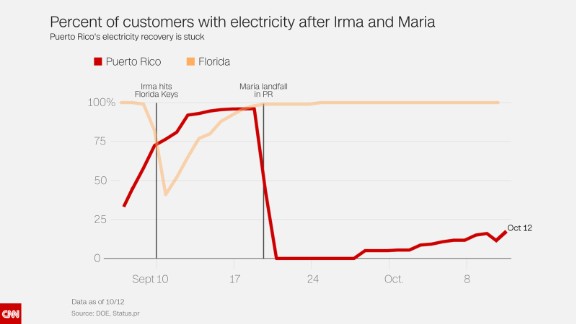 The drinking water situation is particularly dire. Thirty-six percent of Puerto Ricans are without potable water. That's more than 1.2 million people who are struggling to find a most critical resource. The situation is so bad that the US Environmental Protection Agency recently revealed some desperate citizens are trying to break into wells at hazardous wastes sites just to get water, even though the water there is unsafe to drink.
Waterways on the island provide no safe relief. Raw sewage continues to spill into rivers and streams. Urine and fluids from animals, dead and alive, mix with chemicals and human sewage, meaning the water isn't just dangerous for drinking. It's dangerous to be around at all.
How bad can it get?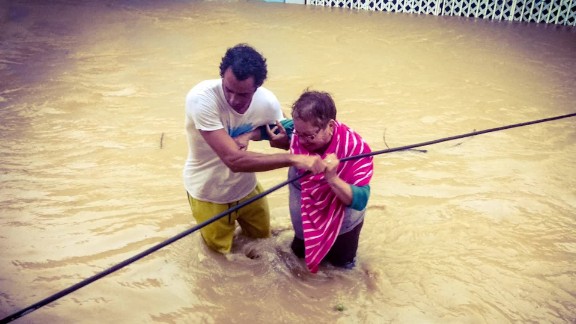 The water shortages and power outages aren't independent problems. Until both are solved, residents of the island will be in very real danger.
Already two people have died of leptospirosis, which spreads when the urine of infected animals gets into drinking water. This public health threat won't be fully mitigated, the EPA says, until waterways and infrastructure are repaired and power is restored.
If boiling water to make it safe for drinking is not possible, the EPA has recommended disinfecting it with bleach.
What is the government doing?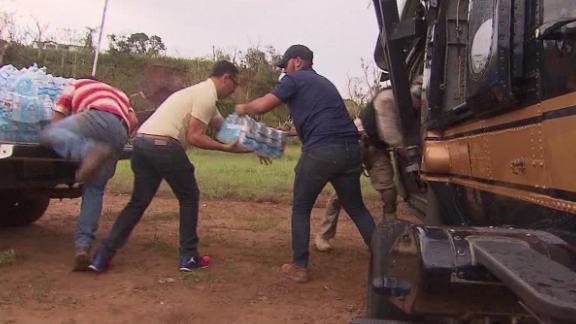 Today, the House approved a $36.5 billion disaster aid package for Puerto Rico. This includes almost $5 billion in potential loans and almost $19 billion for FEMA's depleted Disaster Relief Fund.
According to FEMA, 19,000 civilian and military personnel are supporting the federal relief mission.
This week, FEMA also approved a $70 million assistance package for the Puerto Rico Aqueduct and Sewer Authority for emergency repairs.
How you can help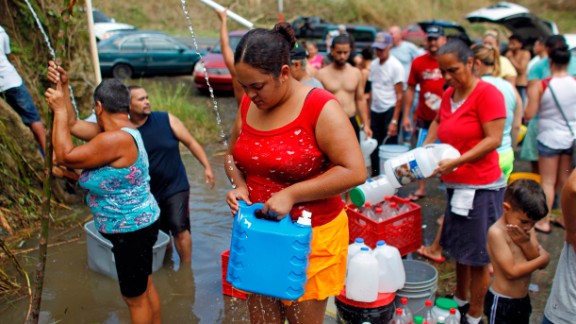 RICARDO ARDUENGO/AFP/Getty Images
There are several ways.
Donate money: Find out more about charities aiding Hurricane Maria victims by clicking on the button below:
Give your time: Puerto Rico will also need volunteers. Voluntary Organizations Active in Disaster can help match you with groups on the ground that are responding.
Donate needed supplies: Here's a Google spreadsheet with a list of places to drop off donations.