(CNN) —
It's Thursday, and here are five things to know for your new day.
1. North Korea
Hopes for a DACA deal diminished dramatically after the White House put out an aggressive list of demands. The Trump administration wants tougher immigration and border security measures, crackdowns on sanctuary cities, green card restrictions and money for the President's border wall. Those are all non-starters for Democrats, whose votes will be needed to OK a deal that would let the so-called Dreamers – undocumented immigrants brought to the US as children – stay. President Trump said he would end DACA but gave Congress a six-month window to come up with a fix.
And stories of heartbreak and survival are starting to emerge. Like the grade-school sweethearts – married for 75 years – who perished in the fire. But there's also tales such as the dog in Santa Rosa who saved the lives of her owners. 
2. DACA
Well, you knew it was coming. Outgoing Tennessee Sen. Bob Corker publicly criticized President Trump a few days ago. Trump struck back over the weekend via – what else? – his Twitter feed. The President claimed Corker begged him for an endorsement (something Corker's team denies) and said he didn't "have the guts" to run again.
Nevertheless, the Trump administration continues to say that things are going well and that the recovery will take some time given the hurricane's magnitude. The acting head of the Department of Homeland Security will make a second trip to the island today. And House Speaker Paul Ryan will lead a bipartisan delegation there on Friday.
Just three days. That's how quickly Harvey Weinstein was fired from the film company he co-founded after an investigation by The New York Times detailed numerous sex harassment allegations against the media mogul. The board of directors at The Weinstein Company said the decision was made because of the new information on Weinstein's alleged misconduct. Since the Times story broke, it also became clear the company would lose some clients if Weinstein remained.
4. Kenya election
A week of extreme political uncertainty begins. After last week's referendum, the president of Catalonia vows to declare independence for the self-governing region any day now. But Spain's Prime Minister promises to use every tool within the law to stop that, including threatening to invoke a never-before-used clause in the Spanish constitution to suspend Catalonia's autonomy. The standoff has plunged Spain into its most serious political crisis in four decades, since the country transitioned to democracy.
As for the timeline of what happened, Clark County Sheriff Joe Lombardo said authorities' account of the shooting, which was changed Monday to reflect the fact that the security guard was shot before Paddock opened fire on the concertgoers, could possibly change again as more information becomes available. "Nobody's trying to be nefarious. Nobody's trying to hide anything," Lombardo said.
4. Immigration
The Department of Homeland Security is reportedly looking at ways to change the nation's immigration system – without waiting on Congress. Multiple sources say the department is considering subtle changes that would have big consequences, such as limiting protections for unaccompanied minors who come to the United States illegally, expanding the use of speedy deportation proceedings and tightening visa programs in ways that could limit legal immigration. The Trump administration has asked Congress to OK a tough overhaul of the nation's immigration laws.
5. Tropical Storm Franklin
As the former Hurricane Nate drags across the US as a tropical depression, another storm system is swirling in the eastern Atlantic. And it looks likely it'll be a tropical storm – named Ophelia – by the end of the day. There have been 14 named storms, nine of them hurricanes, already this year. That makes 2017 the most active hurricane season since 2005. And there's still eight weeks to go before the season ends.
QUOTE OF THE DAY
"We hurt for you and we hurt with you, but you can be sure that we're gonna walk through these tough times together every step of the way."
Hillary Clinton, telling CNN's Fareed Zakaria that she was "sick" and "shocked" at the sex assault allegations against media mogul Harvey Weinstein. The former presidential candidate also said she would donate the money Weinstein gave to her political campaigns to charity.
BREAKFAST BROWSE
People are talking about these. Read up. Join in.
One long table and a pair of giant eyes. That's all you need (plus food and drink) to have a giant picnic down on the border.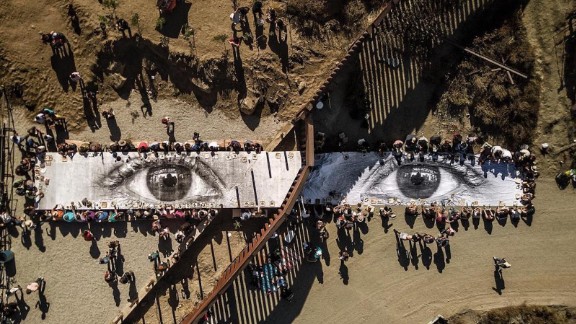 Kindle H20
Amazon's finally made a waterproof Kindle, because we all need access to reading material, whether under the ocean or in the bathtub.
A true treasure
This Leonardo da Vinci painting of Christ sold for $60 in 1958. It's expected to fetch $100 million at an auction next month. Now that's a nice return on an investment.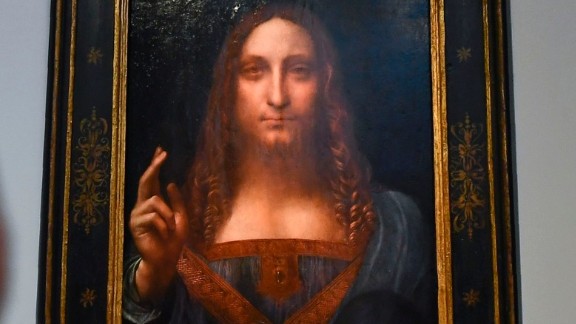 Coming out
A college student accidentally outed herself to her dad on National Coming Out Day, but then she got a bigger surprise.
NUMBER OF THE DAY
50 pounds
Actor Craig Robinson dropped the pounds by working out, going vegan and giving up alcohol.
AND FINALLY …
We know the feeling
It's almost Halloween, and you know what that means – dressing up poor helpless dogs in ridiculous costumes. (Click to view.)