Story highlights
USMNT lose 2-1 to last-place Trinidad and Tobago to end qualifying hopes
Leo Messi runs riot to book Argentina's place in Russia 2018
For the first time since 1986, the US Men's National Team will be watching the World Cup from home.
Falling 2-1 to Trinidad and Tobago, the US failed to qualify for Russia 2018. An early own-goal from Omar Gonzalez set the tone for the defeat, before Alvin Jones doubled the Trinidad and Tobago lead on 37 minutes.
Despite a fightback, which included a goal straight after the half-time break from 19-year-old Christian Pulisic, American hearts were to be broken, with the defeat plunging the Americans into fifth place in the CONCACAF table.
"We didn't qualify for the World Cup," USMNT head coach Bruce Arena said following the game.
"That was my job. To get the team qualified for the World Cup … This game in my view was perfectly positioned for the US team and we failed on the day," Arena continued. "We have no excuses. We failed today. We should have walked off this field with at least a point."
Ashley Allen/Getty Images North America/Getty Images
The final round of qualifiers in CONCACAF also saw Panama put Costa Rica to the sword, and Honduras eke out a 3-2 win against table-topping Mexico.
The US result could not have been a bigger shock – heading into the final game of qualifying, the Americans were safely within the automatic slots, with only a point needed to secure their tickets to Russia.
But the wins by Panama and Honduras, coupled with their unexpected loss to the last-placed CONCACAF team in Couva, dropped the US team to fifth.
The Panamanians'$2 2-1 victory saw them in third place and guaranteed them a debut World Cup appearance in Russia next year, alongside fellow regional qualifiers Costa Rica, who finished second, and Mexico, who topped the table.
Photos: Russia 2018 World Cup qualifiers
Photos: Russia 2018 World Cup qualifiers
Photos: Russia 2018 World Cup qualifiers
Photos: Russia 2018 World Cup qualifiers
Photos: Russia 2018 World Cup qualifiers
Photos: Russia 2018 World Cup qualifiers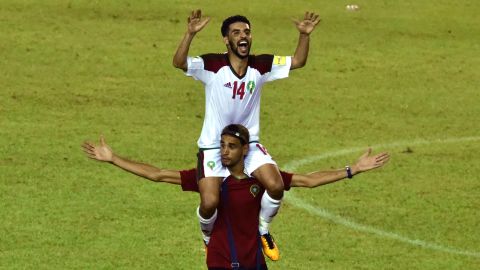 Photos: Russia 2018 World Cup qualifiers
Photos: Russia 2018 World Cup qualifiers
Photos: Russia 2018 World Cup qualifiers
Photos: Russia 2018 World Cup qualifiers
Photos: Russia 2018 World Cup qualifiers
Photos: Russia 2018 World Cup qualifiers
Photos: Russia 2018 World Cup qualifiers
Photos: Russia 2018 World Cup qualifiers
Photos: Russia 2018 World Cup qualifiers
Photos: Russia 2018 World Cup qualifiers
Photos: Russia 2018 World Cup qualifiers