Story highlights
Michael Nutter: The NRA and GOP want you to think their support of bump-stock regulation makes them rational Second Amendment protectors
Nutter: We need real gun safety reform, not political distraction. How many have to die before this happens?
Editor's Note: Michael A. Nutter is a CNN contributor, a Columbia University/SIPA professor of professional practice in urban and public policy and the former mayor of Philadelphia. The opinions expressed in this commentary are solely those of the author.
The National Rifle Association thinks you're stupid.
Mark Makela/Getty Images
Realizing the outrage of the American public that someone could take a cheap device known as a "bump stock" and convert a killing machine, an AR-15 rifle, into a weapon of mass destruction on the streets of Las Vegas or Anytown, USA, they've decided to throw us all a big bone. Drum roll please … the NRA has announced and told their supporters in Congress that it is OK to support "some regulation" of bump stocks!
It is an amazing display of disingenuous and cynical political sleight of hand that, in a week in which America has seen death and maiming delivered rapid-fire in the most deadly mass shooting of Americans in modern history, the NRA grudgingly agrees that some regulation of these devices is OK.
And, you should best believe and know that they will be at the negotiating table with Congress trying to make those regulations as lenient as possible, because that's what they do! Let us not be fooled that this is a breakthrough or a change in behavior on the part of the NRA or its water-carrier, the Republican Party.
This is a political pivot designed solely to make you believe that they are rational champions of the 2nd Amendment, even as they simultaneously block every reasonable effort to make Americans any safer from gun violence.
Photos: Worst mass shootings in the United States
Photos: Worst mass shootings in the United States
Photos: Worst mass shootings in the United States
Photos: Worst mass shootings in the United States
Photos: Worst mass shootings in the United States
Photos: Worst mass shootings in the United States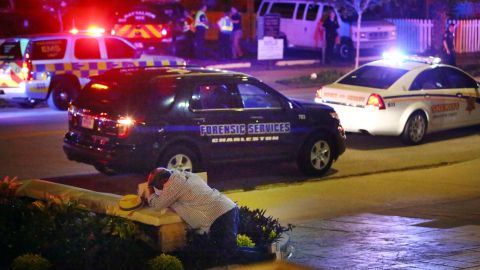 Photos: Worst mass shootings in the United States
Photos: Worst mass shootings in the United States
Photos: Worst mass shootings in the United States
Photos: Worst mass shootings in the United States
Photos: Worst mass shootings in the United States
Photos: Worst mass shootings in the United States
Photos: Worst mass shootings in the United States
Photos: Worst mass shootings in the United States
Photos: Worst mass shootings in the United States
Photos: Worst mass shootings in the United States
Photos: Worst mass shootings in the United States