Story highlights
The US military has maintained a small presence in the northwest African country
The attack occurred approximately 200 kilometers north of the country's capital Niamey
(CNN) —
Three US Green Berets were killed and two others were wounded in southwest Niger near the Mali-Niger border when a joint US-Nigerien patrol was attacked Wednesday, US officials told CNN.
A US official told CNN that initial indications are the Green Berets were ambushed by up to 50 fighters who are thought to be affiliated with ISIS.
US Africa Command, which oversees military operations in Africa, issued a statement Thursday saying the two wounded US service members were "evacuated in stable condition to Landstuhl Regional Medical Center in Germany."
Officials told CNN that French military Super Puma helicopters evacuated the wounded Americans along with those killed in action while also providing covering fire.
The attack occurred approximately 200 kilometers north of the country's capital, Niamey, in southwest Niger, according to the statement from Africa Command.
Five Nigerien soldiers also were killed in the attack, according to a Nigerien security official.
The officials cautioned that this was still an early assessment. The Green Berets were part of a team advising and assisting local forces when they were attacked.
A US defense official told CNN that operations are underway in the area to locate the attackers.
A spokeswoman for the French Ministry of Defense confirmed that French troops from the Barkhane anti-terror force based in Chad are currently involved in an operation in Niger. She said the operation is being led by Niger and the French troops are there to support them.
She added that no French soldiers were killed during Wednesday night's ambush.
US Africa Command confirmed in a statement Thursday morning that three US service members were killed in the attack and said the names were being withheld pending the notification of next of kin.
"US forces are in Niger to provide training and security assistance to the Nigerien Armed Forces, in their efforts to counter violent extremist organizations in the region," the statement said.
President Donald Trump was briefed on the attack by chief of staff John Kelly, White House press secretary Sarah Sanders said Wednesday night.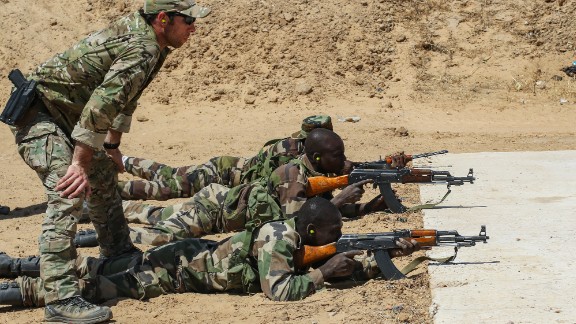 Staff Sgt. Christopher Klutts/Digital/U.S. Africa Command
Supporting role for US military in Niger
There are about 800 US troops in Niger, and the US military has maintained a presence in the northwest African country for five years, with small groups of US Special Operations Forces advising local troops as they battle two terrorist