(CNN) —
You know things are going badly when even the writing on the wall falls off.
British Prime Minister Theresa May's attempt to relaunch her faltering premiership was badly derailed Wednesday when a keynote speech was marred by an interruption from a prankster, a prolonged coughing fit and finally the disintegration of the stage set behind her.
An often excruciating address to members of her party was punctuated by coughs, splutters and brief interludes to sip water. May was left fighting to finish, barely audible, in front of a packed hall full of delegates at the Conservative Party Conference in Manchester.
May, who lost her overall governing majority in the last election, had hoped to relaunch her premiership with her keynote speech. But soon after beginning her address, she was accosted by comedian Lee Nelson, real name Simon Brodkin, who strolled up to the stage and handed her a P45 – a form that UK employees are given when they leave a company, similar to a "pink slip" in the US.
Brodkin, who has performed similar stunts in the past, including throwing money over former FIFA President Sepp Blatter at a press conference in 2015, told reporters that he was put up to it by Foreign Secretary Boris Johnson, a former rival to May in her leadership bid. "Boris told me to do it," he was heard as saying – presumably in jest.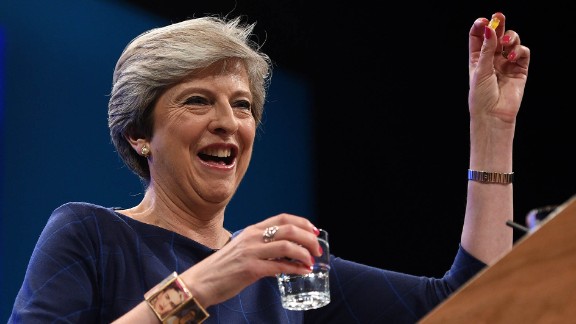 OLI SCARFF/AFP/Getty Images
While May managed to shrug off the incident as Brodkin was led away by security, she was unable to recover from coughing fits that plagued her.
To compound her misery, part of the stage furniture began to fall down as she continued to struggle on. Two letters fell from the slogan behind May, which had read: "Building a country that works for everyone," until the "F" in "for" and the final "E" in "everyone" dropped to the ground.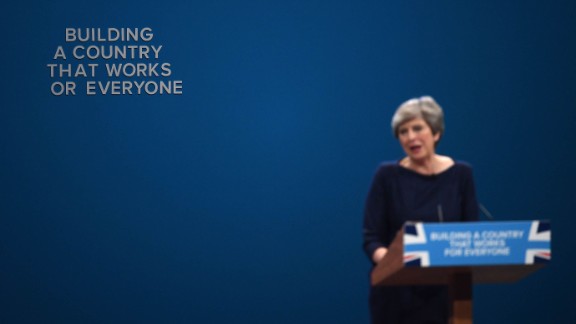 Carl Court/Getty Images
Delegates rose from the floor to cheer encouragement, while her finance minister, Phillip Hammond, came to the stage to offer a cough lozenge.
After the speech, the beleaguered Prime Minister tried to make light of the mishaps, posting a photograph on Twitter showing a view of her desk complete with a copy of her speech, her official red box and multiple types of cough medicines.
Greater Manchester Police later said that Brodkin was briefly arrested but released shortly after.
Chief Superintendent John O'Hare confirmed that Brodkin had legitimate accreditation that gave him access to the conference site before adding that the accreditation process will be reviewed with the Conservative Party.
For May, the timing was particularly cruel, amid continued speculation over her leadership after the poor result in a general election she called for June.
She was fiercely criticized for calling the snap election and used the speech to apologize for a campaign that she labeled as "too scripted, too presidential."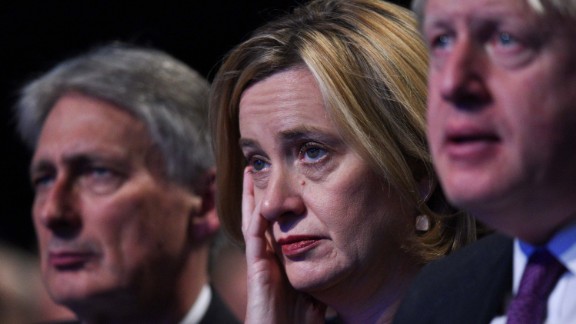 OLI SCARFF/AFP/Getty Images
"We did not get the victory we wanted because our national campaign fell short. It was too scripted, too presidential and it allowed the Labour party to paint us as the party of continuity when the public wanted to hear a message of change," she said.
"I hold my hands up for that. I take responsibility. I led the campaign, and I am sorry."