Story highlights
Las Vegas massacre took the lives of a nurse, a teacher, a police employee and many others
"He saved my life," the wife of one victim said
One was a man who died shielding his wife from gunfire on their wedding anniversary. Another was a city of Las Vegas employee who died in his boyfriend's arms. And two others were a veteran corrections officer and his girlfriend who died on the trip they had planned for weeks.
At least 58 people were killed and nearly 500 others were injured Sunday night, authorities say, when a gunman fired on an outdoor country musical festival from the 32nd floor of a Las Vegas hotel in the deadliest mass shooting in modern American history.
Here are the victims' stories:
Andrea Castilla
FROM Andrea Castilla/Facebook
Andrea Castilla was holding hands with her sister, Athena, at the music festival when the gunfire erupted, according to a GoFundMe page set up by her family. She was shot in the head.
Her boyfriend, Derek Miller, Athena and her fiancé, Shane Armstrong, carried Andrea out of the concert venue as bullets continued to rain down, according to the fundraising page. They stopped a passing truck to take her to a hospital, where she died.
"Her beautiful soul will live on forever," her father, Gus, wrote on Facebook. "I will think of her every day. … I feel Andrea is now an angel in heaven."
In another post, her father added, "I will cry my self to sleep… Daddy misses you."
Castilla worked at Sephora in Huntington Beach, California. A company statement said she was "known to her colleagues … for her vibrancy, liveliness, caring and consideration of others."
Carrie Parsons
From Facebook
Carrie Parsons, 31, was "always the life of the party and had the biggest heart," her aunt Barbara wrote on Facebook.
"We lost our beautiful niece to a totally senseless act in Las Vegas," Barbara Parsons wrote. "There really are no words to describe the pain of missing Carrie on our whole family. … Recently engaged, she had her whole life in front of her."
A Seattle-area resident, Parsons was at the Las Vegas music festival on a trip with her girlfriends, CNN affiliate KOMO reported.
"She would always say, 'live, laugh, love' and she did that," her friend Laura Cooper told KOMO.
Parsons, a lover of country music, had a "vibrant, bubbly personality," her friend Robbie Walden told CNN affiliate KCPQ.
Austin Meyer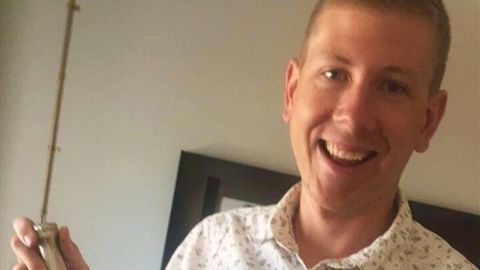 Meyer family/KSBW
Austin Meyer, a Marina, California, resident, was at the concert with his fiancée Dana Getreu to celebrate his 24th birthday, according to CNN affiliate KSBW. They were also celebrating an upcoming anniversary.
Meyer had recently moved to Reno, Nevada, where he was an automotive student at Truckee Meadows Community College, the school said in a statement.
"He was a wonderful young man and my future son-in-law," Getreu's father, Gary, said in the statement posted on the college's Facebook page.
"He loved attending the automotive program at your school and praised it all the time. … The loss and grief his family and mine feel at this time is beyond belief."
Mayer hoped to open his own auto repair shop after graduation, according to his sister, Veronica Meyer.
"He was excited to get married and start a family," she told KSBW.
She described her brother as "ambitious, smart, and hard-working," and said he "always had a smile on his face."
Brett Schwanbeck
From Facebook
Brett Schwanbeck, 61, attended the music festival with his fiancée, Anna Orozco, who survived and told his family he had been fatally shot, according to his niece, Carla Van Hoosen.
"Brett was a great man that was funny, generous, kind, loving and so full of joy," Van Hoosen wrote on a GoFundMe page she started for his family's expenses.
"He would drive 500 miles to help you if you needed it. He loved his family dearly and cherished lake trips, family gatherings, hunting, camping and spending time with his kids and grandkids."
The Bullhead City, Arizona, resident died from his injuries Tuesday at Sunrise Hospital & Medical Center in Las Vegas. The retired truck driver is survived by five siblings, three children and five grandchildren.
Teresa Nicol Kimura
Nicol Kimura
Teresa Nicol Kimura, known as Nicol, was at the concert with six friends, said Ryan Miller, pastor at For His Glory Community Church in Fullerton, California.
Miller was among those friends. He said they all scattered when the shooting started. After the rest of the group reconnected, the friends learned Kimura had died.
Kimura, 38, of Placentia, California, worked for the California Department of Tax and Fee Administration in Irvine.
"Nicol's heart was bigger than most human beings, her spirit was beautiful, her laugh was infectious, and she just had a way of making every time we gathered an awesome one," Miller wrote on a GoFundMe page he started for her family. "She made you jealous of how much she loved life. And if you didn't know her, you missed out on a better life than the one you have."
Responding to the news, the press office of California Gov. Jerry Brown wrote on Twitter, "Sad to learn @cdtfa employee Teresa Nicol Kimura was a victim of the Las Vegas shooting. We send sincere condolences to family & coworkers."
Keri Lynn Galvan
from facebook
Keri Lynn Galvan, 31, lived in Thousand Oaks, California. The mother of three was a server at Mastro's Steakhouse.
"Her days started and ended with doing everything in her power to be a wonderful mother," her sister Lindsey Poole wrote on a GoFundMe page created for the family. "She was senselessly murdered on October 1st, 2017 while enjoying a night out with her husband and friends."
Tilman Fertitta, chairman and CEO of Landry's Inc., Mastro's parent company, said the company is deeply saddened by Galvan's death.
"Keri was with our Mastro's family for almost 10 years and was a valued member of our team," Fertitta said. "Our condolences go out to her family and all those who knew and cared for Keri. We are raising funds internally to help support her family during this difficult time."
Rocio Guillen Rocha
Rocio Guillen Rocha/Facebook
Rocio Guillen Rocha and her fiancé were in Las Vegas to celebrate a friend's birthday, and the couple were at the concert when she was shot.
She was taken to a hospital but didn't survive, her family said.
A resident of Anaheim, California, she leaves behind four children, including a son born just weeks ago.
She was an assistant manager at a California Pizza Kitchen restaurant – and she once struggled through what was once feared to be permanent paralysis, said her eldest son, Marcus Guillen, 18.
"She was paralyzed having my brother" years ago, Guillen told CNN. "She had a blood clot in her spine. The doctors said she would never walk again. She proved everyone wrong. She was able walk. After that, she ran half marathons.
"She did everything she could. She always fought for us. I want (people) to remember just how much a fighter she was and how much she worked and how much she provided for us."
She is survived by her fiancé, Chris Jaksha, and her children: Marcus; Christopher, 13; Sofia, 1; and a 1-month-old, Austin.
Patricia 'Pati' Mestas
From Facebook
Patricia "Pati" Mestas, 67, attended the festival with some friends and was near the front of the stage when the shooting began, her cousin Tom Smith said.
Mestas was a retired gas station, convenience store and deli manager from Menifee, California, and she loved country music, traveling and her family, Smith said.
"This was the best part of her life," Smith said, adding she talked of having time now to be with her grandchildren. "I remember the almost constant laughter."
Smith recalls spending time with Mestas in March after their last remaining uncle died. He sat next to her at dinner. "It was difficult for life to defeat her," he said. "I remember her being able to talk about the good things, rather than talk about illnesses, like older people do. She loved to laugh, loved to smile – a big smile that would line up the whole of her face."
Mestas leaves two brothers, three children, eight grandchildren and one great-grandchild.
Brian Fraser
Nick Arellano
Brian Fraser of La Palma, California, attended the festival with about 20 people that included his wife and children. Nick Arellano, the oldest of Fraser's four children, described him as "the most involved parent."
He coached his children's football and baseball teams and was in the school parents' association. Arellano was 11 when Fraser married his mother and adopted him. The couple had three other children, who are ages 17, 10 and 4. "He took care of all (of) us," Arellano said. "Every person he was in contact with saw his love and compassion and honesty."
Jason Aldean, the last act of Route 91 Harvest, was Fraser's favorite country singer. Fraser and his wife were walking toward the stage for his favorite Aldean song, "Dirt Road Anthem" when he was shot, Arellano said. A friend performed CPR on Fraser and loaded him into a wheel barrow to seek medical attention. Doctors and nurses did everything they could, but Fraser died of his injuries. "We don't know who they are, but we want to thank them," Arellano said.
Fraser was vice president of sales at Greenpath Funding. The company released a statement after his death: "Brian Fraser impacted everyone who crossed his path with his infectious positive energy, his tenacious will to succeed, and his willingness to help others.
"Our hearts are broken, and the Greenpath family will never forget you, Brian."
Denise Cohen
From Facebook
Denise Cohen of Carpinteria, California, was a property manager in Santa Barbara with two children. She attended the concert with her companion, Derrick "Bo" Taylor.
The couple had been planning the trip for weeks, her friend Leana Orsua told CNN affiliate KEYT. Cohen was planning to volunteer at the California Avocado Festival the following weekend.
"She was a very active, social person. She touched so many lives. She was a super positive, genuine, kindhearted individual," Orsua said.
She said Cohen and Taylor met at a social gathering and quickly became friends, then roommates. Orsua shared a text message with KETY from Cohen's son, Jeff Rees, remembering his mother.
"Our mother was such a strong, beautiful and happy woman who made a difference to the lives of everyone she knew," he wrote. "She was such a happy person and enjoyed doing the things in life that she loved. We can see by the last photo of her that she was indeed happy and with a person that loves her, Bo."
Derrick 'Bo' Taylor
California Department of Corrections
Derrick "Bo" Taylor, 56, was a veteran with the California Department of Corrections and Rehabilitation.
Taylor joined the department about 30 years ago, rising to the rank of lieutenant. He worked at the Ventura Conservation Camp, which houses up to 110 adult male inmates. The camp helps train inmates to become regional firefighters.
He attended the concert with his girlfriend, Denise Cohen.
Taylor's loss will be felt deeply, Warden Joel Martinez wrote in a memo to staff, according to a department newsletter.
"There are no words to express the feeling of loss and sadness regarding Bo's passing. Our thoughts and prayers are with his family and friends," Martinez wrote.
In the comments section of the notice on his death, people praised Taylor as a good co-worker and friend. As one person said, "Bo was a great man, as a supervisor he set the bar so high that no one will ever be able to touch it."
Kurt von Tillow
family photo
Kurt von Tillow of Cameron Park, California, and his wife Mary Jo were best friends who did everything together. They golfed together and recently brought their two grandchildren to Disneyland. Together, they attended the country musical festival with their daughter and two more relatives.