Story highlights
Carmen Delgado finally makes it back to Puerto Rico after Hurricane Maria
Her children were OK, but nothing prepared her for what she saw at home
(CNN) —
Pray. Wait. Hope. It's all Carmen Delgado has been able to do for days and days.
A vacation in New Jersey had taken her and her husband, Edgardo, off Puerto Rico for a break. But then Hurricane Maria swept across the island, and all they wanted to do was get back to their home, and family.
They booked flight after flight – only to see them canceled.
They got word that their grown children were OK, but saw pictures that their house was not.
They just wanted to see for themselves, but they couldn't get there.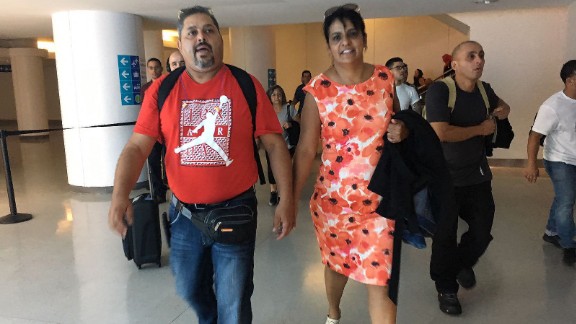 Brynn Gingras/CNN
"I want to see my daughter. I want to see my son," Carmen said. "We want to be there – maybe we can't do much, but at least our presence there in Puerto Rico, that's very important for us."
So Carmen prayed. She waited. And she hoped.
Finally, their seats on a flight to San Juan were not canceled. They paid excess baggage fees to take in supplies, and tried to prepare themselves.
Cheers and applause broke out around the plane as it touched down in San Juan. Carmen wept a little.
She'd hoped her children – Zuhry, 25 and her 20-year-old brother – would have met them at the airport. With no cell phone service across most of the island there was no way to check in with them, so the couple grabbed a ride to their hometown.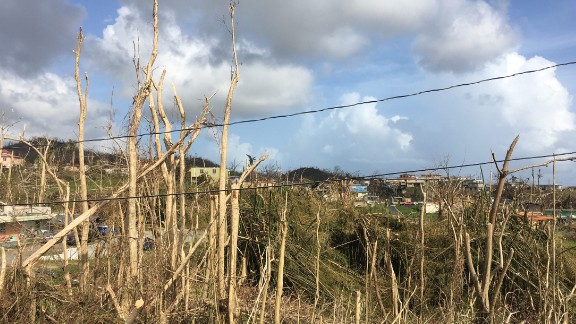 Brynn Gingras/CNN
The reality of Maria's devastation began to sink in as they drove an hour through shattered landscapes to Humacao.
"I didn't think it was so bad," Carmen said. "This is like fire just came through here and burned everything out. We've been through hurricanes, but this is the worst of all, this is the worst."
Finally they get to their house, or what's left of it.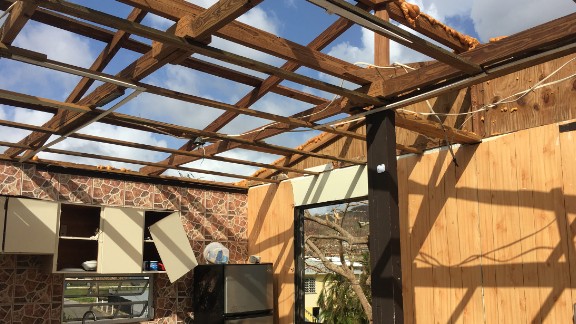 Brynn Gingras/CNN
The roof is gone. Rooms have been tossed by the storm. Outside is a mess.
Once inside, Carmen feels faint. She sits down.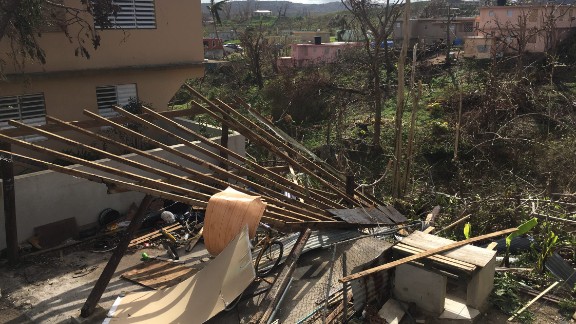 Brynn Gingras/CNN
"This is the living room, that's the kitchen, we used to have three bedrooms," she whispers.
"I'm totally shocked," she adds. "This is nothing compared to my house. We had everything. It was so nice."
She takes a breath and reminds herself these were just things, possessions that can be replaced.
It will take time. They will need help.
But finally they are together. Hours after reaching Puerto Rico, a familiar car drives up to the ruined house and out spill Carmen's children. At last she gets to hug them.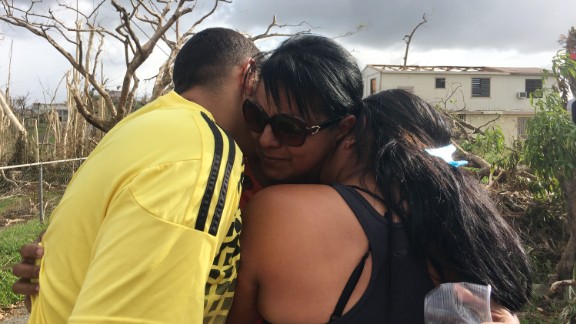 Brynn Gingras/CNN
"Home is not a house," Carmen says. "Home is family."
On those terms, Carmen Delgado is home.
CNN's Brynn Gingras and Laura Dolan reported from Puerto Rico, while Rachel Clarke wrote in Atlanta.