Story highlights
Rihanna to Trump: "Don't let your people die like this"
Other celebrities also urged Trump to ramp up aid to Puerto Rico
Rihanna criticized President Donald's Trump response to the humanitarian crisis in Puerto Rico following Hurricane Maria, suggesting that the President is not paying enough attention to the disaster occurring on the island.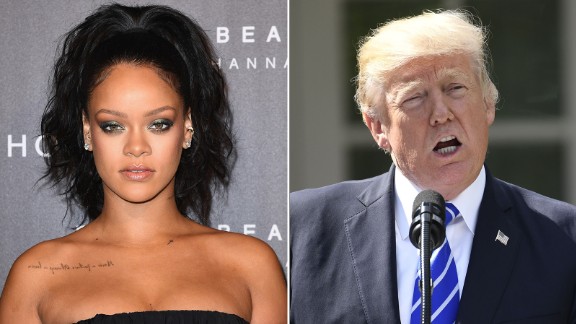 Getty Images
"Dear @realDonaldTrump I know you've probably already seen this, but I just wanted to make sure! Don't let your people die like this," the pop star tweeted early Thursday morning, along with a cover of the New York Daily News that reads, "Puerto Rico needs more help, Mr. President!"
CNN has reached out to the White House but a request for comment was not immediately returned.
READ: Hip-hop stars slams Trump amid anthem firestorm
In a second tweet, Rihanna called for a "round of applause" for former US Presidents Bill Clinton, George W. Bush and Barack Obama, who made an appearance at the Presidents Cup golf tournament in New Jersey on Thursday, following a joint effort by the five living former presidents to support hurricane relief efforts.