Iraqi Kurds have voted overwhelmingly in favor of declaring independence from Iraq in a historic and controversial referendum that could have wide-ranging implications for the Middle East.
More than 92% of the roughly 3 million people who cast valid ballots on Monday voted "yes" to independence, according to official results announced by the Kurdish electoral commission on Wednesday.
The outcome represents a step towards independence for the semi-autonomous region in northern Iraq and areas it claims, and puts Kurdish authorities on a collision course with their counterparts in Baghdad.
The poll took place despite vehement opposition from the Iraqi government, which described it as unconstitutional and has authorized use of force against Iraqi Kurdistan.
The Kurdistan Regional Government, however, says the referendum will give it a mandate for talks to secede from Iraq, although Baghdad has already ruled out such talks.
On Wednesday, Iraqi Prime Minister Haider al-Abadi called for the referendum to be annulled and for the KRG to engage in dialogue as guided by the constitution. His comments come a day after he ordered the Kurds to yield control of their airports to the central government by Friday.
Several international flight operators have announced plans to cease flights to the region on Friday, including Egypt Air and Royal Jordanian Airlines. Iran closed its airspace on Sunday.
Nearly all neighboring regional powers objected to the referendum, warning that independence could further destabilize the region.
On Tuesday, KRG President Masoud Barzani hailed the preliminary results and urged the world to "respect the will of the people of Kurdistan."
"Let's engage in a serious dialogue and become good neighbors," Barzani said during a televised speech.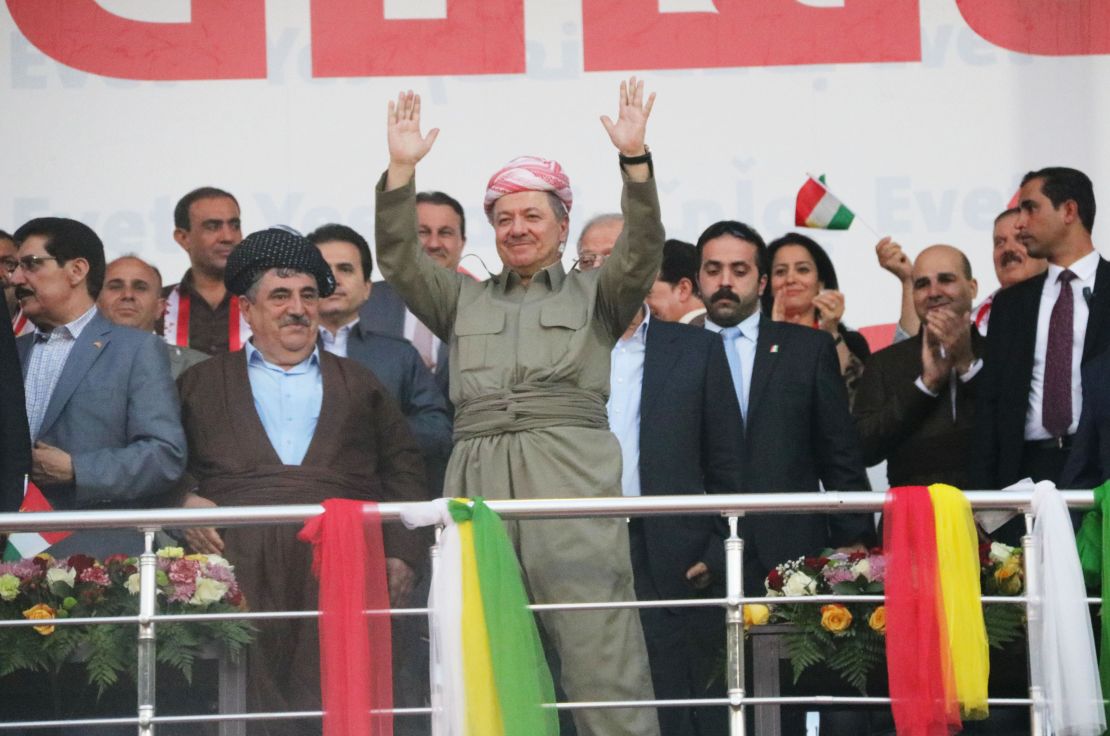 The vote was held across the autonomous region and in disputed territories including the oil-rich city of Kirkuk, a flashpoint city claimed by both sides.
It comes as Kurdish forces play an instrumental role in the fight against ISIS in Iraq and Syria. In helping to eliminate the terror group, Kurdish leaders appear to have expected the backing of the international community in pursuing nationalist aspirations.
But the referendum has received little support outside northern Iraq.
Both Iran and Turkey have sizable Kurdish minorities and fear the ballot might galvanize independence movements in their countries.
The United States, United Kingdom and the United Nations denounced the vote amid concerns that it could detract from the campaign against ISIS.
As voters cast their ballots Monday, Turkish President Recep Tayyip Erdogan described the referendum as "illegal" and suggested Turkey could cut off oil exports from northern Iraq, depriving the KRG of a key source of revenue.
On Wednesday night, after the announcement of the voting results, Irbil's main square was quiet – a sharp contrast to the revelry on the streets the night of the vote.
"I'm afraid of the situation," said Ahmad Tayeb, 30, an Arab from Anbar who now lives in Irbil. "As Arabs, we're worried that clashes in Kirkuk will lead to revenge on us here."
Bewyar Abdullah, 28, a peshmerga fighter who was injured during war on Isis in Mosul, said he was at the square with friends. They expected large gatherings and fanfare but found none.
"Actually, I want to be split from the Arabs … For that reason I voted to break away from them," he said. "We don't understand why there are no celebrations."
Israel is the only country in the region that supported the vote, with Israeli Prime Minister Benjamin Netanyahu endorsing what he described as "the legitimate efforts of the Kurdish people to achieve their own state."
European Union leaders issued a statement on Wednesday calling on all parties involved to "exercise calm and restraint" and to resolve their issues through peaceful dialogue.
Numbering 30 million, Kurds make up a sizable minority in a number of Middle Eastern countries, including Iraq, Iran, Syria and Turkey.
Despite nearly a century of Kurdish nationalist movements in various countries, the Kurds have never had a nation of their own.
Tamara Qiblawi reported and wrote from Irbil; Muwafaq Mohammed contributed to this report from Irbil. CNN's Mohammed Tawfeeq and journalist Bustan Amedi contributed to this report from Atlanta; Lauren Said-Moorhouse and James Masters wrote from London.