(CNN) —
The co-founder of the first far-right party to win seats in Germany's parliament in almost 60 years has declared that it is ready to "take back our country and our people."
Alexander Gauland, federal spokesman for the anti-immigration, anti-Muslim, Alternative for Germany (AfD), gave the warning after his party was projected to come in third place in Sunday's national election, according to preliminary results.
The result, which puts the AfD at just over 13%, was described by leading party figures as a "political earthquake."
Gauland promised his party would provide staunch opposition to the new government, likely led by Chancellor Angela Merkel, adding: "We will hunt them. We will hunt Mrs. Merkel or whomever. And we will take back our country and our people."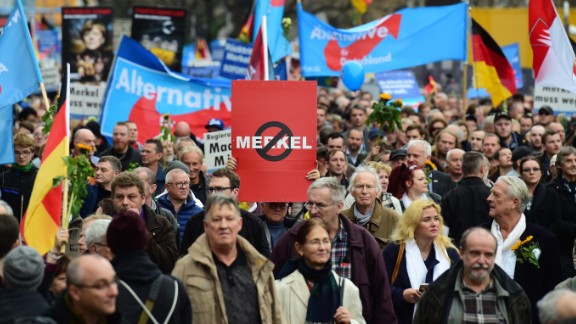 JOHN MACDOUGALL/AFP/Getty Images
Protests
On Sunday, crowds gathered in Berlin and across the country to protest the election result.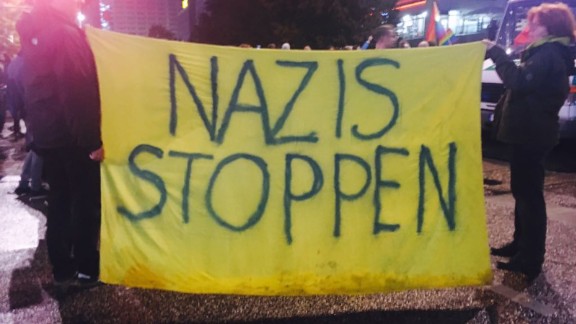 Nadine Schmidt/CNN
One protester, Julius, who declined to give his surname, said the success of the AfD made it a "sad day for Germany."
"The election results are shocking," said the 25-year-old in Berlin.
"I never thought the AfD would score as high as 13%. This is a sad day for Germany especially if we look back at our history.
"We will have to wait and see how many AfD parliamentarians will now be represented in the Bundestag but sadly it looks around 90 – a shocking result for Germany. "
The AfD polled particularly strongly in east Germany, which includes Berlin, attracting 21.5% of the vote, according to exit polling conducted by Infratest Dimap. In the West, it scored about 11%, the projections said. The results put the AfD on course to become the second largest party in the East, after the CDU.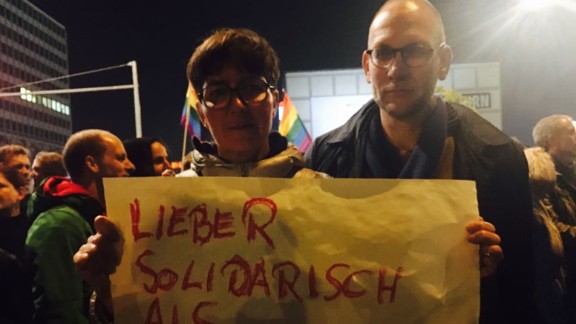 Nadine Schmidt/CNN
Elgin and Friedhelm, a couple from Berlin, came to the protest after they watched the exit poll on television.
"We cannot believe that the AfD scored as high as 13% nationwide," Friedhelm told CNN. "This is a catastrophe.
"To imagine that a right wing party is now moving into the German parliament is something we thought we would never see again in Germany after all that has happened in the past."
'Wrong answers' to the 'right questions'
First formed in 2013 at the height of Europe's debt crisis as an anti-European Union and anti-Euro party, the AfD has since turned its focus to immigration and Islam.
"Islam does not belong to Germany," reads the party's election manifesto. Germany's Muslims are "a big danger for our state, our society and our system of values."
The party has also called for an upper limit on the number of refugees allowed to enter the country, "for the protection of Germany."
Last year, AfD co-leader Frauke Petry caused outrage when she suggested that police should be allowed to use firearms against illegal migrants on Germany's border, Reuters reported.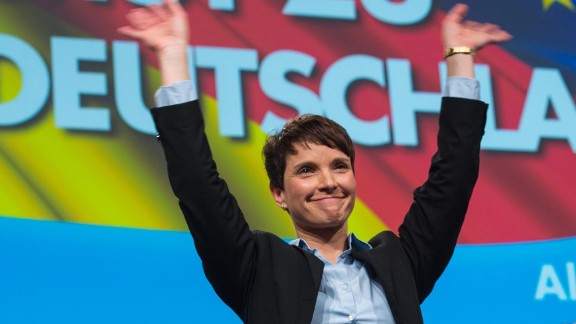 Nigel Treblin/Getty Images
"As with many populist parties, the AfD often asks the right questions – about immigration and integration, about the EU – but tends to give the wrong answers," says Hartwig Pautz, political scientist at the University of the West of Scotland.
"Their answers are simplistic, unworkable and don't belong in a liberal democracy."
The AfD profited from a nationalist backlash after more than 1 million refugees entered the country in 2015, sparking debates about integration.
A series of terror attacks across Germany in 2016 drove support for the party to a peak of 16% in the polls and a spate of successes in local elections.
Even before Sunday's result, the AfD had MPs in 13 of Germany's 16 state parliaments, according to a Reuters count.
Controversy
Like several other right-wing, populist parties across Europe, the AfD has taken controversial positions on key issues and been dogged by scandal and in-fighting.
The AfD was the only one to actively campaign against same-sex marriage before the parliamentary vote in June, calling on Germany to protect and preserve the "traditional" family.
In July, prominent AfD politician Beatrix von Storch dismissed current debates around gender identity and LGBT rights as "foolish nonsense."
Earlier in the year, Björn Höcke, the party's state leader in the eastern state of Thuringia, called for Germany's history to be re-written to focus on German victims of the Second World War and criticized the world-famous Holocaust memorial in Berlin as "a memorial of shame." After a fierce battle within the party, he was expelled, Reuters reported.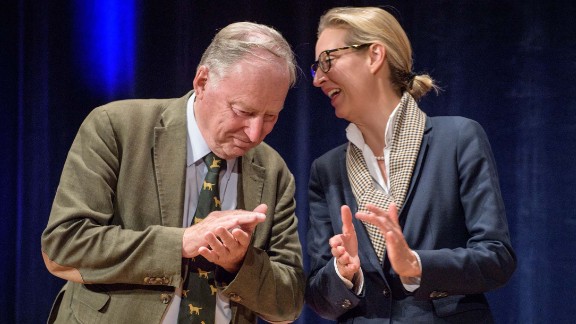 Thomas Lohnes/Getty Images
More recently, top candidate Alexander Gauland had an investigation launched into his actions, according to Reuters, after he suggested that Germany's integration minister – who has Turkish roots – should be "dumped" back to Turkey for questioning the existence of a German culture.
According to Beate Küpper, a social psychologist at Hochschule Niederrhein University in North Rhine-Westphalia who studies the far right in Germany, the AfD targets a narrow group of voters: "the 15% who are against same-sex marriage and who hold strongly right-wing views."
But, as Pautz, the political scientist, argues, that minority is now represented in the German parliament. "And many of the new MPs will be inexperienced in politics and they will have a wide range of views."
The AfD in parliament will be "very inexperienced, very fractious, very fragmented." But it is difficult to know exactly how the party's presence will influence German politics and policy over the next four years. "We are in unknown waters," said Pautz.