Story highlights
The summit takes place in Trump's hometown -- New York City
His schedule over four days is stacked
(CNN) —
President Donald Trump totes his "America First" stance this week to the United Nations General Assembly, the annual inundation of diplomats and world leaders who this year await the new US leader with uneasy anticipation.
The summit in Trump's hometown – New York City – has become the quickest-paced diplomatic event on the calendar for an American president. Trump arrived to the soaring, green-hued assembly hall facing open questions about his approach to hot-button issues like climate change and the Iran nuclear accord.
His schedule over four days is stacked with one-on-one talks with foreign counterparts eager to discuss those global flash-points, as well as the deepening standoff with North Korea. The centerpiece, however, comes Tuesday during Trump's first UN address, a landmark foreign policy moment at the eight-month mark of his presidency.
"This will be a great week, we look forward to it, as far as North Korea is concerned, I think that most of you know how I feel," Trump said as he strode into the UN headquarters building on Monday.
Once deeply critical of the UN – right down to its iconic emerald marble – Trump as President has achieved his principal diplomatic wins at the body's Security Council, which has passed waves of sanctions on North Korea.
His first formal comments inside the headquarters building, however, focused not on diplomacy but on real estate.
"I actually saw great potential right across the street," he said at the beginning of a session on UN reform, referring to the Trump World Tower apartment building on United Nations Plaza.
He said it "turned out to be such a successful project" due to its proximity to the modernist headquarters building nearby.
He offered a more skeptical view of the UN's efficacy or its value to the United States.
The UN "has not reached its full potential because of bureaucracy and mismanagement," Trump said at the start of a session focused on reforming the institution.
"We seek a United Nations that works to regain the trust of people around the world," Trump said, insisting that member states "cut through bureaucracy" to better drive positive change.
"I encourage all member states to look at ways to take bold stands at the United Nations with an eye toward changing business as usual," Trump said.
Adhering to tradition?
For Trump, Tuesday's speech and the ensuing flurry of diplomacy presents an opportunity to more fully articulate a global agenda that has confounded allies and foes alike.
"The world is still trying to take the measure of this President," said Jon Alterman, senior vice president at the Center for Strategic and International Studies in Washington. "For a number of leaders, this is going to be their first chance to see him, to judge him, to try to get on his good side … they will have been preparing for a chance encounter for weeks."
Administration officials say Trump is unlikely to unload on the UN in the way he has in the past. Instead, the President's aides are preparing an address that largely adheres to tradition by rallying countries behind condemnation of rogue regimes like North Korea and Iran. Trump dubbed North Korean leader Kim Jong Un with a new nickname over the weekend, labeling him "Rocket Man" on Twitter in reference to the rogue nation's recent missile tests.
Speaking Friday, Trump's top national security aides previewed a UN message centered on themes of "accountability and sovereignty" over the course of Trump's four days in New York. The President hopes to relay the message that countries must become more responsible for their own security while signaling the days of US lecturing over issues like human rights are ending.
"He slaps the right people, he hugs the right people, and he comes out with the US being very strong in the end," Nikki Haley, the US ambassador to the United Nations, said in a preview of Trump's remarks.
"He will urge all states to come together to address grave dangers that threaten us all," added H.R. McMaster, the White House national security adviser.
Since taking office, Trump has dug rifts with allies on climate change and trade. But he's also spoken inconsistently on those issues, fostering a degree of confusion over his stance by issuing vague and sometimes contradictory statements.
In most areas, however, Trump has demonstrated a level of restraint on executing the types of foreign policy shifts that he promised when running for office. He followed the Pentagon's advice to send additional troops to Afghanistan, despite the urging from some of his conservative advisers to pull out entirely. He's postponed, at least for now, moving the American embassy in Israel from Tel Aviv to Jerusalem, a campaign promise that would upend his efforts to broker a peace agreement in the region.
And he has yet to discard the Iran nuclear deal, though he is considering steps to weaken it, potentially as early as this month. That issue is expected to dominate parts of Trump's agenda this week, including talks with Israeli Prime Minister Benjamin Netanyahu on Monday.
Ahead of that meeting, Trump said "you'll be seeing very soon" his decision on the Iran deal. He faces an October deadline for re-certifying Iran's compliance with the agreement. Iran's leader, Hassan Rouhani, addresses the UN body on Wednesday.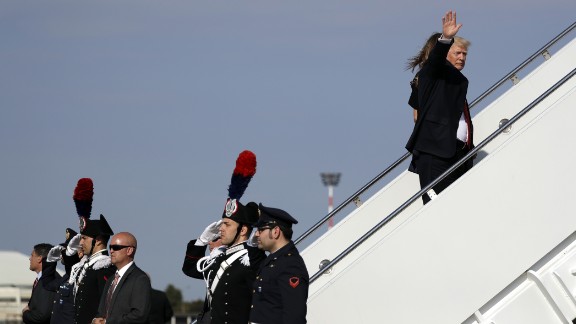 Photos: President Trump's first foreign trip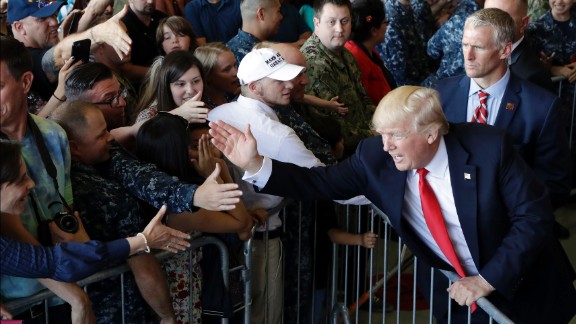 Photos: President Trump's first foreign trip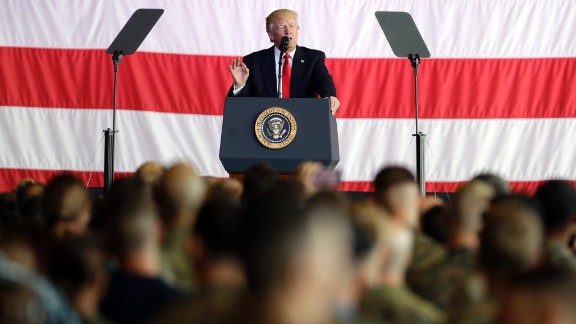 Photos: President Trump's first foreign trip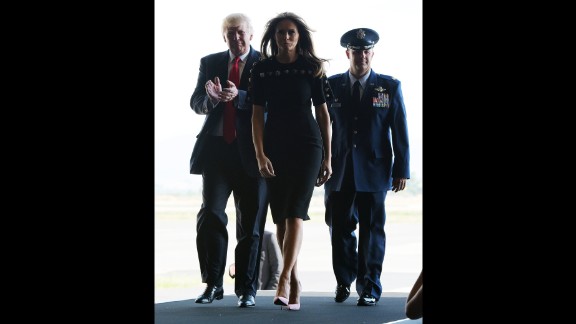 Photos: President Trump's first foreign trip