Story highlights
All Florida Keys residents will be allowed to return home by Sunday, sheriff says
Many will come back to communities without fuel, power and running water
(CNN) —
Florida Keys residents will be allowed to return home this weekend to assess damage to their properties caused by Hurricane Irma.
But officials said they are worried a new crisis could emerge when homeowners find their neighborhoods have no fuel, power, running water and other basic services.
Monroe County Sheriff Rick Ramsay said residents of Marathon Key could return to their homes Saturday, starting at 9 a.m. ET. All other Keys residents can return home Sunday morning at sunrise, he said.
"The biggest concern is folks come down, they rush down and then realize they don't have a home they can live in and now they need a shelter," Monroe County Administrator Roman Gastesi told CNN on Friday. "And we don't have shelters right now. Do we open shelters? How many do we open?"
Monroe County Emergency Management Director Marty Senterfitt also told reporters Friday that a mass return to the Keys could cause problems.
"So what I'm expecting is going to happen as soon as we're able to open the gates … is you're going to see the crisis escalate again," Senterfitt said.
For days, evacuees from the Lower and Middle Keys were turned away from a checkpoint state authorities set up near mile marker 74 on the Overseas Highway.
More than 1 million utility customers in the state remained without power early Saturday afternoon, according to the Florida Division of Emergency Management. Power has been restored for at least 89%, the agency said.
People on the west coast, where Hurricane Irma made landfall September 10, will likely have power restored by Friday, according to Florida Power & Light Co.
Customers who lost electricity on Florida's eastern side will likely have it restored by this weekend, because fewer utility poles came down there, the company said.
Upper Keys bouncing back more quickly
Nearly a week after Irma tore through the state, Floridians are slowly returning to find ruins in some of the hardest-hit areas.
Recovery is only getting started, and some places remain flooded. Utility companies are working to restore power to the battered Keys.
The Upper Keys, which include Key Largo, Tavernier and Islamorada, have started to bounce back more quickly than the Middle and Lower Keys, likely owing to their distance from Irma's eye and proximity to the mainland.
Seventy percent of critical facilities have power in the Upper Keys as of Saturday afternoon, according to the Florida Keys Electric Cooperative Association, which provides service from Key Largo to Marathon. These include hospitals, key government buildings, schools, sewer facilities, water pumping stations and grocery stores.
Farther down the island chain, utilities and communications remain spotty or nonexistent.
More than 14,000 out 16,000-plus customers were without power in the Lower Keys on Saturday afternoon, according to Keys Energy Services, which provides service from Big Pine Key to Key West. Florida Power & Light serves less than 100 customers in the Keys, reporting only 10 there remain without power.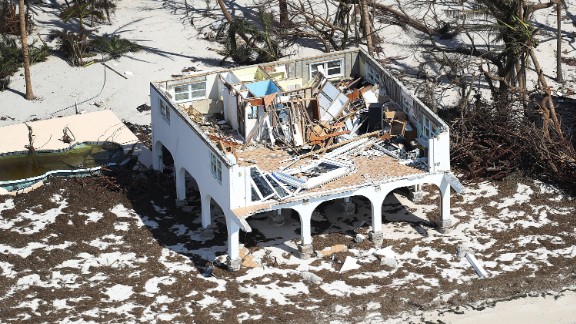 Power outages hit other Southeastern states as the storm moved north, including Georgia.
In Big Pine Key, about 10 miles east of where Category 4 Irma made landfall in Cudjoe Key, the devastation was widespread, and no structure was left untouched. The Federal Emergency Management Agency estimates that 25% of homes in the Keys were destroyed.
During meetings with officials Friday in the Keys, Gov. Rick Scott said he understands the frustration of residents but cautioned they could not return until it was safe.
"You want to come back to power," he said. "You want to come back to a sewer system that works. You want to come back to a water system that works. You want to come back to where you have the food you need."
The tail end of the archipelago, from Key West eastward to Big Coppitt Key, appears to have fared better than the Middle Keys.
"The challenge, I think, for us will be … between here and Marathon," Key West City Manager Jim Scholl said. "It's going to be tough for returning residents because there will be many displaced residents and we have to have a long-term shelter option."
Frustration to return home
Irma's furious march through Florida not only darkened millions of homes, it also flooded roads, piling them with debris and blocking off access to neighborhoods.
Brice Barr, who owns a charter fishing boat business in Key West, said he would like to head back south.
Barr and his wife fled to his parents' home in the northern Florida ahead of the storm, he told CNN affiliate WCJB, and are watching for their moment to return.
"Walking away from a boat – that is one of my family's main source of income – is very difficult to (do), especially when you secure all your property and everything else knowing that you may not see it again," Barr told the TV station this week.
No power, hot weather
At least 34 storm-related deaths have been reported on the US mainland, according to local officials. They include 27 in Florida, four in South Carolina and three in Georgia.
That number doesn't include eight deaths reported Wednesday at a nursing home in Hollywood, Florida, after it lost a transformer that powers the air conditioning. Police have said the deaths are under investigation.
Before the hurricane smashed into the US mainland Sunday, it struck northern Caribbean islands, leaving at least 44 people dead, authorities said.
CNN's Martin Savidge reported from Florida, and Ray Sanchez reported and wrote in New York.