Story highlights
PJ Morton is the keyboardist for Maroon 5
Morton said artists should only get political if it is their calling
(CNN) —
Activism in President Donald Trump's administration so far has seemed so intense and rampant that, for many Americans, it feels reminiscent of the 1960s civil-rights movement.
For PJ Morton, an independent R&B artist and the keyboardist for Maroon 5, Trump's controversial comments on race and racism in America gave him the feeling of a new sense of urgency.
"I think this is the first time we've had a president and even a candidate to, you know, call Mexicans rapists, to say the judge wasn't able to properly do his job because he's Mexican, asking black people what do they have to lose … who would have ever thought it would make Bush not be so bad? We'd take President (George W.) Bush in a minute right now," Morton told CNN's #GetPolitical series.
"As crazy as things seemed to be, (Bush) was still a level-headed person who seemed to care and if he didn't care and if he had a racist bone in his body or something like that, it wasn't OK to show that. He wasn't overt," Morton added.
When Trump doubled down on blaming the violence at the white supremacist rally in Charlottesville, Virginia, on "both sides" last month, Morton did not join the chorus of Americans who urged Trump to take it back. Instead, he said he was dumbfounded by the President's defiance and basked in what he sees as Trump's true self.
"I think (Trump) shows us who he is over and over and we should believe that … That was him," the New Orleans native told CNN's #GetPolitical series. "That was non-reading-teleprompter Trump and that's our guy. That's him and I think that we should accept that and know that that is him and I just feel like it's a shame, (but) it's kind of good that he can't play politics enough."
#GetPolitical caught up with Morton to talk about how the current political climate inspired his latest solo album, "Gumbo," what he thinks the Democrats are doing wrong in the age of Trump and whether musicians should get political or stick to entertainment.
Several hip-hop artists, including Common, Joey Bada$$ and Vic Mensa told #GetPolitical that while they oppose Trump, there's a silver lining to his presidency. Do you agree with their assessment?
I definitely think there's a positive to the world being shaken up right now. Things generally have to get worse before they get better … This new found activism is out of desperation. It's making people uncomfortable. When people can just live their lives comfortably then there's no reason to march and protest but when you start getting into people's personal lives and start to affect their personal lives and start to affect their families, then people feel the need to speak out and I think where we are, how divisive it is right now, people feel an urgency.
How was "Gumbo" inspired by this surge of activism?
Morton: It's really called "Gumbo" because the dish of gumbo is a mixture of a whole bunch of different things. And on this album I deal with a whole bunch of different issues from religions, the division in the country, the racial tension, I talk about love, about relationships …
"Everything's Gonna be Alright" (a song featuring BJ the Chicago Kid and The Hamiltones) was definitely inspired by the political climate … I feel like we're in a modern-day civil rights era. I feel like music played such a big part back in the civil-rights era and I just wanted to make sure that I was one of the artists that reflected at times and dealt with these issues and at least gave a soundtrack to what was going on. And to me, even though we're going through a lot, my ancestors and those who came before me went through much more and they have allowed me to even be here right now. So If they can handle that, I felt like no matter what, we can handle what's going on and everything's going to be alright, ultimately.
Joey Badass gets political: There's a silver lining to the Trump presidency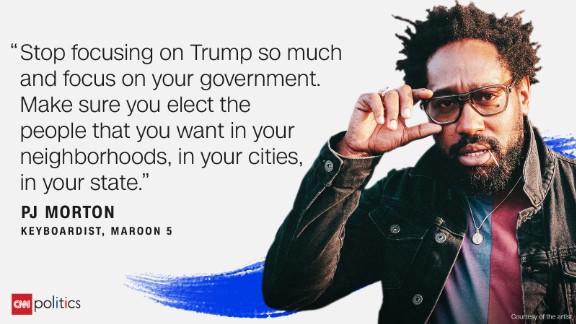 As a Bernie Sanders supporter, how do you think the Democrats should move forward?
Morton: I think the left is focused a lot on Trump and feel like 'hey, we're better than Trump,' so that's enough and that's not enough. I think it's going to have to be like Bernie was, it's going to have to be a new leader or a new movement that says the focus is less on the politics of it. I don't think the normal person cares about Republican or Democrat … stop focusing on Trump so much and focus on your government, make sure you elect the people that you want in your neighborhoods, in your cities, in your state.
Musicians often have tremendous reach and can impact millions of people. Do artists have an obligation to speak out on social or political issues?
Morton: I don't think it's an obligation as an artist or as an entertainer to deal with issues. I mean, it all depends why you got into it. I feel like it should be a natural thing. I don't think it works when those things are forced and when you try to force a message or you force an artist to be political. I think it's only when it's your calling and it's your purpose to deal with those type of things. I mean, even myself, I didn't deal with them all the time. I talked about what spoke to me and now that is speaking to me so I'm dealing with it.
While many artists are getting political, you see it more in genres like hip-hop and not as much in pop music. How do you reconcile being a part of a major pop group that is not political and being a solo artist, who speaks out on issues?
Morton: I don't necessarily think that pop musicians deal with it less. I think it's all intention and motivation. Just the very definition of pop musician, pop music, popular music, it's to entertain, you know … an artist's job is to make you reflect on your life, make you look at your life, make you deal with life and entertainers are supposed to make you forget your life. They're supposed to make you party or have a good time and forget about your troubles. Both things are necessary. That's why for me, as a solo artist I'm talking about these things. In Maroon, I'm not necessarily talking about that. But that's the dichotomy of who I am. When you're in a band it's about what what we all feel, as opposed to me as a solo artist saying what I'm saying.