Story highlights
"I've tried to learn from my own mistakes," she writes in her author's note
"Generalizing about a broad group of people is almost always unwise," she writes
Hillary Clinton admits that she made a series of mistakes during the 2016 election in her newly released memoir, conceding that she did not fully understand the American electorate and failed to muster the anger that many voters wanted to see.
The book is full of Clinton focusing blame elsewhere, but in raw terms – and with more directness than at any point since Election Day – the former Democratic nominee admits that she made catastrophic mistakes during the campaign that led to her loss.
"I've tried to learn from my own mistakes," she writes in her author's note. "There are plenty, as you'll see in this book, and they are mine and mine alone."
Clinton's admissions will likely be well received by Democrats who have wanted to hear her – in unequivocal terms – admit that she made mistakes that led to Trump's win. Many of those Democrats have been angered by Clinton equivocating at public events across the country about why she lost.
But even as Clinton cops to her failures in direct terms in "What Happened," her admissions are not unequivocal.
Here are the mistakes Clinton admits she made:
Her 'damn emails'
Clinton labels her decision to use a private email server as secretary of state – and the subsequent investigations that led to nonstop stories – as a "boneheaded mistake" that "turned into a campaign-defining and –destroying scandal."
Clinton says that the primary effect of the email controversy was that it repeatedly knocked her off her campaign message and left voters thinking that, once again, controversy was hanging over a Clinton vying for office.
"The controversy over my emails quickly cast a shadow over our efforts and threw us into a defensive crouch from which we never fully recovered," Clinton writes.
The former first lady says that the media made far too much out of the email controversy – "The dumb decision by one presidential candidate to use a personal email account at the office … got more coverage than any other issue in the whole race" – leaving voters feeling like it was the most important issue of the campaign.
But she does say that she owns her email issue.
"Right off the bat, let me say again that yes, the decision to use personal email instead of an official government account was mine and mine alone. I own that. I never meant to mislead anyone, never kept my email use secret, and always took classified information seriously," Clinton writes.
Not understanding the electorate
Photos: Hillary Clinton's life in the spotlight
Photos: Hillary Clinton's life in the spotlight
Photos: Hillary Clinton's life in the spotlight
Photos: Hillary Clinton's life in the spotlight
Photos: Hillary Clinton's life in the spotlight
Photos: Hillary Clinton's life in the spotlight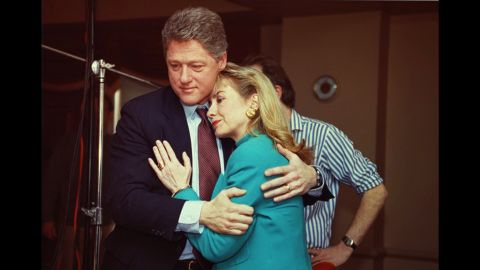 Photos: Hillary Clinton's life in the spotlight
Photos: Hillary Clinton's life in the spotlight
Photos: Hillary Clinton's life in the spotlight