Story highlights
South Carolina man is killed by a falling tree limb
Flooding inundates Savannah's River Street and The Battery neighborhood in Charleston
Editor's note: This is a developing story that is being constantly updated as the storm progresses.
Leaving a trail of devastation in Florida, Irma trudged north on Monday, flooding downtown Charleston, South Carolina, uprooting trees in Atlanta and cutting off coastal communities.
A weakened Irma – downgraded to a tropical depression Monday night – still packed power. At least three storm-related deaths were reported in Georgia and one in South Carolina. The deaths occurred mostly when tree limbs fell on victims during the tropical storm that stretched 650 miles from east to west, affecting at least nine states.
As Jacksonville, Florida, grappled with record storm surge, the level of the destruction became more apparent in the hard-hit Florida Keys at the southern tip of the state. Areas without water, power or communications are likely to remain so for some time.
Irma flooded portions of River Street in the tourist magnet city of Savannah, Georgia and forced police to temporarily shut Highway 80 leading to the barrier island community of Tybee Island. Water also filled The Battery, the downtown Charleston neighborhood where the Ashley and Cooper rivers meet. Charleston police asked residents to avoid downtown in anticipation of high tide.
Waters in Charleston Harbor peaked at nearly 10 feet high, the city's third-highest reading, topping Hurricane Matthew in 2016, said CNN meteorologist Taylor Ward.
Parts of coastal Georgia and South Carolina remained under storm surge warning late Monday.
Irma will continue to weaken, but the rain and wind will spread further north. The storm was moving towards Alabama late Monday. It is forecast to move to Tennessee on Tuesday before fizzling out later this week, forecasters said.
The latest developments:
– As of Monday night, Irma was centered about 95 miles south of Atlanta, with maximum sustained winds of 35 mph, the National Hurricane Center said.
– A 57-year-old South Carolina man was fatally injured by a falling tree limb during the storm, Abbeville County Coroner Ronnie Ashley told CNN. The man was cutting downed limbs with a chainsaw outside of his home when he was struck.
-Three people died in Georgia: A 62-year-old man who was on his roof was killed in Worth County, which experienced wind gusts of 69 mph, according to Kannetha Clem, a spokeswoman for the Worth County Sheriff's Office. Another man was killed in Sandy Springs, an Atlanta suburb, when a tree fell and "literally cut the home in half,"said Sharon Kraun, the city's communications director. One woman was killed when a downed tree struck her vehicle in Cumming as the car at in a private driveway, the Forsyth County Sheriff's Office.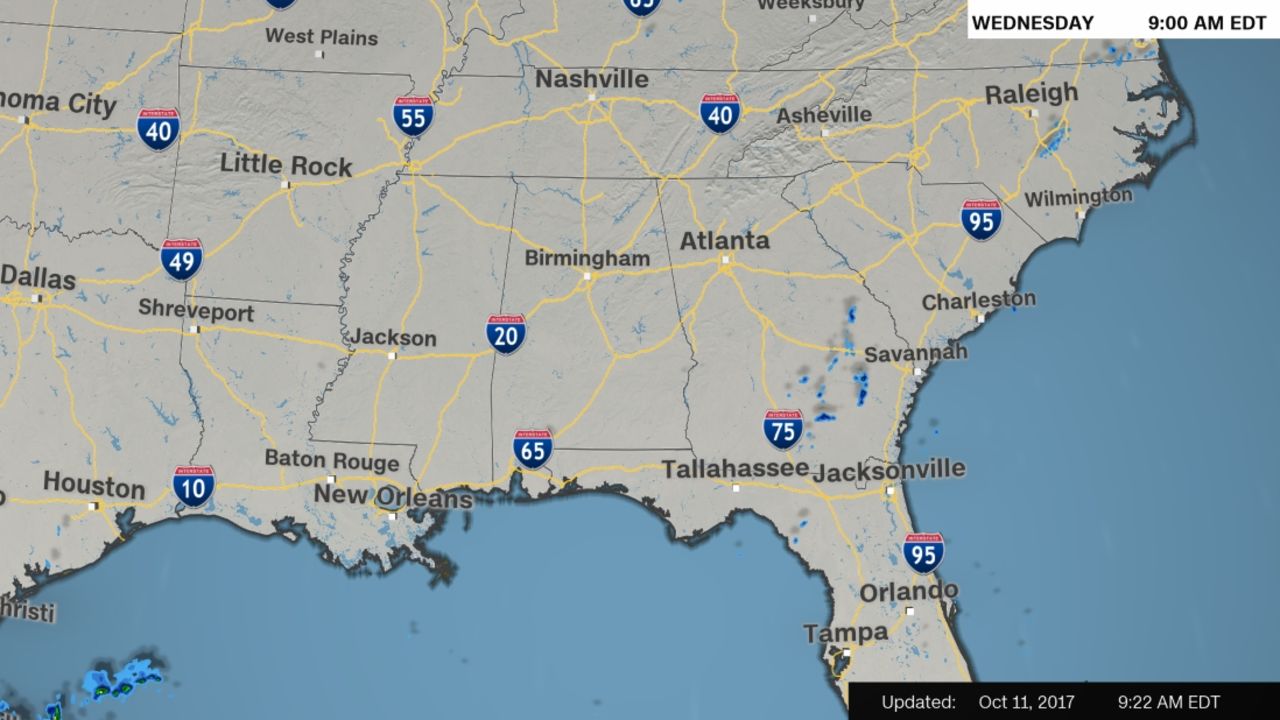 – About 6.2 million electric customers were without power in Florida late Monday, according to Floridadisaster.org. FEMA chief Brock Long has said some places won't have electricity for weeks.
– More than 1.4 million customers in Georgia were without power, according to Georgia Power and Georgia EMC.
– In South Carolina, nearly 200,000 customers were without power, according to utility companies.
– Storm surge warnings in Florida, Georgia and South Carolina mean "there is a danger of life-threatening inundation," the hurricane center said.
'We're definitely shaken up'.
Irma turned Jacksonville's Memorial Park into an unrecognizable lake.
"We have very serious, significant river flooding along the banks of the St. Johns River. It's bad now, it's going to continue to get worse," meteorologist Angie Enyedi said. "We've already surpassed historic levels, the levels will continue to rise."
In one Jacksonville yard, Irma snapped a tree near its roots, sending it crashing onto the car of an evacuee from South Florida on Sunday.
No one was hurt. The tree at the end of Kristine Garcia's driveway, luckily, didn't fall on her house.
"We're definitely shaken up. We were in shock when we went outside," Garcia, 34, told CNN Monday. "If it would have fallen toward our direction, it would have been a … mess."
No electricity or safe water
Irma devastated much of Marco Island, off the southwest coast of Florida, leaving it with no electricity or clean water.
Roommates Zack Forrest and Krock Indigo rode out the storm on the island and likened Irma to a relentless tornado. "The storm was really intense, it was like a tornado that lasted for an hour and a half," Forrest said.
"No way!" Indigo interrupted. "It was like 5 hours."
By the time Irma finished with Marco Island, it left 15 homes that have either lost their roofs or suffered other severe damage, the fire department said.
The good news is that there were no major injuries, said Marco Island Fire Chief Mike Murphy
"We were the little engine that did it," he told CNN's Ed Lavandera.
Tara O'Neill arrived at her house in Goodland, Florida, on Monday for the first time since the eye of the storm hit the small fishing village at the southeast corner of Marco Island. A tree had crushed her home.
"It's never good when you show up and see this in front of your house," she quipped.
The Goodland native bought the home in 1998 when it was a "dump," she said . She and her husband spent six years remodeling.
O'Neil climbed on the hood of her car to get a better look and found humor in her devastation.
Looters, she joked, could help themselves to anything they wanted.
Some Florida Keys residents could soon be home
Irma made landfall on the Florida Keys as a Category 4 hurricane Sunday, but the full extent of the damage there is still unknown.
That's because some islands are extremely difficult to access. Southbound US Route 1 – the only road connecting the Keys – is closed, Florida Keys spokesman Andy Newman said.
Large debris is blocking access, and a 150-foot stretch "has some buckling," Newman said.
Crews continued to work to clear US 1. Transportation officials have inspected and cleared some bridges, officials said.
Some evacuees from the Keys will get a chance to lay eyes on the devastation early Tuesday when Monroe County allows residents and business owners in Key Largo, Tavernier and Islamorada to return home.
'It's the worst storm I've ever seen'
But officials urged some evacuated Floridians to be patient and not try to go home yet even though the storm was beyond parts of the Deep South.
"We're asking folks to be patient and remain sheltered in place," said St. Augustine Fire Chief Carlos Aviles.
"Stay off the roads, stay off the streets, let us complete our assessment, clear the roads of water, power lines, trees and then you can get out there and determine what happened to your individual property or your neighborhood," said Fort Lauderdale Mayor Jack Seiler.
The massive storm triggered evacuation orders for 5.6 million people before it made two landfalls in the state Sunday.
The first was over the Florida Keys, and the second, over Marco Island, left the island without water and power, authorities said.
"It's the worst storm I've ever seen," said Bill South of the National Oceanic and Atmospheric Administration.
Irma's deadly trail – and questions about climate change
Before slamming into the United States, Irma hit Cuba late Friday as a Category 5 hurricane. Irma killed 38 people in the Caribbean before heading to the United States.
This is the first year on record that the continental United States has had two Category 4 hurricane landfalls in the same year. Last month, Hurricane Harvey devastated much of coastal Texas and killed more than 70 people.
This is the first year on record that the continental United States has had two Category 4 hurricane landfalls in the same year.
Last month, Hurricane Harvey devastated much of coastal Texas and killed more than 70 people.
Are you affected by Irma? Text, iMessage or WhatsApp your videos, photos and stories to CNN (but only if it's safe to do so): +1 347-322-0415.
CNN's Chandrika Narayan, Ed Lavandera, Christina Zdanowicz, Rich Phillips, Deanna Hackney, Dave Hennen, Michael Guy, Andrea Diaz, Phil Gast, Joe Sutton, Patrick Oppmann and Chris Boyette contributed to this report