Story highlights
Officials say three people killed, two seriously hurt in Caribbean islands
NEW: As storm moved away from Puerto Rico, it kept dumping rain
Hurricane Irma – one of the strongest storms ever recorded in the Atlantic – hammered Puerto Rico on Wednesday night after smashing a string of small northern Caribbean islands where at least three people were killed.
CNN's Leyla Santiago, in the Puerto Rican capital of San Juan, said there were 900,000 customers without power as strong winds lashed the island. Officials told her there were several rescues because of flooding but there were no immediate reports of injuries in the US territory of about 3.4 million people.
Gov. Ricardo Rosselló told CNN he thinks the island was being hit hard even though the eye of the storm stayed off shore.
"From the center of operations that we have over here in San Juan, there is pretty significant damage already done," he said, citing wind gusts of more than 100 mph.
The outer bands of the storm continued to whip heavy rain upon the island late Wednesday.
Tourist Steban Guajardo told CNN that water in the parking lot of a building he was at in the seaside neighborhood of Condado just kept rising.
Puerto Ricans bracing for the high-octane winds and slashing rainfall started to feel Irma's effects Wednesday afternoon. Strong breezes shook rickety rooftops and downpours battered the coast.
Residents prepped their homes for safety and gathered food, supplies and belongings.
The storm is one of three hurricanes in the Atlantic basin, the first time since 2010 that three active hurricanes have been in the Atlantic, according to CNN Weather.
Latest developments
– At least two people died and two others were seriously injured in the islands of St. Barts and St. Martin, French Overseas Affairs Minister Annick Girardin said. An infant died in Barbuda, where as many as 95% of structures were damaged, Prime Minister of Antigua and Barbuda Gaston Browne told CNN's "Anderson Cooper 360˚."
– Irma has maintained intensity above 180 mph longer than any storm in Atlantic basin history.
– Late Wednesday night, Irma's core was spinning about 85 miles northwest of San Juan, with maximum sustained winds of 185 mph.
– Meanwhile, Jose, in the open Atlantic far to the southeast of Irma, became a hurricane. Katia, in the Gulf of Mexico, also became a hurricane.
– In the US Virgin Islands, Gov. Kenneth E. Mapp ordered a 36-hour curfew.
– On Thursday the storm will move very near or over the Turks and Caicos, with catastrophic damage likely. The storm will also pass just north of the Dominican Republic and Haiti, bringing hurricane force winds to northern sections of the island, with flooding and mudslides probable.
– It's too early to tell whether it will make landfall on the US mainland. Computer models show it could churn near Florida's east coast by late Sunday, and forecasters warn the core still could hit the Florida peninsula.
– Floridians should heed any evacuation order, Gov. Rick Scott said. "(A) storm surge could cover your house. We can rebuild homes – we cannot rebuild your family," he said.
Airlines cap prices for Hurricane Irma evacuees
Widespread damage on Barbuda
Irma's core slammed the tiny island of Barbuda before moving over St. Martin and Anguilla and parts of the British Virgin Islands. Its maximum sustained winds of 185 mph were well above the 157 mph threshold of a Category 5 storm.
Browne told CNN the damage was "heart-wrenching. Absolutely devastating." He estimated the damage on Barbuda, where he says 1,800 people live, to be at least $100 million.
The telecommunications system in Barbuda was wiped out and cell towers were knocked over, he said. Both the island's hotels were demolished, he added.
There is also no way to land airplanes on the islands, Browne said from Antigua, whose 80,000 people comprise most of the two-island nation's population.
00:46 - Source: PTZtv.com
On Tortola, the largest of the British Virgin Islands, Kennedy Banda said fierce winds blew out the windows of his home. He and his family were taking shelter in a bathroom; he said he was bracing his body against the door in an attempt to keep it shut.
"Everything is blown out," he told CNN by phone near Road Town. "Everything is gone."
Earlier, he posted video on Facebook showing wind and pounding rain whipping the shoreline as Irma's core approached.
The hurricane earlier battered a string of northern Caribbean island nations, situated east of the more populous Virgin Islands group.
Reports suggested damage on parts of the smaller islands, a tropical region popular with tourists.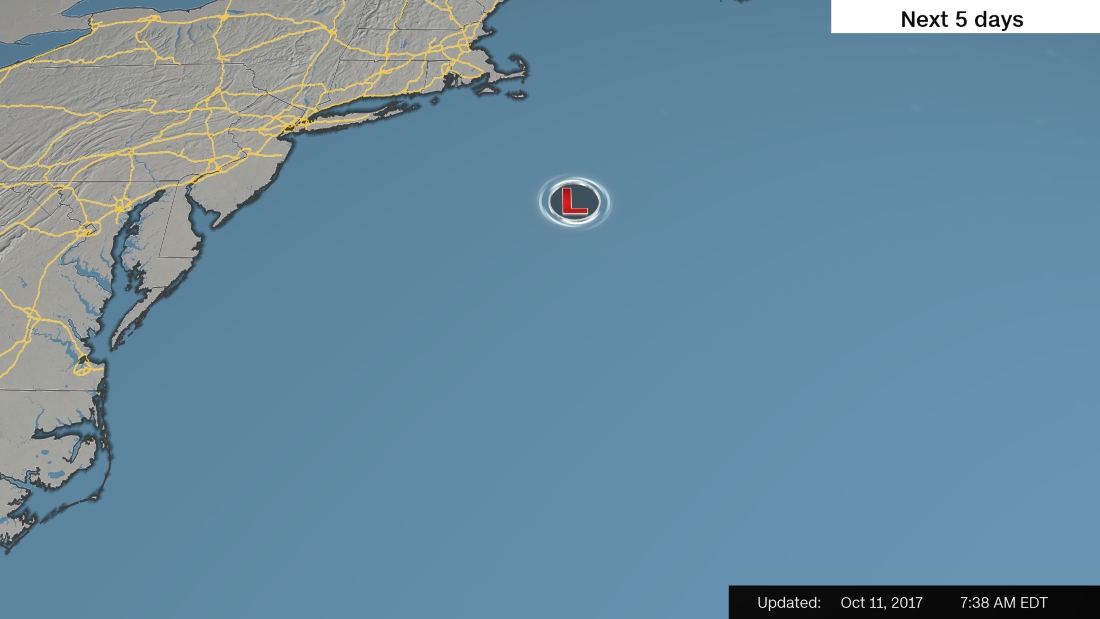 Irma destroyed four of the most solid government buildings on the French-administered portion of nearby St. Martin, an island of about 75,000 people, French Interior Minister Gérard Collomb said in Paris.
It's likely that all other older buildings there have at least been damaged, he said.
Roughly 10 of these smaller islands – such as St. Martin, Antigua and Barbuda, and St. Kitts and Nevis – were pounded by hurricane conditions. One, Guadeloupe, has about 405,000 residents. The rest have about 264,400 people combined.
'It was hell'
Stacy-Ann Taylor, whose husband works at a hotel in St. Maarten, stayed there during the storm with their two children. When the storm winds started blowing hard in the middle of the night, they went into the hallway, as did a bunch of other hotel guests.
About five or 10 minutes later she heard the loud sound of glass smashing in the room.
"Then we could feel a lot of pressure to the ears (like an airplane was taking off or landing) and the sound from the wind sounded like I was in a haunted house," she said.
She posted a video to Facebook Live on Wednesday, in which she said she was happy to have survived. About 90 seconds into the recording, she shows the damage to the street the hotel is on.
"It was hell last night," she said.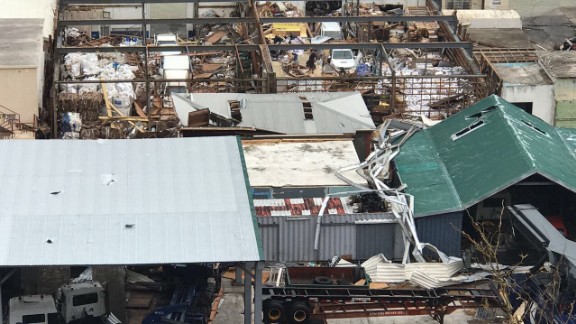 Xaverius van der Hoek/WhatsApp
Though Irma's path is uncertain, forecasters have said it could turn toward Florida over the weekend, and officials there are ordering some evacuations and shutting down schools.
Irma affected many northern Caribbean islands, even those not touched by the powerful core. In Marigot, Guadeloupe, Florida resident Loren Ann Mayo rode out the storm on the sixth floor of a beachside hotel.
"We've been hiding in the bathroom," she said in a video she posted to Facebook. About an inch of water covered parts of the floor, and pieces of drywall had fallen onto a balcony and a bed inside, she said.
Mayo was there on a business trip. "It is pouring down rain. It is howling," she told CNN. "Most people are either in their bathroom, or they've been moved downstairs to the third floor where management thinks is a very, very safe spot."
Storm surge is a concern for the Turks and Caicos Islands and the Central Bahamas (up to 20 feet), as is heavy rain (up to 20 inches in the Virgin Islands, and up to 20 in parts of Puerto Rico).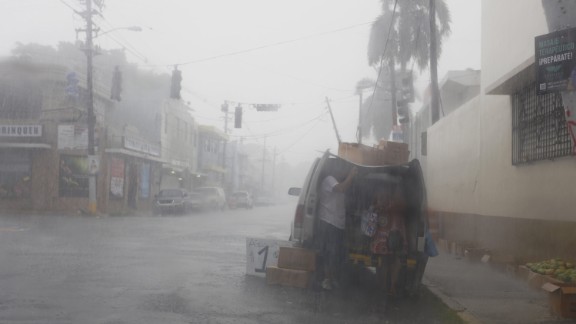 Thais Llorca/EPA-EFE/REX/Shutterstock
The Bahamas prepare
In the Bahamas, emergency evacuations have been ordered for six southern islands – Mayaguana, Inagua, Crooked Island, Acklins, Long Cay and Ragged Island.