Taesung village, South Korea
CNN
—
A triumphant anthem blares across the rice fields that surround this village, singing the praises of a regime most of the world abhors.
The 24/7 propaganda is so loud the houses need extra thick walls for insulation.
This is the noisy reality for the residents of Taesung, a small village on North Korea's doorstep.
Also known as "Freedom Village," it's the only South Korean settlement in the 160-mile long and 2.5 mile-wide demilitarized zone (DMZ) that divides North and South Korea.
At its closest, it's just over 500 yards from the North, giving it a ringside seat to the heightened military tensions.
Cho Young-sook, who runs the village restaurant, is one of just 197 South Koreans living in Taesung. She moved here 38 years ago when she married a local man – the only way anyone is allowed to move into this unusual and tight-knit community.
She describes a village on edge.
"We… see this situation as quite negative. We lock our doors at night now which we didn't before," she said when CNN visited the village in August.
Propaganda war
The propaganda war between the two Koreas isn't subtle. In addition to the broadcasts from the North, over the years each side has been engaged in a tat-for-tat over the size of their respective flagpoles. North Korea is currently in the lead with a pole of 165 meters – one of the world's largest.
There is a village in the North Korean side of the DMZ, Kijong, where the flag pole is located. Residents say they sometimes see people moving about – but they can't tell whether they are civilians or soldiers. South Korea also broadcasts its own propaganda toward the North – but not from this village and not as loud.
Taesung is a rice farming community and has been for generations, but since 1953, when the peninsula was split in two in the aftermath of the Korean War, residents have lived with a threat that colors every facet of their life.
Farmers need a South Korean military escort every time their go to their fields – one step too far and they could stumble into the North. A stream between rice paddies is all that marks the actual border.
Residents must abide by a midnight curfew and are subject to checks by armed soldiers in their home every night. They must also go through checkpoints when they go in and out of the village – a bus comes twice a day.
These aren't idle precautions – there have been two abductions of Taesung residents by North Korean soldiers. In 1997, a mother and son were taken by soldiers while picking acorns and released five days later and in 1975 a 20-year-old farm worker was abducted. North Korea claims he voluntarily crossed the border and has yet to return him.
In exchange for the risks, residents, who must live there 240 days each year, do enjoy benefits. As the village is under the control of the United Nations Command, not the South Korean government, villagers don't need to pay tax and are exempt from compulsory military service.
Few residents want to talk on camera, some don't want to talk at all. There's concern that anything they do or say will be misread by North Korea, bringing them unwelcome attention.
"We just gather and listen to the television since there is so much news regarding this, we just feel a bit unsettled at the moment," says Cho.
Outside Cho's restaurant is a static reminder of the risks residents face: A bomb shelter that is permanently stocked with gas masks and emergency supplies. Residents conduct regular evacuation drills.
However, Cho says she would never consider leaving Taesung.
"Unlike other villages, there are young people here as well, there's a sense of community, that's why I like this place… I'm doing very well here."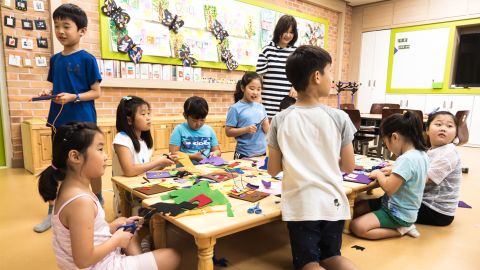 'Dream Making Zone'
The village boasts a school to be proud of.
Twelve teachers for 35 students, class iPads, better facilities than the average South Korean elementary school or kindergarten. The letters DMZ are pinned on the wall but here they stand for "Dream Making Zone."
The young students we see in their art class appear far more concerned with making felt bags than their next door neighbor. We ask them if they feel scared living so close to North Korea. One says yes, another says no.
Jin Young-jin, the principal of the school, says teachers no longer describe North Koreans as evil.
"We rather stress the importance of the two Koreas' unification," Jin said. "Many children here do hope South and North Korea will be reunified in the near future."
By necessity, the kids have a remarkable understanding of one of the world's most prescient dangers but it doesn't appear to have affected their hopes or ambitions.
A poster hanging on the school wall shows what the children want to be when they grow up.
Their top choice? A baseball player, closely followed by football player, nurse, engineer and for just one child among dozens their dream job is to become a soldier.
CNN's Katie Hunt contributed to this report