Story highlights
Suu Kyi had yet to make a statement since new violence broke out two weeks ago
Turkey has announced 1,000 tons of aid will be delivered to the Rohingya
Nobel laureate Aung San Suu Kyi has made her first public comments on the fate of her country's persecuted Rohingya minority since new violence broke out almost two weeks ago.
Suu Kyi, who as Myanmar's state counsellor is the country's de facto leader, claimed during a phone conversation with Turkish President Tayyip Erdogan a "huge iceberg of misinformation" about the Rohingya crisis was being distributed to benefit "terrorists."
According to a readout of the call, she added her government was fighting to ensure "terrorism" didn't spread over the whole of Rakhine state.
Suu Kyi has come under fire in recent days for failing to speak out against the mass killings and displacement of Rohingya by her government, particularly given her previous image as a champion of human rights.
During the call, Suu Kyi said her government was already working to protect the rights of the Rohingya.
"We know very well, more than most, what it means to be deprived of human rights and democratic protection," Suu Kyi said, according to a readout of the call.
"So we make sure that all the people in our country are entitled to protection of their rights as well as, the right to, and not just political but social and humanitarian defense."
At least 123,000 Rohingya refugees have poured across the Bangladeshi border in just two weeks after Myanmar's military crackdown. The violence intensified after co-ordinated attacks on border posts which the government blamed on "terrorists."
Refugees brought with them stories of death and destruction from inside the western Myanmar province. Satellite imagery released by Human Rights Watch allegedly shows entire villages razed to the ground.
International aid heads to Myanmar
Following Erdogan's call with Suu Kyi, a spokesman for the Turkish presidency announced the Turkish Cooperation and Coordination Agency (TIKA) would be allowed to deliver 1,000 tons of aid to Rakhine State.
"The aid will be delivered to the Maungtaw and Buthi Taung areas in the northern regions of Rakhine … to the hundreds of families displaced from their homes and villages as a result of attacks," spokesman Ibrahim Kalin said.
"The first stage of the aid which will be made to the Rohingya who fled to mountainous areas … includes the food staples of rice and dried fish as well as clothing."
The spokesman added as the region was still unsafe, aid would be delivered via military helicopters in cooperation with Rakhine authorities.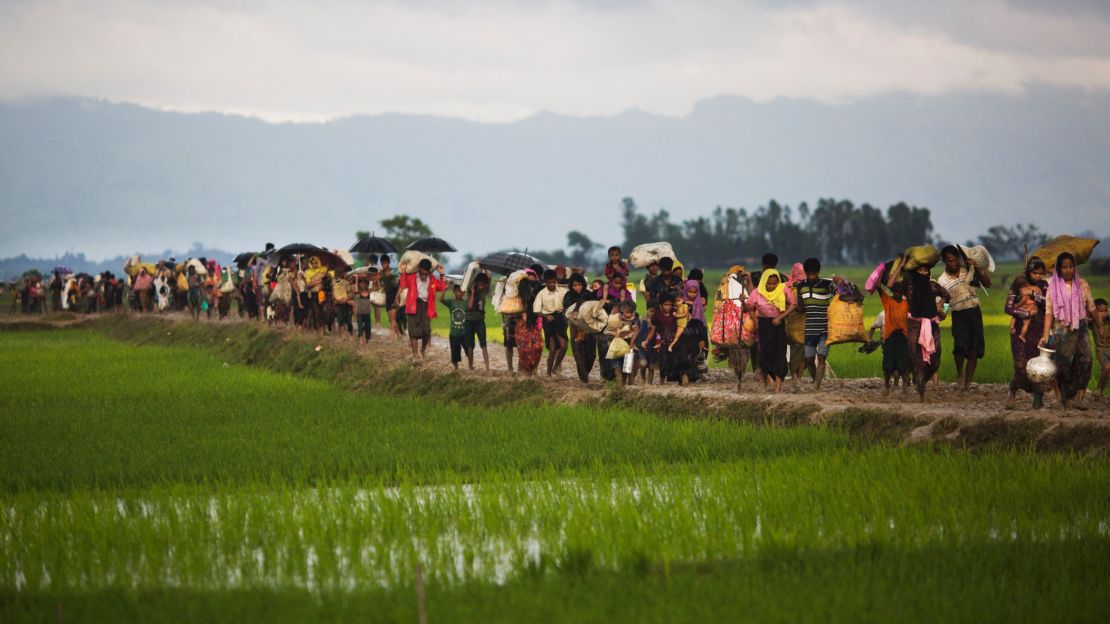 Turkey isn't the only one sending aid to the troubled province either – the Migrant Offshore Aid Station Foundation (MOAS) announced Monday it would relocate to Myanmar to help fleeing refugees.
MOAS is the organization that has been working since April 2014 to rescue migrants attempting to cross the Mediterranean to Europe on often unsafe vessels.
They claim to have already helped more than 40,000 people, including children.
"Building on MOAS' long-standing dedication to alleviating the plight of the persecuted Rohingya minority, MOAS is therefore undertaking a strategic shift of its operations to South East Asia," the organization announced on their website.
"MOAS said they were following a direction from Pope Francis, who on August 27 publicly called for an international response to the Rohingya crisis."
"From there, MOAS will deliver much-needed humanitarian assistance and aid to the Rohingya people, and will work to provide a platform for transparency, advocacy and accountability in the region."
Muslim anger grows worldwide
Myanmar has faced a growing chorus of outrage from across the Muslim world following the most recent outbreak of violence inside Rakhine State.
Leaders of several Muslim majority countries, including Turkey, Indonesia and Pakistan, have issued strong statements calling out the ongoing persecution of the Rohingya.
Pakistani Foreign Minister Khawaja Muhammad Asif on Monday expressed "deep anguish" at the continuing violence, which he termed "deplorable."
Indonesian Foreign Minister Retno Marsudi flew to Myanmar on Monday for talks for state councilor Suu Kyi, after her president Joko Widodo said real action was needed to stop the conflict.
Indian Prime Minister Narendra Modi is due to hold talks with Suu Kyi during a state visit to Myanmar on Wednesday.
Multiple countries have also seen large protests in support of the Rohingya people, including a mass march in the Chechnyan capital of Grozny and outside the Myanmar embassy in Jakarta.
United Nations Secretary-General Antonio Guterres led Western states in condemning the violence, releasing a statement Tuesday saying he is "deeply concerned about the security, humanitarian and human rights situation in Myanmar's Rakhine state."