Story highlights
The lawmaker was briefed Monday
North Korea tested a nuclear weapon Sunday
North Korea is believed to be moving an intercontinental ballistic missile (ICBM), a South Korean lawmaker said after being briefed by the country's intelligence service.
The lawmaker told CNN Tuesday it was unclear when the movement was detected, what the direction of the projectile was and how it was being transported. He attended the briefing by South Korea's National Intelligence Service (NIS) in Seoul on Monday.
All eyes have been on North Korea following the country's sixth test of a nuclear weapon Sunday. Seismological data indicated the weapon was the most powerful ever detonated by the rogue nation, nuclear experts said.
North Korean state media claimed it detonated a hydrogen bomb, also known as a thermonuclear weapon, which could be fitted atop a long-range missile capable of striking the United States.
Weapons experts say it's almost impossible to verify if the warhead and missile could be successfully paired unless North Korea were to actually fire a nuclear-tipped ICBM.
The country has test-fired a number of missiles this summer, including two long-range ones in July and an intermediate-range one in August that overflew the Japanese island of Hokkaido.
Lawmaker Kim Byung-kee told reporters Monday after the same briefing that the NIS said North Korea may test-fire an ICBM towards the North Pacific at a lower angle than the two tests in July, which were lofted, meaning they flew higher but not as far.
Live-fire drills
The South Korean Navy announced Tuesday it conducted live-fire drills off the east coast of the Korean Peninsula to check its "immediate operational readiness" after the country's Air Force and Army conducted their own joint drills.
"Wherever it is, whether on or under water, if North Korea provokes, we will immediately destroy and bury them at sea," the Navy said in a statement.
While South Korean forces have flexed their muscles, diplomats in New York gathered at the United Nations and condemned the nuclear test.
Nikki Haley, the American ambassador to the United Nations, said Monday the United States would circulate a resolution in response after urging her colleagues to adopt the strongest sanctions measures possible to stop Pyongyang's nuclear program.
"Enough is enough," Haley said. "North Korea has basically slapped everyone in the face in the international community that has asked them to stop."
Another lawmaker who attended the Monday briefing, Lee Cheol-woo, told reporters the NIS informed them that Pyongyang had dug extra tunnels at the nuclear test site and could explode another one "anytime."
Rift?
South Korean President Moon Jae-in and his American counterpart, President Donald Trump, spoke by phone Monday and agreed to lift current restrictions on the payload weight of South Korea's ballistic missiles, according to a South Korean presidential spokesman.
But signs of a rift between the two leaders have become apparent despite the decades-long alliance between Seoul and Washington.
Their phone call came a day after the nuclear test and followed a tweet from Trump in which he criticized South Korea for "appeasement" when it comes to dealing with its northern neighbor.
Moon has long been a proponent of more dialogue and diplomacy with North Korea, whereas Trump has said recently that "talking is not the answer."
"This is not the time for these two countries to be showing these cracks. North Korea is going to exploit that," said Jean Lee, a North Korea expert and global fellow at the Wilson Center.
Trump spoke twice with Japanese Prime Minister Shinzo Abe over the weekend, once before the nuclear test and once after.
Diplomacy
Moon and Abe are both traveling to the eastern Russian city of Vladivostok for an economic summit taking place Wednesday and Thursday.
They will be joined by Russian President Vladimir Putin, who is currently in China for a summit of the BRICS nations – Brazil, Russia, India, China and South Africa. He reiterated calls for North Korea to stop nuclear tests but said dialogue needs to be the answer.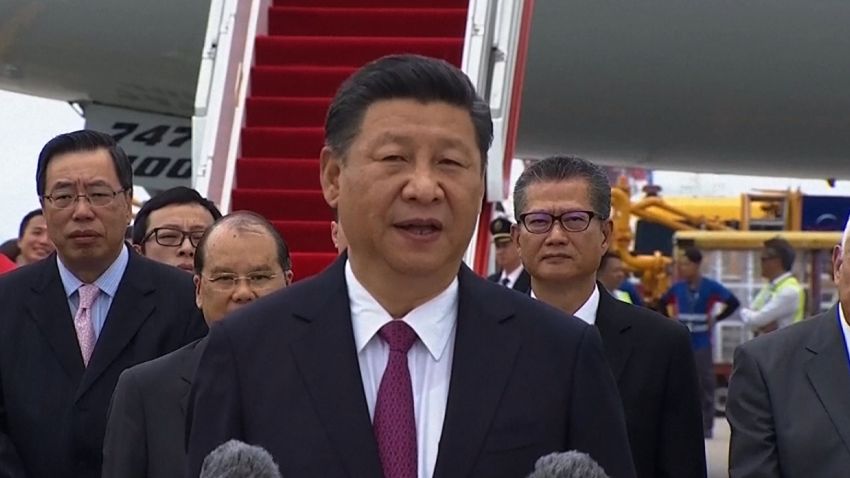 China's leader urges for global peace
"Russia condemns these exercises from North Korea. We think these exercises are provoking in nature but we should not forget and North Koreans should not forget what happened in Iraq," he said.
"Sanctions of any kind are usefulness and ineffective … they will eat grass but they will not turn away from the path that will provide for their security," Putin said, referring to accusations that Pyongyang spends too much on weapons programs while its citizens starve.
CNN's Jeremy Herb contributed to this report