South Korea's military conducted a live-fire exercise early Monday in response to North Korea's latest nuclear test.
The combined drill, carried out by the South Korean army and air force and intended to simulate a strike on North Korea's nuclear test site, involved surface-to-surface ballistic missiles and F-15K fighter jets hitting targets off the east coast of South Korea, according to a statement form the country's Joint Chiefs of Staff.
What happened:
– North Korea said it successfully conducted a test of a hydrogen bomb Sunday – the country's sixth nuclear test.
– The explosion created a magnitude-6.3 tremor, making it the most powerful weapon Pyongyang has ever tested.
– Hours before the test, North Korean state media released pictures of the country's leader, Kim Jong Un inspecting what it claimed was a nuclear warhead being placed inside a missile
Latest developments:
– US Treasury Secretary Steven Mnuchin said he is drafting tough sanctions against North Korea, adding "this isn't the time for just talk."
– As US President Donald Trump was leaving a church service for Hurricane Harvey victims, he was asked by a reporter if the United States would attack North Korea. "We'll see," Trump responded.
– US Defense Secretary James Mattis told reporters in front of the White House that any threat to the United States, its allies or its territories "will be met with a massive military response, a response both effective and overwhelming." He added: "Kim Jong Un should take heed of the United Nations Security Council's unified voice. All members unanimously agreed on the threat North Korea poses and they remain unanimous in their commitment to the denuclearization of the Korean Peninsula … We are not looking to the total annihilation of a country, namely North Korea, but as I said, we have many options to do so."
– Trump took to Twitter after the announcement and said North Korea's "words and actions continue to be very hostile and dangerous to the United States." He added that Pyongyang has become a "great threat and embarrassment to China, which is trying to help but with little success"; warned South Korea their "talk of appeasement with North Korea will not work"; and said Washington is considering "stopping all trade with any country doing business with North Korea."
– Chinese President Xi Jinping, who is hosting an international financial summit, said in an opening ceremony speech that "incessant conflicts in some parts of the world and hotspot issues are posing challenges to world peace," according to a transcript published by Chinese state media.
– Japanese Prime Minister said the threat against his country is now "more grave and imminent"; South Korean President Moon Jae-in called it an absurd strategic mistake."
Emergency session
United Nations Secretary-General António Guterres said the test was "profoundly destabilizing for regional security," and the UN Security Council has scheduled an emergency meeting to discuss the issue for Monday at 10 a.m. ET.
The Security Council also met last week after North Korea shot a missile that overflew the northern Japanese island of Hokkaido. Though the only thing to come from that meeting was a strongly-worded statement, the Security Council did unanimously pass a new round of sanctions in early August. Those are meant to choke off North Korea's ability to bring in revenue across the globe.
"For months North Korea refrained from conducting a nuclear test and from launching missiles over Japan," said David Wright, the co-director of the Union of Concerned Scientists Global Security Program. "It now seems to have decided to end that restraint."
It's unclear if a new round of sanctions is in the works, but Japan and South Korea have both signaled they are in favor of applying more diplomatic pressure on Pyongyang.
However, a noticeable divide has emerged between Washington and Seoul when it comes to how exactly the world should respond to North Korea's latest move.
After President Trump's tweet on South Korean appeasement, the South Korean President's office said in a statement that it will "pursue the denuclearization of the Korean Peninsula through peace with our allies."
Trump on attacking North Korea: 'We'll see'
The country's current President Moon Jae-in, who was elected in May, is seen as more open to dialogue than his hawkish predecessor.
China, long viewed as North Korea's only real regional ally, also condemned the test.
"We strongly urge (the) North Korea side to face up to the firm will of the international community on the denuclearization of the peninsula, abide by relevant resolutions of the UN Security Council, stop taking wrong actions that exacerbate the situation and are not in its own interest, and return to the track of resolving the issue through dialogue," the Chinese Foreign Ministry said.
'Perfect success'
North Korea's test came hours after state-run media released images of leader Kim Jong Un inspecting what it said was a hydrogen bomb ready to to top an ICBM, which the country would need to deliver a nuclear warhead to far-away locations.
State news anchor Ri Chun Hee hailed the test as a "perfect success" and the final step in attaining a "state nuclear force," which North Korea sees as crucial in order deter any adversaries from invasion or attempting regime change.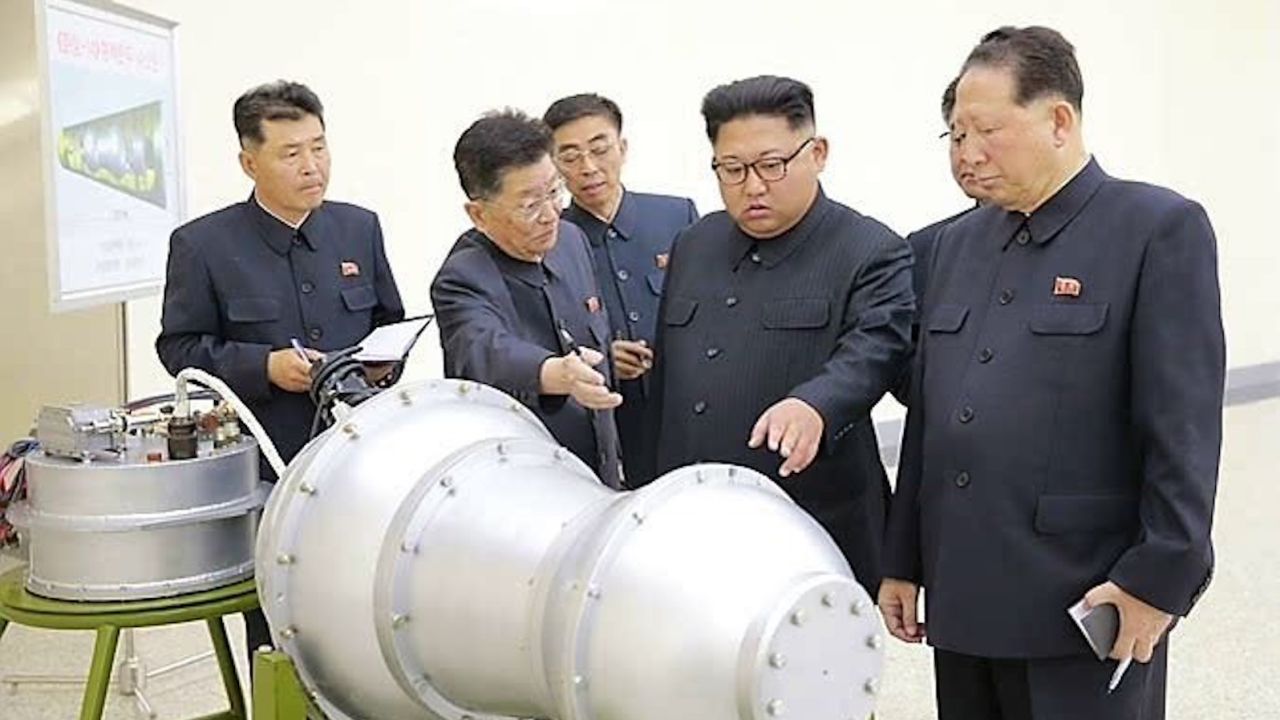 Analysts have said for months that another nuclear test was likely on the way, with satellite imagery revealing that a tunnel had been dug earlier this year.
And the country has for years worked on miniaturizing a nuclear warhead so it can be fitted atop a long-range missile and survive the heat-intensive process of re-entering the earth's atmosphere.
North Korea claimed the device tested Sunday was a hydrogen bomb, a much more powerful type of nuclear weapon that uses fusion instead of fission to increase the blast yield, or destructive power. It is also known as a thermonuclear bomb.
The weapon that makes N. Korea more dangerous
While it's nearly impossible to verify the North Korean claim that the weapon was small enough to be put on a missile – short of having independent experts examine the test – the tremors that followed the blast can help scientists calculate how powerful the explosion was. Other countries will also take air samples to measure radiation levels, which will also offer important details.
NORSAR, a Norway-based group that monitors nuclear tests, estimated it had an explosive yield of 120 kilotons – which means the power of 120,000 tons of TNT.
South Korean officials gave a more modest estimate of 50 kilotons.
To put that in context, the nuclear bomb dropped on Hiroshima in 1945 – which instantly killed 80,000 people – created a yield of 15 kilotons.
The Democratic People's Republic of Korea, as it's officially known, claimed it set off a hydrogen bomb in its fifth nuclear test on September 9 of last year. That date is the country's Foundation Day holiday.
The blast triggered a 5.3-magnitude seismological event; which said the data showed the detonation was more likely a boosted fission weapon.
Sanctions
Trump's administration is now pursuing what it calls a strategy of "peaceful pressure" to get North Korea to bring its nuclear weapons program to the negotiating table.
Why North Korea wants nukes and missiles
North Korea has long maintained it wants nuclear weapons and long-range missiles to deter the United States from attempting to overthrow the regime of Kim Jong Un.
Pyongyang looks at states such as Iraq – where Saddam Hussein was overthrown by the United States, and Libya – its late leader, Moammar Gadhafi, gave up his nuclear ambitions for sanctions relief and aid, only to be toppled and killed after the United States intervened in his country's civil unrest – and believes that only being able to threaten the US mainland with a retaliatory nuclear strike can stop American military intervention.
Many experts say they believe North Korea would not use the weapons first. Kim values his regime's survival above all else and knows the use of a nuclear weapon would start a war he could not win, analysts say.
North Korea itself has long said it is open to dialogue, but will not abandon its nuclear aspirations unless the United States abandons what Pyongyang considers a "hostile policy" against it.
Sanctions have long been a tactic the international community has employed to punish and isolate Pyongyang, but in many ways they have failed. The Kim regime developed its weapons and nuclear program despite the international measures designed to cripple the economy and which exacerbated periods of mass starvation.
The White House, meanwhile, has been accused of sending mixed messages on the issue and lacking a clear strategy. The President's tweets regularly suggest he is not interested in dialogue.
"The Trump administration has clearly prioritized North Korea. Not all of that attention has been helpful," said Adam Mount, a North Korea expert and senior fellow at the Center for American Progress. "The critical thing is now is that the United States does not cause more damage with its reaction than the test did itself."
CNN's Taehoon Lee reported from Seoul, while Joshua Berlinger reported and wrote from Hong Kong. CNN's Steven Jiang, Sol Han, Brad Lendon, Yazhou Sun, Jill Disis, Yoko Wakatsuki, Carolyn Sung, Elwyn Lopez, Junko Ogura, Barbara Starr, Angela Dewan, Elliott McLaughlin and Andreena Narayan contributed to this report.