Story highlights
LaQuishe Wright: To experience devastation like that brought by Hurricane Harvey feels very different from what you've probably seen on TV
My neighbors' harrowing evacuations make me feel even luckier to have made it out safely, but I can't help but worry about what comes next for us, she writes
Editor's Note: LaQuishe Wright is the founder and managing partner of Q Social Media LTD, a social media management firm that represents clients in film and television, charities and other businesses. The views expressed in this commentary are solely those of the author.
I woke up Friday morning and looked outside at a deceptively beautiful day. Beautiful because my two sons, Bry and Ryan, two dogs and I are safe and dry and the sun is shining again after days of endless rain. Deceptive because our entire life as we know it is submerged in 4 feet of water less than 20 minutes away.
To experience devastation like that brought by Hurricane Harvey feels very different from what you've probably seen on television. I was lucky enough to make it out of my house in Katy with my kids, my dogs, our cars and at least some of our belongings and memories. My neighbors' harrowing evacuations make me feel even luckier to have made it out safely, but I can't help but be concerned about what comes next for us.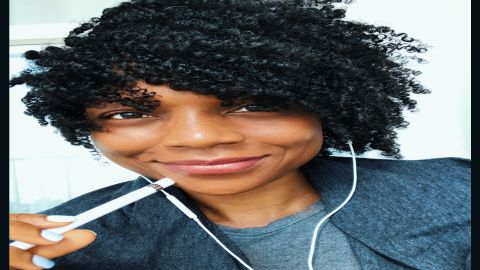 LaQuishe Wright
Because of our position next to the Barker Reservoir, our home could be under water for as long as three months. Since we were not in a flood plain, we and the majority of our neighbors do not have flood insurance. Our most valuable assets are now under water and we can only wonder what Harvey has done to our property values.
The homes will have to be taken down to the studs, but will everyone decide to rebuild or will it be a dilapidated ghost town? Most importantly, how long before a storm like this happens again?
This tremendous loss of almost everything we own is now hitting me in waves. I'm spending my days signing up for FEMA help with immediate necessities and housing, canceling services we no longer need like cable and Internet, and trying to figure out how to create a new normal for my children. That's all we really want right now.
How did we get here? It seems so long ago now but this ordeal started only a week ago– Friday, August 25, my birthday. I began the day thanking God for letting me see another year. My children got up and got ready for school. I made sure the dogs were taken care of and started my work day (I work from home running my own business).
Soon, the day took a dark turn as I followed the news of an approaching hurricane. Predicted to hit as a Category 3, it barreled towards us with a Category 4 status. I was a bit relieved to learn that we may not get a direct hit from Hurricane Harvey, but quickly became afraid again when I learned we would be on the "dirty" side of the storm, would get prolonged rain, and could see apocalyptic flooding.
I stayed up all night monitoring Harvey's status. Although our home had never flooded in the 17 years we had lived in Katy, the streets surrounding our neighborhood started to have flooding issues in recent storms, and given our proximity to the nearby Barker reservoir, I became concerned that we would not be able to escape safely if we had to.
LaQuishe Wright
My paranoia about being trapped by the storm stems from my need to protect all of my living souls in my home, but it's especially important for my 12-year-old son, Ryan. He's a type 1 diabetic with Celiac disease. I always have to make sure he has access to proper medical care, which requires power to refrigerate his insulin and provide a special diet.
Although we were told not to venture out in the middle of the night, my gut told me we needed to get to a safer location. I did a test run outside my neighborhood around 2 in the morning to see if the streets were starting to flood. It seemed safe enough, so I told the boys to pack their bags and I packed food into a cooler.
I thought it was important to get into a hotel before everyone else evacuated, so I used the Hotels.com app to quickly find a place in the area that would take pets and called to confirm they had availability.
Room in the car was limited, so I had to make the difficult decision to leave our large dog behind with food and water with hopes that we would return later in the day to retrieve him. We loaded our bags and our smaller dog into an SUV I had bought a week before to help us better handle flood situations and slowly navigated the wet streets as the rain poured down.
Hours later, I went back to rescue our other dog, but the back streets we used just a few hours before were now flooded, so I had to find a different route. Thankfully, the freeways are elevated, so they allowed me to get close to my neighborhood, but we had to navigate through gas stations and parking lots, go the wrong way up streets and use an alternate exit to get to the house, since the main entrance to the neighborhood was already flooded.
We quickly grabbed the dog and high-tailed it out of the neighborhood before additional flooding blocked us. I also tried (and failed) to convince my neighbor to leave, knowing the streets outside the neighborhood wouldn't be passable soon.
Once we made it back to the hotel, I could finally breathe because my four souls were safe and dry, but I realized we should have brought the dog's shot records and a few irreplaceable memories. We went back a final time on Sunday morning, but both entrances to the neighborhood were under water, dashing our hopes of retrieving more of our personal belongings and trapping our neighbors in.
I continued to stay in touch with those stranded neighbors through a group Facebook page. Many decided to stay because they felt safer in their homes, but could no longer leave, even if they wanted to. Hotels were filling up as quickly and eventually, they finally evacuated from chest-deep water – infested with snakes, alligators and fire ants – with the help of the National Guard, boats and helicopters.
I'm forever indebted to all of our angels who have been helping us during this difficult time. The example they are setting is making the biggest impression on my children. They truly know that through the generosity of others, we're going to be OK.
In the meantime, I have to keep paying my mortgage on an inhabitable home that I'm not even sure we'll rebuild. I do know we will rebuild our lives, though. I do know this will not break us, and I can only hope it will make us stronger.
Get our free weekly newsletter
I do have one request on behalf of everyone affected by this storm. Please do not forget about us. We will need your support and understanding for longer than any of us want to admit.
I pray for my family and all of the people in my region affected by this horrible storm and the disastrous flooding that has followed. In my life, the ups have outweighed the downs, and I know this situation will be no different.
It will take time, but we will be OK … one day at a time.