Story highlights
Harvey's outer bands could bring 4 to 8 inches of rain to New Orleans this week
President Trump: "To the people of Texas and Louisiana, we are 100% with you"
New Orleans woke up with an uneasy sense of déjà vu Tuesday as it kept a wary eye on Tropical Storm Harvey while marking the 12th anniversary of Hurricane Katrina.
Katrina made landfall in Plaquemines Parish, Louisiana, on August 29, 2005, but its aftermath became the truly historic catastrophe. Federal levees and floodwalls crumbled, ushering powerful storm surge into the city and leaving 80 percent of New Orleans underwater for weeks. More than 1,500 people were killed and 200,000 properties were damaged.
Hurricane Katrina Statistics Fast Facts
Now, Louisiana is reviewing lessons learned from the deadly storm, as Harvey's outer bands could douse the state over the coming days, Gov. John Bel Edwards said.
Harvey is expected to make landfall Tuesday night or Wednesday morning along the Louisiana-Texas border, said Andy Patrick, National Weather Service meteorologist-in-charge at the Lake Charles Weather Forecast Office. It will bring winds of 30-40 mph and a 2-4 foot storm surge.
Already, 500 people were rescued overnight Monday amid flooding in and around Lake Charles, in western Louisiana, the governor said.
"The Katrina situation is one that ever since then, we know how to deal with rain, we know how to deal with floods," Edwards told CNN's Chris Cuomo Tuesday. "We've got a lot of experienced people. We've got the right equipment."
"One of the things we're trying to do is be the best neighbor possible to Texas, because they were very gracious and hospitable. They took in a lot of people after Katrina, if you remember," Edwards said. "And they remain the center of gravity as it relates to Harvey. … So we are trying to focus on preparing for and responding to the storm here in Louisiana, but also trying to help our neighbor in Texas."
New Orleans under flash-flood watch
Devastation from Harvey looks "frighteningly familiar" to his city after Katrina, New Orleans Mayor Mitch Landrieu said. In Houston alone, more than 3,500 people have been rescued from flooding, and many more are believed to be in need of help as the rain keeps pouring.
Public facilities and schools in New Orleans were closed Tuesday, but Landrieu said schools will reopen on Wednesday in the city.
He said 3-4 inches of rain have fallen so far around the city, with some isolated areas receiving up to five inches.
New Orleans is under a flash-flood watch and could see localized flooding, with 4 to 8 inches of rain predicted through Thursday, CNN meteorologist Taylor Ward said.
"If all goes well, we won't see catastrophic flooding like in Houston," Ward said. "We'll only see minor flooding."
Because of the "uncertainty of the warnings that we have had with the flash floods, with the potential rain bands and our diminished capacity, the better part of wisdom is for everybody to stay home and to protect life and property," Landrieu said.
13 drainage pump remain offline
The forecast comes as New Orleans' drainage system is at a diminished capacity following recent pumping failures.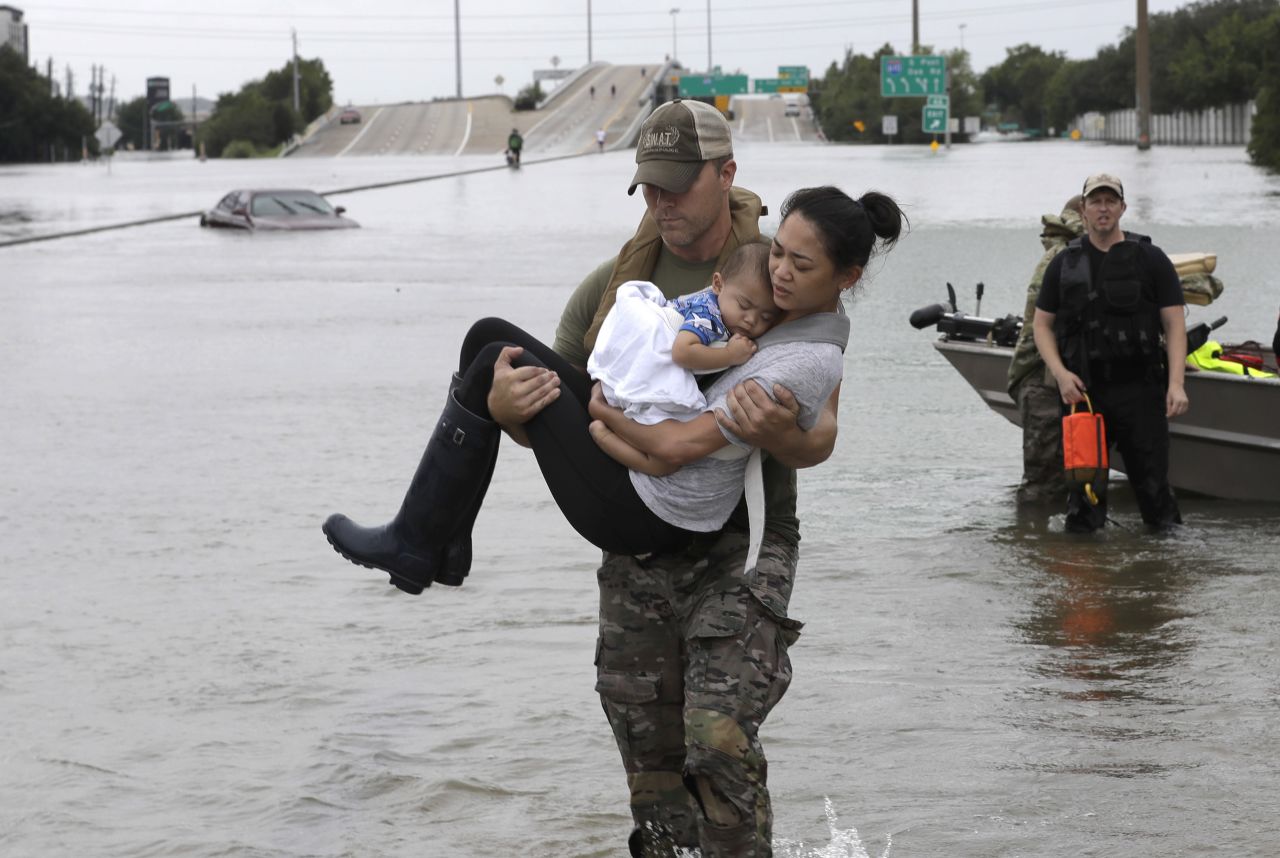 Photos: Hurricane Harvey slams Texas
Because of New Orleans' unusual topography – with many areas below sea level – it takes about 100 pumps spread across every neighborhood to suck water out of storm drains and canals and push it into a nearby lake or other water bodies. The pumps vary in size and capacity; some are as big as a garage and more than a century old.
Weeks ago, strong storms overwhelmed the city's unique drainage system, causing flooding at several hundred properties and exposing critical deficiencies among 100 large pumps that drain many neighborhoods. Days later, a key turbine that helps generate an uncommon frequency of electricity needed to run the city's oldest, most powerful pumps caught fire, leaving one of five turbines working.
The turbine was quickly fixed. And of the city's 120 drainage pumps, 107 were in service early Tuesday, according to the most recent records posted online by the city-owned Sewerage & Water Board.
The city's fire department has given out 35,800 sandbags to residents, Landrieu said.
President Trump could be Louisiana-bound
Harvey barreled ashore late Friday as a Category 4 hurricane, first walloping the Texas coast, including the cities of Rockport and Galveston. It weakened significantly but moved back out over the Gulf, where it's expected to gather moisture before making landfall again late Tuesday or early Wednesday near the Texas-Louisiana border.
President Donald Trump on Monday approved Edwards' request for an emergency declaration, which states that Beauregard, Calcasieu, Cameron, Jefferson Davis and Vermilion parishes are likely to face the brunt of Harvey's wind and rain.
The President, who flew in to Texas Tuesday, said earlier he may head to Louisiana on Saturday.
"To the people of Texas and Louisiana, we are 100% with you," Trump said from the East Room of the White House.
CNN's Michelle Krupa contributed to this report.