Story highlights
Thousands of Rohingya enter Bangladesh following clashes between military and suspected insurgents
Camps for displaced civilians are overcrowded and conditions worsening
Thousands of ethnic Rohingya are attempting to flee violence in Myanmar's western Rakhine state, braving hostile border guards, treacherous territory and high waters to cross into neighboring Bangladesh.
It's unclear how many refugees have crossed the border, but community leaders in different camps in Bangladesh said at least 3,500 new refugees have entered the country in the last five days.
Violence erupted over the weekend in the impoverished Rakhine state, leaving nearly 80 suspected Rohingya insurgents, 12 security officers and six civilians dead, according to state media.
The alleged insurgents carried out a series of coordinated attacks against police outposts and an army base Friday. It followed a renewed wave of government security operations in the region.
The Rohingya, a Muslim minority in the predominantly Buddhist Myanmar, are considered some of the most persecuted people in the world. Myanmar, also known as Burma, considers them Bangladeshi interlopers and Bangladesh says they're Burmese.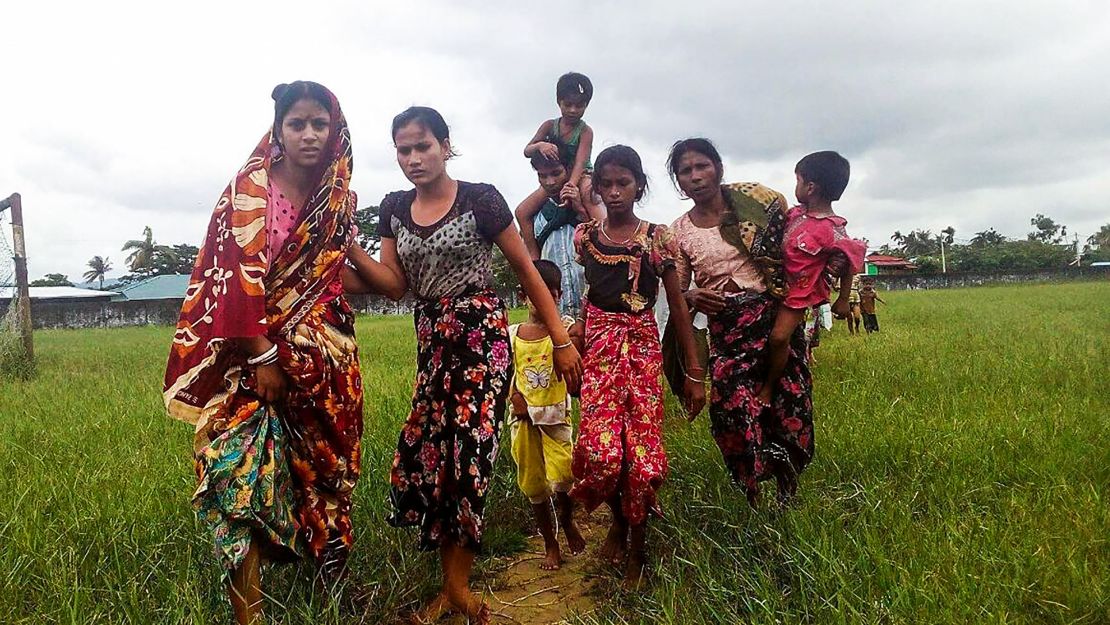 Police killed in new violence in Myanmar's Rakhine state
Crossing the Naf river to safety
Sayra Begum, a 28-year-old Rohingya woman from Tomru village in Rakhine, spoke to CNN from an overcrowded, under-supplied refugee camp on the border.
She said her husband and brothers had taken a group of 26 people, including children, to the Naf river which separates Bangladesh and Myanmar. The men stayed in Rakhine, while the others crossed the river to safety.
"We waited till nightfall and later entered in Bangladesh, escaping the eyes of Bangladeshi border guards. We arrived at the (Balukhali refugee camp) but don't know where will we stay and what we will eat."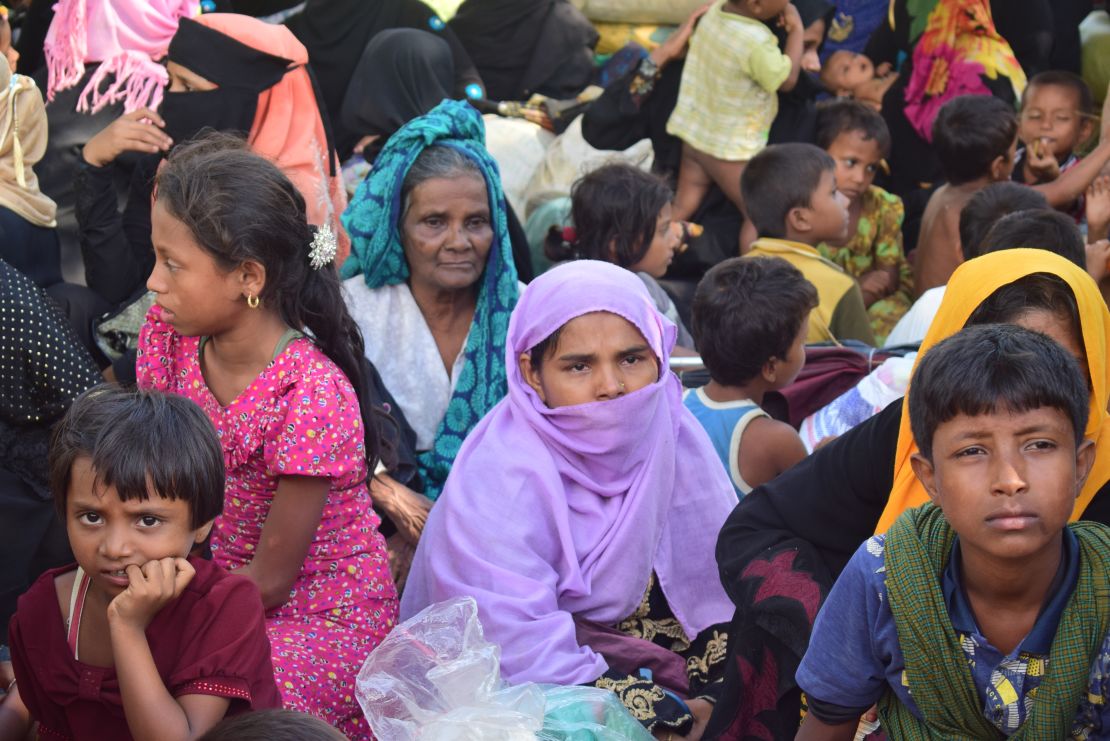 The camp was set up in October last year when an earlier influx of as many as 85,000 Rohingya crossed the border. It's the closest refugee camp to Myanmar and a common staging post for those who have fled.
One refugee, Amena Khatun, 31, told CNN that the Myanmar army had shot at her and her companions as they made their escape Sunday.
Initially, troops, along with Buddhist civilians "went mad after they found three Buddhists' bodies near a Rohingya village," she said.
"They then came in midnight and started setting fire to our straw made huts. We ran to the hills for our lives."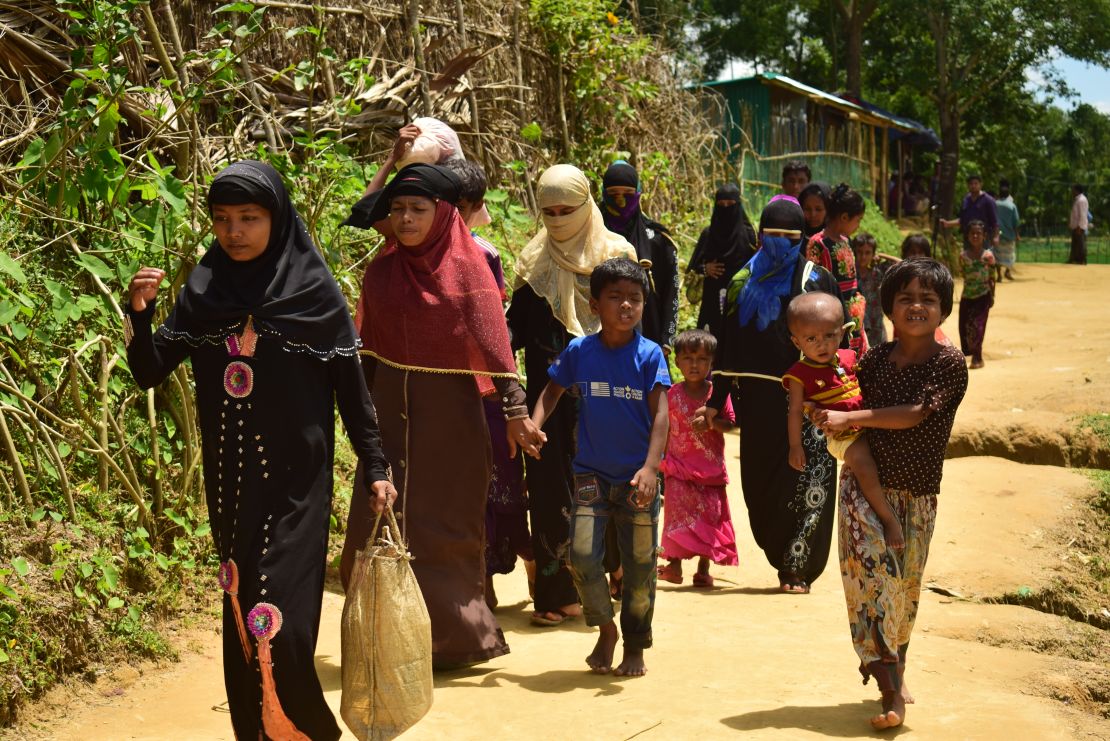 Khatun said the soldiers shot at them with mortars and machine guns from their border posts, but she and her family clambered over barbed wire fences to enter the no man's land in between the two countries.
"Bangladesh border guards didn't let us in. Since then we are sitting in this marshy land with my entire family," she said tearfully, speaking through the fence that divides her from relative sanctuary.
"We want to go and take shelter inside Bangladesh and don't want to go back with my innocent children in the lion's mouth again. I don't see any light of hope."
Khatun, along with her family, were eventually allowed to cross the border and enter the camp.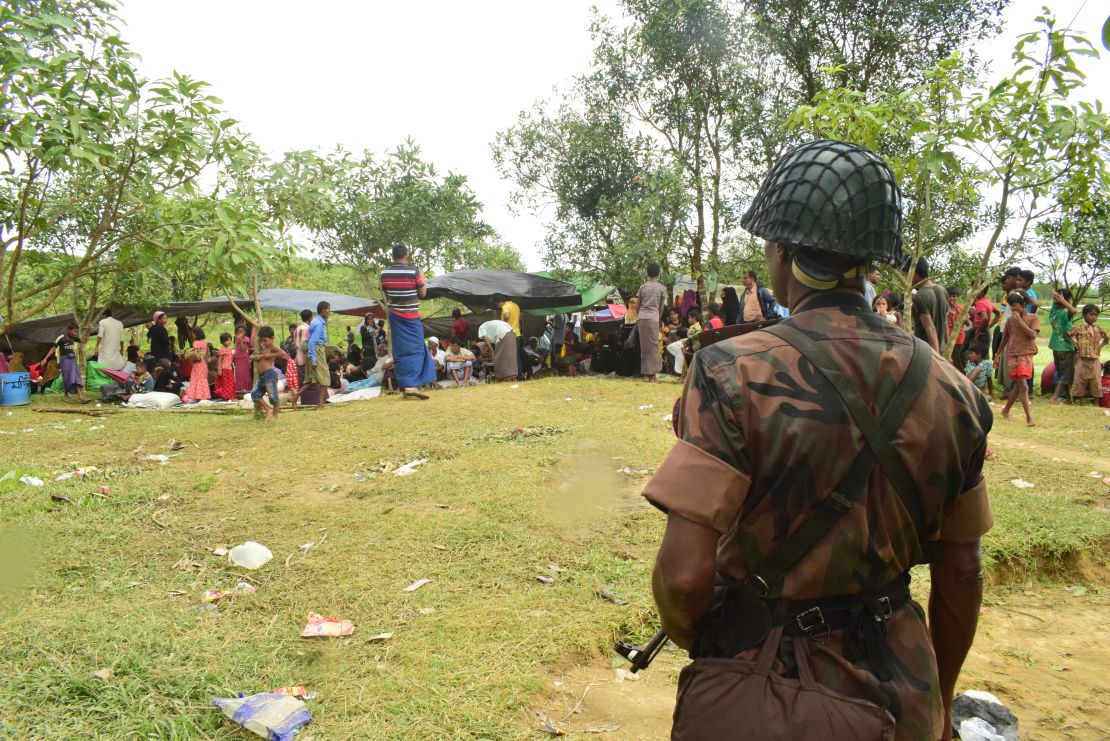 Border Guards Bangladesh (BGB) commanding officer Mozural Hassan Khan told media that he and his soldiers had heard a "huge number" of shots and explosions on the Myanmar side of the border.
"They crossed their fences inside Myanmar border and they came near to the zero line (the border between the two nations). Right now all of them are waiting at zero line. They are looking scared, looks like they are running out of the fear for their life."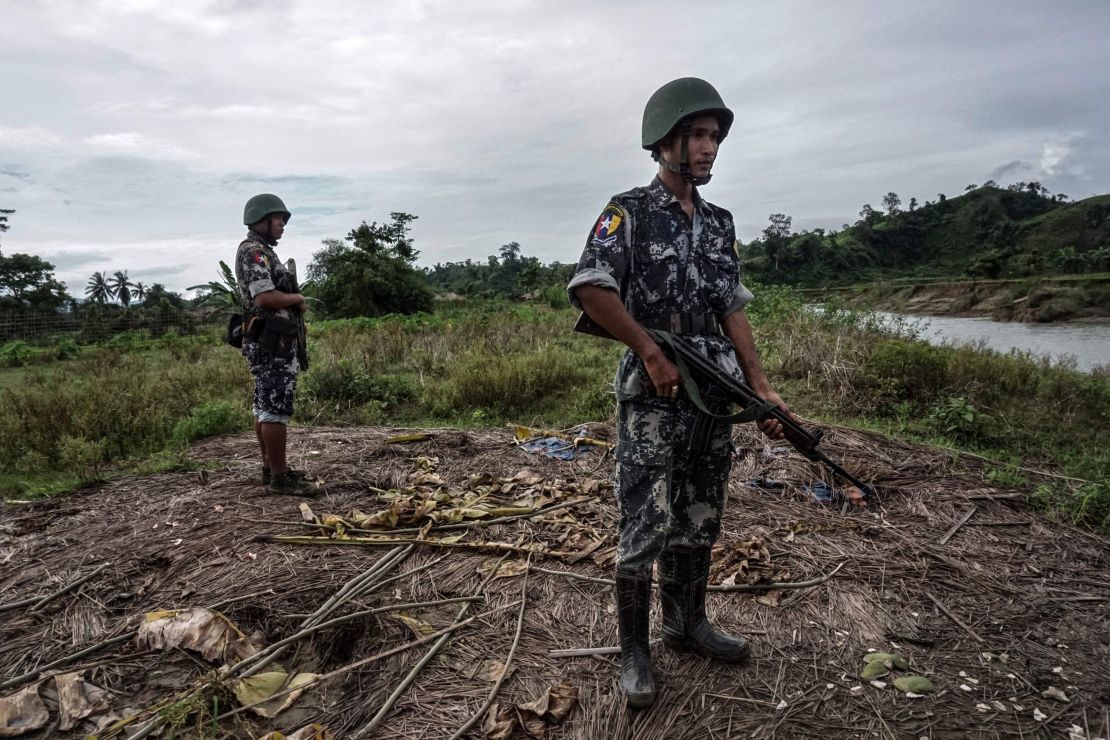 The unwanted: Rohingya refugees in Bangladesh
Pattern of behavior
Matthew Smith, a founder and Chief Executive Officer of human rights group Fortify Rights told CNN from Bangkok the reports are consistent with his previous understanding of the military's treatment of civilians.
Who are the Rohingya?
The Rohingya are a stateless Muslim minority in Myanmar's Rakhine state thought to number between 800,000 and one million.
Myanmar does not recognize them as citizens or one of the 135 recognized ethnic groups living in the country.
Much of this is rooted in their heritage in East Bengal, now called Bangladesh.
Though many Rohingya have only known life in Myanmar, they are widely viewed as intruders from across the border.
According to Human Rights Watch, laws discriminate against the Rohingya, infringing on their freedom of movement, education, and employment.
They are denied land and property rights and ownership, and land on which they live can be taken away at any given time.