Story highlights
The rally organizer says he feared violence
Counterprotesters march against Trump, Nazis and the KKK
(CNN) —
It was expected to be another volatile clash between right-wing activists and counterprotesters. But by Saturday afternoon, the activists were scarce in San Francisco and hundreds of locals had taken to the streets for festive demonstrations and "victory" marches.
An anti-government "free speech" group called "Patriot Prayer" had scheduled a rally for 2 p.m. Saturday in San Francisco's Crissy Field, a popular park near the Golden Gate Bridge. A permit was issued for the rally and the city banned firearms and helmets, among other items, and planned a large police presence.
Friday night, organizer Joey Gibson announced he was canceling the event, fearing violence. He blamed San Francisco Mayor Ed Lee and House Minority Leader Nancy Pelosi, whose district includes the city, for categorizing the group as white extremist and raising tensions.
Gibson said the group would hold a news conference at Alamo Square park instead, though it did not have a permit. Those plans were foiled when the city erected fences around the park early Saturday. Gibson finally settled on a Facebook Live stream after relocating to Pacifica, a coastal town south of San Francisco.
Later in the day, he and a handful of protesters did make a brief appearance at Crissy Field.
Mark Peterson/Redux for CNN
With the violence in Charlottesville, Virginia, still fresh in everyone's minds, San Francisco police had braced for the worst, fearing the event might attract right-wing extremists. Lee said every safety professional in the city would be working Saturday. He urged residents to "unite against hate" and partake in peaceful rallies.
There were multiple creative counterprotests planned for the day, including a gathering of anti-fascism clowns, a moving dance party, a costume party and protest for kids in Golden Gate Park, and a plan to spread dog feces at the site of the rally.
San Francisco police did not give a crowd estimate, but hundreds of counterprotesters filled streets and parks.
One large group made its way from the Castro District to City Hall. Another marched from Alamo Square to an intersection in the Mission District, where traffic was stopped for a brief rally. Speakers led chants of "Si, se puede" ("Yes we can") and anti-Trump, -Nazi and -KKK calls, while police stood nearby with helmets in their hands.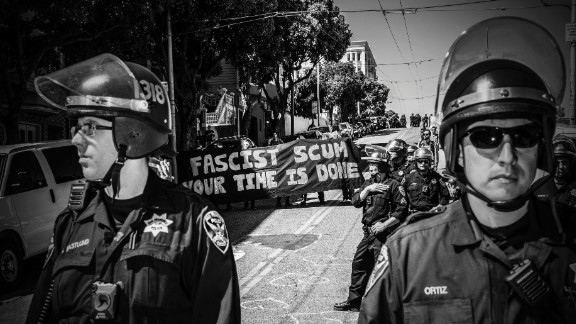 Mark Peterson/Redux for CNN
A masked counterprotester set a small Trump piñata on fire in the middle of the street before people began to disperse and the usual Saturday afternoon salsa band started playing again.
San Francisco's chief of police said there was only one arrest and no major incidents or injuries. The arrest was for public intoxication.
"I cannot express how proud I am of all the residents … all of our diverse aspects of the entire city, loud and proudly (saying) we are going to reject hate in our city," said Lee said.
Local protesters said they were buoyed by the day and many considered it a success.
"The horribly intimidating and violent rally that would have happened didn't happen," said Christine, 27, who held a "Femms fighting facism" sign and gave only her first name. "That's today. But there's still tomorrow."
An "anti-Marxism" rally that was scheduled for Sunday in Berkeley was also canceled over safety concerns, organizers of that event said.
"As the week progressed, city leaders took safety measures from us," Berkeley rally co-organizer Gabriel Silva said Saturday.
CNN's Keith Allen contributed to this report.