Story highlights
Local Irish lawmaker says Americans contacted him about plaque at Town Hall
Plaque honors Dick Dowling, a hero of the Confederacy, and lauds his military service
The controversy over America's Confederate monuments has made its way across the pond.
On the facade of the Tuam Town Hall in County Galway is an unassuming bronze plaque that, after two decades in the damp climate of western Ireland, almost blends into the building's gray stone facade.
It honors Dick Dowling, an Irish-born hero of the Confederacy.
After hundreds of white nationalists and other right-wing groups converged on Charlottesville, Virginia, to protest the removal of a statue of Confederate Gen. Robert E. Lee, calls to take down homages to the Confederacy reached their zenith. From Baltimore and Florida to Texas and California, memorials came down.
Victim died 'fighting for what she believed in'
More than 3,000 miles away from Charlottesville, County Galway Councilor Shaun Cunniffe heard calls as well – six, to be exact. The callers had read about the Dowling plaque and wanted it removed, Cunniffe said.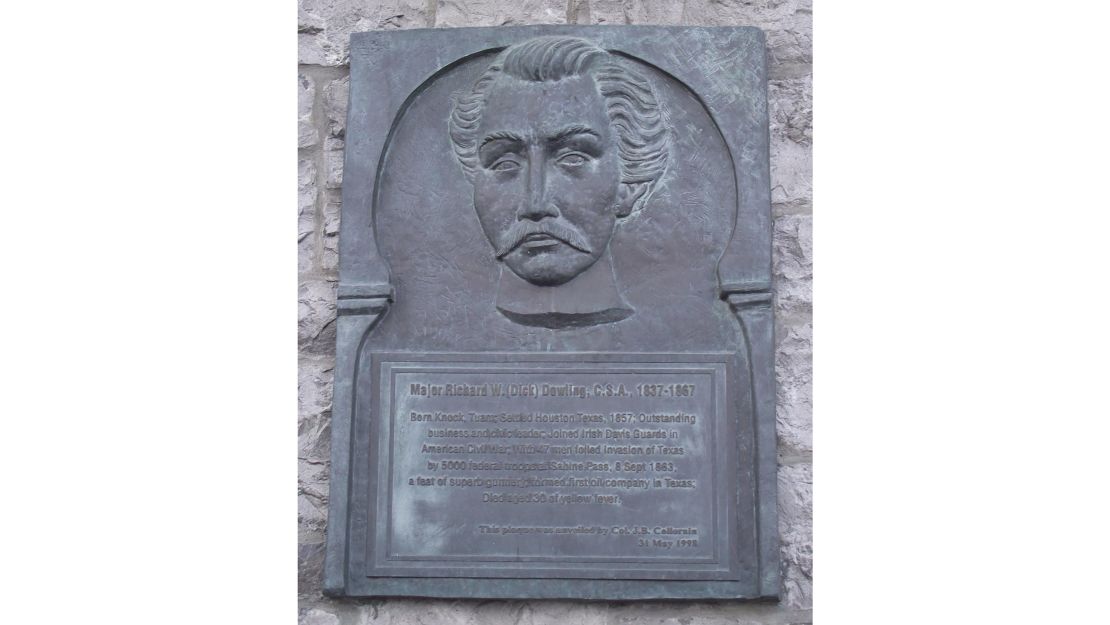 "The difficulty that they had is that it's on our Town Hall," Cunniffe said, explaining that the callers felt the plaque's location amounted to town leaders' "tacit approval" of the Confederacy and what it stood for.
Cunniffe intends to raise the matter at the September 11 session of the Municipal District Council of Tuam, if he can get it on the already-packed agenda.
He's certain no one was trying to make a political statement about slavery or the Confederacy when the plaque was installed in 1998, but "I want to start broaching the subject," he said.
At least one of Cunniffe's fellow lawmakers – Donagh Killilea, chairman of the Municipal District Council – believes debating the Dowling memorial is a waste of time and says, "The majority (of Tuam residents) are not interested in the subject, where getting on with everyday life is too important."
An eventful life
"Major Richard W. (Dick) Dowling C.S.A., 1837-1867; Born Knock, Tuam; Settled Houston Texas, 1857; Outstanding business and civic leader; Joined Irish Davis Guards in American Civil War; With 47 men foiled Invasion of Texas by 5000 federal troops at Sabine Pass, 8 Sept 1863, a feat of superb gunnery; formed first oil company in Texas; Died aged 30 of yellow fever."
– Plaque at Tuam Town Hall
Dowling and one of his sisters fled Ireland in 1846, the year after the Great Famine began. They landed first in New Orleans, then settled in Houston, where, as a teen, Dowling opened the first in a chain of saloons, according to historical accounts.
After the Civil War, he returned to Houston, resurrecting his saloon business but also working in real estate, organizing a streetcar company, securing interests in steamboat and warehouse companies, and, as the marker states, helping establish an oil company.
Records from Rice University indicate he "rented" slaves from Houston slaveholders, but it's not clear if he owned any himself.
In 1867, Dowling contracted a fatal case of yellow fever, the same virus that had killed his parents. He died at age 29 or 30. Historical accounts vary.
Controversial back home, too
Should the US ban Confederate monuments?
Not far from Tuam, a historic cottage in Knock, Milltown, where Dowling was born, lauds "a local lad who fled famine and found success in America," Cunniffe said. But the plaque at Tuam Town Hall focuses not on Dowling's business acumen but almost wholly on his service to the Confederate States of America.
"I can understand how people would be offended," Cunniffe said.
Dowling is on the Confederate Roll of Honor, and the Texas Historical Commission has erected a marker lionizing the "all-Irish unit (that) served under Lt. Richard 'Dick' Dowling" and captured two Union ships while helping break the blockade at Galveston, Texas, in January 1863.
He's credited with defending the Sabine Pass on September 8, 1963, from a Union flotilla intent on taking Texas, capturing two ships and hundreds of enemy soldiers with only a few dozen troops under his command. The Texas Centennial Commission funded a monument honoring Dowling at the site of Fort Griffin, from where he commanded his troops during the Second Battle of Sabine Pass.
A 112-year-old statue of Dowling stands in Houston's Hermann Park (it was originally erected at City Hall). It made headlines this week when Andrew Schneck, 25, was arrested after a park ranger saw him near the statue with explosive material and a timer.
Other Houston memorials have been stripped of Dowling's name in recent years. In January, the Houston City Council renamed Dowling Street to Emancipation Avenue after neighbors in the largely African-American Third Ward, through which the thoroughfare runs, complained, CNN affiliate KTRK reported.
Last year, the station reported, the Houston Independent School District renamed seven schools bearing the monikers of Confederate luminaries. Among them was the largely African-American Richard Dowling Middle School, which was renamed for Audrey Lawson, a local civic and church leader.
Lost cause?