Story highlights
Mystery surrounds deaths of a Civil War submarine crew found with no obvious injuries
Scientists think a shock wave could have damaged their insides and caused a swift death
The dead submarine crew hadn't moved from their stations for nearly 150 years when the vessel was raised from the ocean in 2000. Whatever killed them happened so suddenly that they never made a run for the escape hatch. What's more, they had no obvious physical injuries.
There was no major damage to the hull that could be definitively traced back to the day the H.L. Hunley, a 40-foot-long Confederate submarine, sank to the ocean floor off Charleston, South Carolina, on February 17, 1864.
Researchers had unsealed the crew compartment of the submarine, but they have yet to find conclusive evidence of how the eight men aboard died.
A number of theories have tried to explain the mystery of the Hunley: Maybe the crew went too deep, misjudged their oxygen supply and got trapped by the current. Maybe a nearby ship collided with the sub, throwing it off balance into chaotic waters. Maybe a bullet made through a porthole, killing the captain and leaving a beleaguered crew adrift at sea.
But in research published Wednesday in the journal Plos One, one group of scientists thinks they've finally cracked the case of what killed the crew so swiftly.
Shrinking down, blowing up
The Hunley became the first sub to sink an enemy ship in battle: the USS Housatonic. But sometime after, it went down, too.
It sank the enemy ship with a 135-pound torpedo, which was filled with black powder and attached to a pole 16 feet from the ship's hull. The study authors say the torpedo is the key – but many have wondered how an explosion could've killed the entire crew without leaving a trace.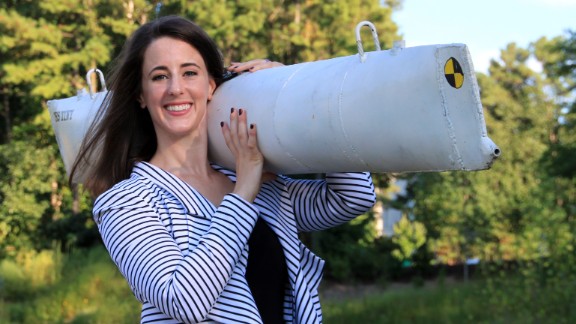 Eric Wei
To answer this question, biomechanist Rachel Lance designed a model of the Hunley, one-sixth the length of the 40-foot-long submarine. The model, built by Durham-based sculptor Tripp Jarvis, was christened the CSS Tiny.
Lance, then a graduate student at Duke University and an engineer with the Naval Surface Warfare Center, decided she would set off test explosions next to the model submarine. So she found an eight-acre pond on a family-run farm in St. Louis, North Carolina. Bert Pitt of Pitt Family Farms agreed to let Lance use the pond to conduct her experiments.