Editor's Note: Antony Dapiran is a Hong Kong-based lawyer and the author of City of Protest: A Recent History of Dissent in Hong Kong, published by Penguin. The opinions expressed here are his own.
Story highlights
Jailing of three young pro-democracy leaders sparks protests
Critics say case against "Umbrella Three" politically motivated
In one of the largest protests since 2014's pro-democracy Umbrella Movement, 22,000 protesters took to the streets of Hong Kong on Sunday.
The immediate catalyst for their protest was the jailing last week of three Umbrella Movement protest leaders.
Joshua Wong, the international face of Hong Kong's democracy movement, together with his fellow student leaders Alex Chow and Nathan Law were sentenced to six to eight months in jail for their role in leading an "unlawful assembly" in the early days of the protests in September 2014.
Never mind that the trio had already been sentenced by a lower court to community service for their crimes and already served their punishments in full.
The Hong Kong government – and, no doubt, their Beijing masters – clearly wanted to send a message to the people of Hong Kong that dissent will not be tolerated, and so appealed their sentence, calling for tougher punishment.
As a convenient by-product of these jail sentences, the trio will now be banned from running for public office for five years, and likely face personal bankruptcy as well.
RELATED: Hong Kongers look for an exit
'Umbrella three'?
The protesters on Sunday gathered in support of the "Umbrella Three", whom many are calling Hong Kong's first political prisoners.
With large-scale incarcerations following protests and rioting under British rule in the 1960s it would be blind to history to argue that they are Hong Kong's first political prisoners.
But, given that the Umbrella Three have been jailed for conducting a political protest, and the decision to prosecute and appeal their sentences was made by a political appointee – Secretary for Justice Rimsky Yuen – who, it is reported, overruled Department of Justice career civil servants and senior public prosecutors in making his decision, to try to argue they are not political prisoners is little more than quibbling.
On Monday, Hong Kong Chief Executive Carrie Lam did her best nevertheless, stating that the cases "are not political persecutions or persecutions on the basis of expression of views" and that there was "absolutely no political interference, both in the prosecution, in the review of sentence and in the judgments and rulings". But her words rang hollow.
Unseemly appeal?
It is a fundamental tenet of common law justice systems that prosecution decisions are made with reference to the public interest.
It is not clear what public interest was served by the appeal of these sentences.
Prosecutors appealing sentences already lawfully determined by a court because they are "not tough enough" is unseemly in all but the most egregious of cases, invariably involving violent crime, but in a purely political case such as this it offends all notions of justice and fairness.
The laws under which the Umbrella Three have been jailed are hangovers of the colonial era, laws that, even at the time of their enactment fifty years ago in the wake of the Cultural Revolution riots, were controversial and considered a backward piece of colonialism which unduly restricted liberty.
For these laws to be used to both regulate – and prosecute – political expression in the 21st century is shockingly retrograde.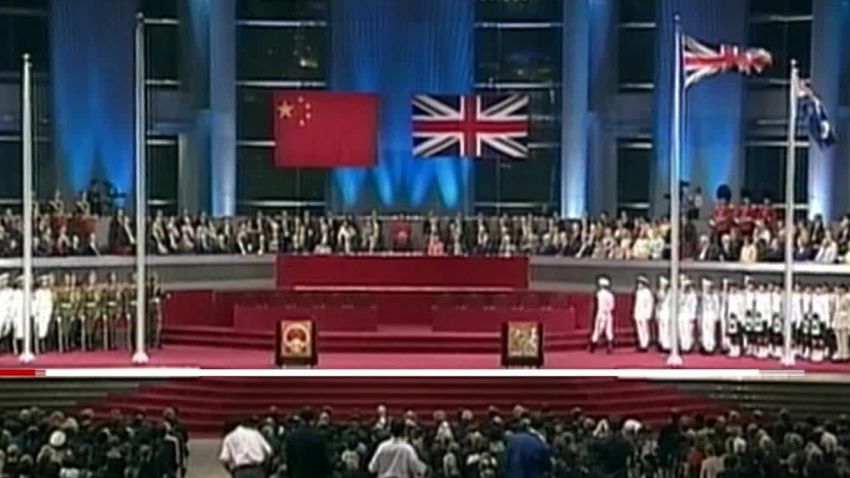 Remembering Hong Kong's handover
'Lawfare'
The jailing of the trio is just the latest in a series of ongoing acts of "lawfare" by Beijing against dissent in Hong Kong, including the recent legal action to disqualify six duly elected pro-democracy legislators.
It continues the very disturbing trend of the politicization of Hong Kong's court system, with the government pushing the courts to serve Beijing's political agenda.
This is bad news for the future of the rule of law in Hong Kong, and will ultimately have implications not just for political dissenters but for business confidence in a city which seeks to distinguish itself from the rest of China almost solely on the basis of its independent, transparent and predictable justice system. All three of those attributes are now in doubt.
With their harsh sentences of the Umbrella Three, the government has tried to make the cost of dissent intolerably high. Jail, bankruptcy, ruined career prospects: the government wants Hong Kong's politically active youth in particular to think twice about what price they are willing to pay to stand up for their beliefs.
However, Sunday's protests appeared to renew the solidarity and unity of purpose across Hong Kong's often-fractured pro-democracy groups.
They showed unambiguously that the spirit of protest is built into the very fabric of Hong Kong identity and will not be so easily extinguished.