When Simone Askew was in fifth grade, she saw military cadets march in formation across the field at an Army vs. Navy football game.
At that time she didn't have a concept of what military academies were. But she was very attracted to what she saw that day from the stands. "I told my mom I wanted to lead (that formation) one day," she said.
Now 20-year-old Cadet Askew is doing exactly what she said she would. She is the first African-American woman to lead West Point's 4,400 member Corps of Cadets as its First Captain/Brigade Commander. In this role, she's the senior leader in her class, responsible for communicating between cadets and the administration and setting a class agenda.
'A well-rounded individual'
Askew grew up in Bethesda, Maryland, later moving to Fairfax, Virginia, where she attended high school – and where her family still lives. Her grandfather was enlisted, and her stepfather went to the Air Force Academy. That proud bit of family history still causes some tension at family football viewings. Askew said.
Following her fifth-grade experience, Askew spent summers at the Naval Academy, where she was further exposed to what she describes as the "all-encompassing approach" to education offered at military academies.
"They really tried to develop a well-rounded individual," Askew said. "We train to serve others at the end of the day."
On campus, Askew strives to capture the spirit of a well-rounded person. In addition to her new role, which she began August 13, she is a member of the West Point Crew team and develops new leaders as the cadet in charge of a program called the Elevation Initiative.
She has also received a number of academic honors, including a Black Engineer of the Year Award for military leadership. She is an EXCEL scholar and a member of Phi Alpha Theta Honorary National History Society. Her military skills are sharp, too – she is a graduate of Air Assault School and achieved the highest female score in her class during combat field training.
"Simone truly exemplifies our values of duty, honor, country. Her selection is a direct result of her hard work, dedication and commitment to the Corps over the last three years," said Brig. Gen. Steven W. Gilland, commandant of cadets, in a press release issued by West Point. "I know Simone and the rest of our incredibly talented leaders within the Class of 2018 will provide exceptional leadership to the Corps of Cadets in the upcoming academic year."
Askew was eager to acknowledge the class's other leaders – 34 in total – and was quick to hail those fellow cadets as "amazing." She said they will strive to achieve goals together.
"I'm really looking forward to serving with them," she said.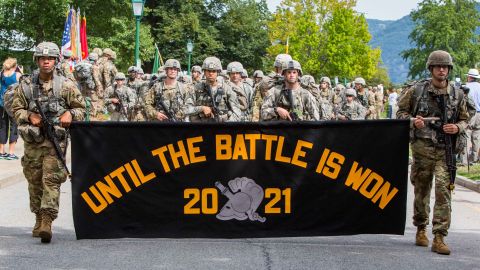 Askew is only the fifth woman to lead the Corps of Cadets, according to West Point spokeswoman Theresa Brinkerhoff. After a federal law was passed in 1975 allowing women to be admitted to military academies, the first co-ed class graduated West Point in 1980. Now, according to statistics on the West Point website, 15% of the Corps of Cadets are women.
When asked about the historic nature of her appointment, she said she had been so busy this summer with other training commitments that she hadn't had much time to fully reflect on it. But, she said, she was "humbled" by the "eye-opening" opportunity.
"This is really the starting point for all of us," Askew told CNN. "to earn our positions every day and to hold tight to this opportunity."
Askew, who will graduate in May 2018 from West Point as a second lieutenant, is interested in military intelligence, but said that could change before she graduates. For now, she wants to focus on her newest assignment.
"Our success is defined by the success of those we lead," she said.