President Donald Trump on Tuesday retweeted a Fox News story saying he was "seriously considering" pardoning former Arizona sheriff Joe Arpaio, a controversial figure who was recently convicted of criminal contempt by a federal judge.
The President retweeted a post by "Fox & Friends" which referenced the network's report about the potential pardon on Sunday.
Minutes later, Trump retweeted a user who called either him or Arpaio a "fascist." That retweet was retracted shortly after it received attention.
Arpaio, a hero in conservative circles, was accused of violating a court order in a racial profiling case by continuing patrols targeting immigrants. Arpaio has contended the order wasn't clear and he didn't intend to violate it.
"I am seriously considering a pardon for Sheriff Arpaio," Trump told Fox News, which said the interview occurred Sunday at Trump's Bedminster, New Jersey, golf club. "He has done a lot in the fight against illegal immigration. He's a great American patriot and I hate to see what has happened to him."
Arpaio drew attention for being a contentious figure who bestowed the "America's Toughest Sheriff" title on himself. He served as the sheriff of Phoenix's Maricopa County for 24 years. But he failed to gain a seventh term in November when he lost to Democrat Paul Penzone, a former Phoenix policeman.
White House officials declined repeated attempts Monday to confirm whether Trump is seriously considering offering a pardon to Arpaio.
Trump said the pardon could come in the new few days, Fox News said.
"Is there anyone in local law enforcement who has done more to crack down on illegal immigration than Sheriff Joe?" Trump said. "He has protected people from crimes and saved lives. He doesn't deserve to be treated this way."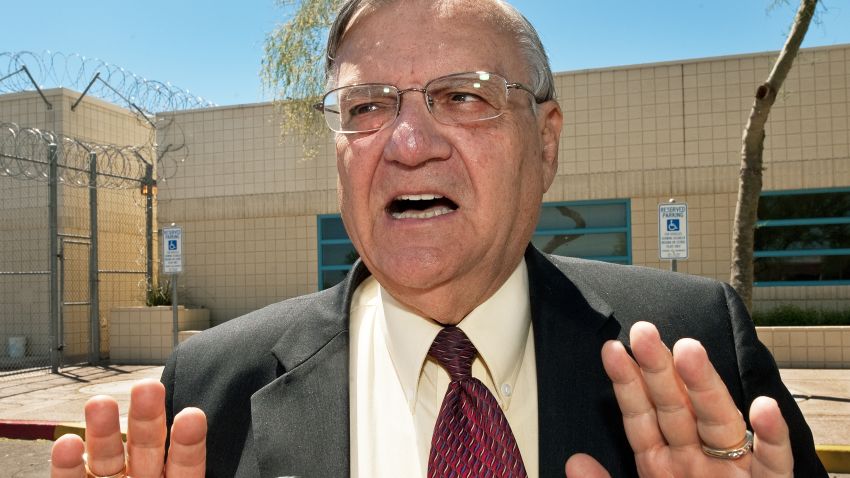 2016: Sheriff Arpaio defends Trump policies
The timing of the interview is notable, as Trump was out of the public eye following his poorly received comments about the racial violence in Charlottesville, Virginia. The Fox News story does not say whether that topic was addressed.
Trump is granted power under Article II, Section 2 of the Constitution to "grant reprieves and pardons for offenses against the United States."
Arpaio faces up to six months in prison, which is scheduled for October.
The American Civil Liberties Union, a free-speech group that has vehemently challenged Arpaio's tactics, slammed the possibility Trump could pardon the controversial figure.
"President Trump would be literally pardoning Joe Arpaio's flagrant violation of federal court orders that prohibited the illegal detention of Latinos," Cecillia Wang, the group's deputy legal director, said in a statement. "He would undo a conviction secured by his own career attorneys at the Justice Department. Make no mistake: This would be an official presidential endorsement of racism."
Arpaio endorsed Trump in April 2016 before the Arizona primary, touting the decision as easy because "everything I believe in he is doing and he is going to do it when he becomes president."
CNN's Joe Sterling contributed to this report.