Story highlights
The Rev. Sharon Risher: Protests in Charlottesville correlate to the gun violence at Emanuel AME church in Charleston
Until we end systemic racism, blacks will continue to bear the devastating effects of gun violence in America, writes Risher
Editor's Note: The Rev. Sharon Risher was formerly a Trauma Chaplain at Parkland Hospital in Dallas. She is a member of the Everytown Survivor Network, which brings together Americans who have been personally affected by gun violence. The views expressed in this commentary are her own.
(CNN) —
I'm a proud daughter of the American South, and my heritage has shaped me into the woman of faith I am today. But like many African-Americans from the South, I am no stranger to the hate and intolerance that has defined a large part of our history.
Two years ago, my mother and two cousins were among the nine black parishioners who were shot and killed by a hate-fueled man at the Emanuel AME church in Charleston, South Carolina. Growing up, we witnessed and heard of so many racially motivated hate crimes in communities like ours, including the Birmingham church bombing in 1963, which killed four young, innocent black girls.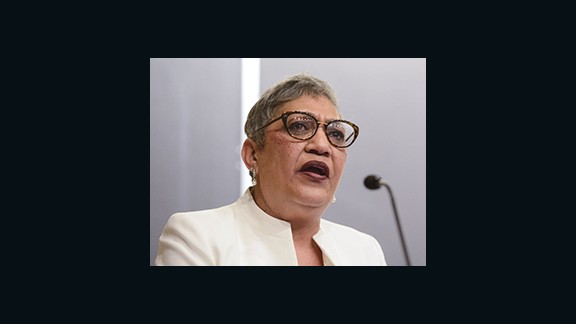 But never in my life did I think our country would return to such unspeakable acts of violence and intolerance. And then a white supremacist walked into my family's church.
There is a direct correlation between the violence and racism in Charleston and the violence and racism in Charlottesville, Virginia. And until we put an end to systemic racism in this country, African-Americans will continue to disproportionately bear the devastating effects of gun violence in America.
Not only did the Charlottesville protesters carry their Nazi and racist flags and spew their bigoted chants, but they also openly carried their guns to scare and intimidate others. In this case, the deadly weapon that resulted in one loss of life and 19 injuries wasn't a gun, but a car that rammed into counterprotesters. My heart aches for the family of Heather Heyer, as well as the families of the two police officers killed yesterday while monitoring the protest.
It is incredibly dangerous to ignore someone who uses the Second Amendment to incite fear while donning Third Reich and Apartheid-era symbols. And we can no longer shut our eyes and ears when we see such hate on display. As I know from Charleston, hate, when armed with a gun, becomes deadly.
Since my mother and cousins' death, I have devoted my life to being an advocate for gun violence prevention. In the days after their deaths, I found my previous work as a trauma chaplain did not properly equip me to handle a traumatic event when it touched me directly.
In my exploration for understanding, I began to pay attention to how our lax policies, especially those surrounding guns, played a part in hate cutting short the innocent lives of those beautiful individuals at Mother Emanuel.
As a black woman, I know it will take a mighty powerful lift for America to begin doing work to heal the racial strife that has threatened and hurt so many communities. And while I know our laws can only do so much to overcome this generational curse, I am determined to advocate for policy changes that can help protect many vulnerable communities forced to live as targets of discrimination just because of who they are.
According to Everytown For Gun Safety, a nonpartisan organization devoted to reducing gun violence, more than 20 hate crimes involving a gun take place in our country every single day – this amounts to more than 8,000 a year.
And when we look at a state like Virginia, where the white supremacist rally was held, and which allows the open carry of firearms on its streets, we begin to see how guns coupled with racism, misogyny, sexism, homophobia or transphobia can be used to intimidate marginalized Americans.
This is entirely unacceptable.
This summer, Sen. Bob Casey, D-Pennsylvania, and Rep. David Cicilline, D-Rhode Island, introduced the Disarm Hate Act, which would prevent individuals convicted of violent misdemeanor hate crimes from possessing or purchasing guns. While there is not one complete solution for this issue, this law would be a crucial first step toward protecting other families from the pain and trauma mine has experienced.
I am not a policy expert, but I know that we all have a right to live in this country, regardless of our race, gender, faith, gender identity or orientation. We should never have to fear that a hate-fueled individual will fatally shoot us in our place of worship, university or movie theater.
We have prayed. We have marched. We have cried. But as Charlottesville reminds us, now we must act.
We cannot wait a moment longer.