Story highlights
Trump says Kim Jong Un will "regret it fast" if he overtly threatens the US
North Korea has threatened to strike the waters off the US territory Guam
(CNN) —
Chinese President Xi Jinping called for restraint during a phone call Saturday with President Donald Trump, following a dramatic exchange of threats between the US President and North Korea.
Xi made clear in the call he was asking both sides to scale down the rhetoric and stressed the importance of diplomacy, China's Foreign Ministry said in a statement.
"At present, relevant parties should exercise restraint and avoid words and actions that would escalate tensions on the Korean Peninsula," Xi said, according to the statement.
Saber-rattling from the pariah state has dominated Trump's 17-day working vacation in New Jersey.
Tensions came to a boil Tuesday, when Trump appeared to threaten nuclear war on North Korea, saying he would unleash "fire and fury like the world has never seen" if Pyongyang continued to threaten the US or its allies.
He made his comments after US intelligence analysts assessed that North Korea had produced a miniaturized nuclear warhead. Pyongyang also tested its first two known intercontinental ballistic missiles last month, bringing it a step closer to being able to carry out a nuclear strike on the US mainland.
Military solutions 'locked and loaded'
Trump has doubled down on his statements on a daily basis since then. On Friday, he said in a tweet that he had "military solutions" that were "locked and loaded" at his disposal to use on North Korea.
Those comments came after Pyongyang announced a plan to strike the waters off the US Pacific territory of Guam with ballistic missiles.
Trump also said Friday that North Korean leader Kim Jong Un "will truly regret it and he will regret it fast" if he issued an overt threat or attacked Guam or a US ally.
But Trump also said he wants a peaceful solution to the problem.
"Nobody loves a peaceful solution better than President Trump, that I can tell you," he said, referring to himself in the third person.
But he also warned that "we also could have a bad solution."
When asked if that bad solution meant war, Trump responded: "I think you know that answer to that," he said.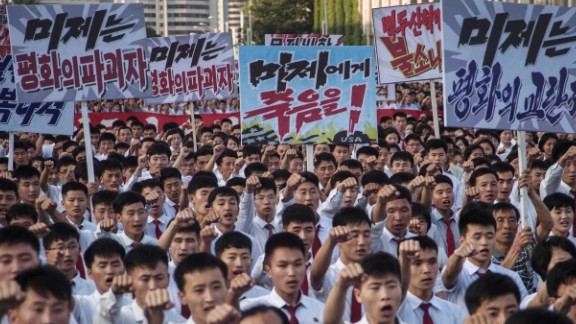 KIM WON-JIN/AFP/Getty Images
North Korean state-run media responded yet again on Saturday. The Minju Choson newspaper threatened "tragic doom" in response to the rhetoric.
"If Trump administration does not want the American empire to meet its tragic doom, they need to be prudent on what they say and how they act," the unnamed author wrote, according to a report by the state-run KCNA news agency.
The article was written by an individual, which means it carries less weight than an official North Korean government statement.
Diplomats divided
Some countries have sounded the alarm over the provocative exchange and have, like China, called for calm. Others have backed Trump and his tough stance.
German Chancellor Angela Merkel described the escalation as "the wrong answer," while Russian Foreign Minister Sergey Lavrov said it was "very worrying."
Foreign policy and national security experts have also raised questions about Trump's response to North Korea – unprecedented for a US president – noting that past administrations have shied away from such comments to avoid adding to North Korea's credibility.
But the UK's ambassador to the United Nations, Matthew Rycroft, appeared to back Trump's initial "fire and fury" comments when asked about them. He reiterated that the United Kingdom "stands shoulder to shoulder" with the United States on the issue.
Despite Trump's powerful rhetoric, US Defense Secretary James Mattis has insisted that his country's response is driven by diplomacy.