Story highlights
Tony Hillery wanted to show kids that tomatoes don't grow in supermarkets
Hillery started Harlem Grown to teach local children to farm their own food
The nonprofit includes academic programs and career mentorship, too
Six years ago, Tony Hillery was volunteering at a New York City public school in Harlem.
In the lunchroom one day, he met a kindergartner who told him that tomatoes grew in the supermarket.
"It was a real conversation, and she was adamant," he recalled. "And then I did an informal poll with the other students, and they agreed. They had no idea what is healthy food or where it comes from."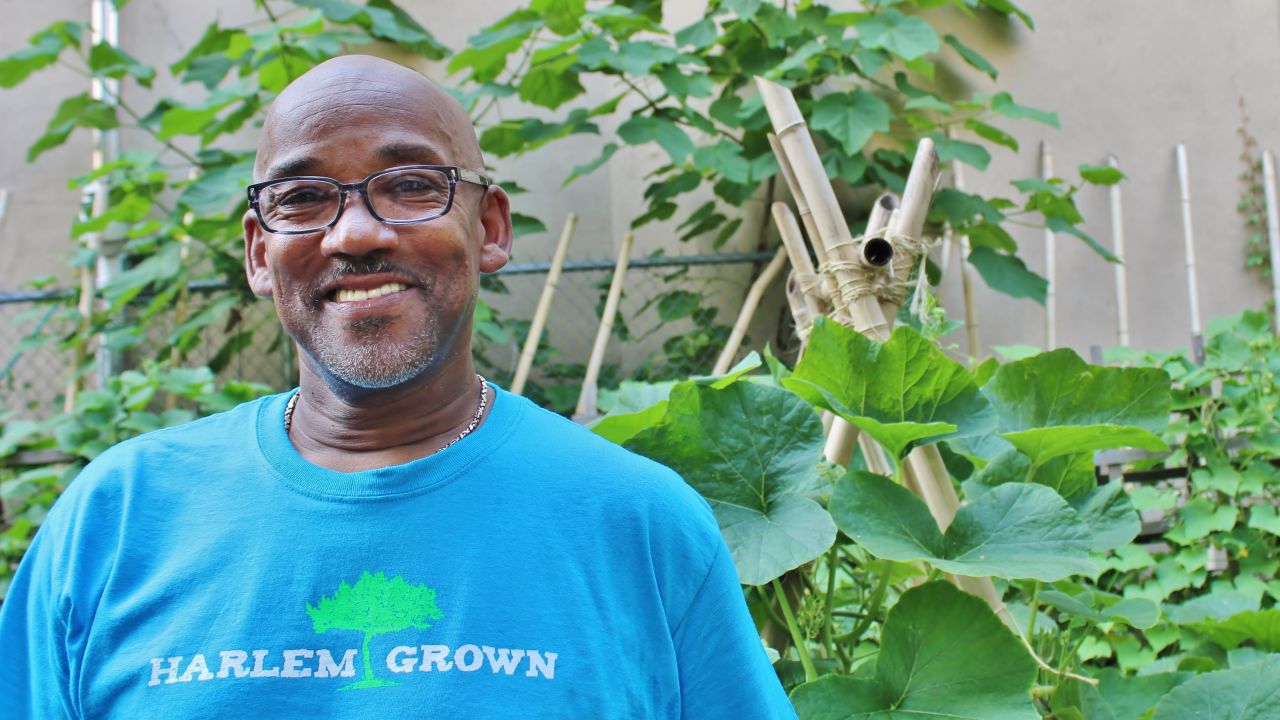 Many students lived at or below the poverty line, he said, and lacked affordable, fresh food. But Hillery was shocked to find that many children couldn't properly identify vegetables.
Across the street from the school was an abandoned community garden, and Hillery had an idea. He made a few calls, registered it with the city and turned it into what has become a thriving urban farm.
"I got this big patch of dirt in the middle of Harlem, and I had never planted anything prior to then," he said.
Today, his nonprofit, Harlem Grown, has 10 urban farms throughout the neighborhood. Hillery and his staff teach children how to grow food from seed to harvest and cook healthy meals using the fruits of their labor.
Yet Hillery insists that urban farming is the hook to engage the youth. Then his group further enriches their lives through mentoring and exposure to higher education and possible career paths.
"The whole world can come through this little farm," said Hillery, whose programs reach more than 4,000 young people a year. "Poverty is just lack of access. We bring that access and that opportunity here to them."
CNN's Laura Klairmont spoke with Hillery about his work. Below is an edited version of their conversation.
CNN: How did the urban farming component of your work take shape?
Tony Hillery: After spending so much time with the students, their problems started really coming to focus for me. Lack of access, lack of opportunity – not just with food, but in life in general.
The children referenced the abandoned lot across the street as the haunted garden. There was a lot of unsavory things happening in there. The fence was overgrown. You couldn't see inside. So, I just started cleaning it. After school, the kids would come over and help me. I bought 400 seedlings, and we had 400 students, and made a ceremony of it. Every child planted their seedling, and that was the start of Harlem Grown.
CNN: What are the most rewarding aspects of farming and how does it benefit the children?
Hillery: Mind you, I had never planted anything before this, and it's common knowledge here at Harlem Grown that I've killed more plants than I've grown. But to take a tiny, little seed, and put it in the ground, and nurture it into a full-grown plant that bears fruit and vegetables that you can consume, it's the most amazing, rewarding thing you can do. When we started, I saw how the children took such pride in taking care of their plants. I knew I was onto something.
Here we have a simple formula: If a child plants it, they will eat it. So, we had to take it beyond just getting the food to learning about the food, growing the food. It's educating a child on what it is and how it tastes and how to prepare it. We want these kids to live a more healthy, sustainable lifestyle.
But it's not just healthy nutrition, it's healthy lives, healthy community, healthy planet.
CNN: And you bring your program right into the schools.
Hillery: Currently we're in six elementary schools here in Harlem. During the school year, we're in the lunchrooms every day for breakfast and lunch. We have personal relationships that we develop with each child. You know when something is bothering them, when they're happy, when they're sad. We pick up on that and we work it. A vast majority of our children live in a very uncertain environment. We are a constant; we're always there for them.
We build a small, hands-on garden for every school we're in. Our children plant, they tend, till, water, weed, harvest and eat the food we grow. We teach them reduce, reuse, recycle. With the children's help, we started composting – taking our food scraps and turning into fertilizer that we use for our own crops.
CNN Hero Tony Hillery: Growing in Harlem
CNN: How are you helping these young people on a deeper level?
Hillery: In a bustling city like New York City, to find an oasis like this where you can go in and everything seems to slow down – this is their green, safe place. They flock here for that. We use that as our opportunity to give them workshops and exposure to different things that these children would otherwise be totally disconnected from.
When I started this program six years ago, every boy wanted to be Lebron James and every girl wanted to be Beyoncé. That was the scope of their vision. The same children today want to be CPAs, engineers, architects; they want to write code. Why? They've simply been exposed to it.
Our program is directed by the children themselves. We ask what they're interested in, and we bring that to them. Once we find their spark, it's up to us to keep them engaged. It's not just growing the vegetables, it's growing the children. We're sowing seeds of hope.
Want to get involved? Check out the Harlem Grown website and see how to help.
To donate to Harlem Grown click the CrowdRise widget below.