Story highlights
The United States is the largest funder in global HIV response
In 2015, more countries contributed to their own HIV control than ever before
Fear and concern are consuming the minds of many experts in the field of HIV control and it's not just because of the 1.8 million people that became newly infected with the virus, nor the 1 million who died of AIDS, in 2016.
In fact, experts this week were heralding their progress against HIV during the ninth International AIDS Conference on HIV Science in Paris, with UNAIDS reporting last week that more than half of people living with HIV globally are now accessing treatment. Deaths have halved since 2005.
Still, experts worry this may be about to change. Or worse, go backward.
The largest supporter in the global fight against HIV and AIDS may be about to make drastic cuts to its level of support. That funder: the United States.
"Things come out of the White House and cause a lot of anxiety and stress," said Dr. Linda-Gail Bekker, president of the International AIDS Society. "Without resources, we will not be able to do what needs to be done," she told CNN.
Bekker is referring to the Trump administration's proposed budgets for 2017 and 2018 – the "skinny" and "fat" budget – in which funding for global aid, grant programs, and science institutions, such as the Centers for Disease Control and Prevention and National Institutes of Health, is set to be cut.
Earlier this year, the White House proposed a $242 million cut in funding for the Presidents Emergency Plan for AIDS Relief, known as PEPFAR, in the 2017 budget, equaling a 6% reduction, said Dr. Greg Millet, vice president and director of public policy at amfAR, a US non-profit that supports AIDS research."This would have devastating effects downstream, including 253,000 adults and 50,00 experiencing (HIV) treatment interruption, and as many as 40,000 deaths," he said.
Greater cuts proposed for 2018 would cause even more of a decline, Millet highlighted, adding that the progress currently being celebrated is largely due to the work of PEPFAR and the international financing organization the Global Fund, to which the US is the largest single contributor.
"The US really stands out in this way," said Dr. Deborah Birx, ambassador-at-large, US global AIDS coordinator and the head of PEPFAR. Birx highlighted that as well as money, the US also provides human capacity in the countries it supports within embassies and field programs to "translate dollars into effective programs."
Staying hopeful and proving your worth
When asked about the proposed cuts to her organizations budget, Birx didn't show fear. "I believe this administration are committed to changing the course of this pandemic," she said.
Birx, and others in the field believe they have shown what they're capable of when it comes to controlling HIV and that the results should hopefully speak for themselves to ensure continued support.
"Traditionally you don't believe you control a pandemic unless you have a vaccine or a cure," she said, of which HIV had – and continues to have – neither. Yet this week, her organization announced that in four of the countries they work in – Swaziland, Zambia, Malawi, Zimbabwe – the epidemic is becoming under control.
"These are countries that had overwhelming pandemics, where a third of their population was dying," said Birx. It "went from a humanitarian crisis to us changing course of pandemic."
Others are looking to lawmakers to keep the budget stable, not the administration.
"We know that (budget) is not the final say. There are processes," Bekker told CNN, optimistically. These processes mean approval by the US Congress which, so far, has not passed budgets that include these cuts.
Former IAS president Dr. Chris Beyrer and UNAIDS Executive Director Michel Sidibé are both equally positive that bipartisan support for HIV control in Congress will ensure cuts are not as drastic as the Trump administration would like.
"Right now, Congress has not been willing to go along with these very drastic cuts … (and) it is Congress that hold the power of the purse," said Beyrer. But he believes pressure is going to continue from the administration, making it "incumbent on everyone working in this space to keep Congress understanding how effective this has all been."
"I met most of the senators from the Republican and Democrats and (with) Congress … I am confident that it is so bipartisan and the American citizens are very supportive of PEPFAR programs," Sidibé told CNN, adding "we will have to wait and see what happens."
There is, however, universal agreement that there will be some form of cuts, if not as drastic as was first proposed. If this does happen, other nations, in both the West and among middle-income countries, will need to up their game, experts believe.
The next question then, is who it could be.
"The unsettled nature of governments in so many parts of the world today make us anxious," said Bekker.
The rest of the West
Throughout the week's conference, researchers, policymakers and clinicians alike have made constant reference to HIV budget cuts, not just by the US, but the general decline in funding from multiple governments in recent years.
A recent Kaiser Family Foundation report found that overall donor funding for HIV fell by $500 million in the last year alone, bringing totals down to the lowest they've been since 2010.
"We're concerned about France," said Beyrer. "The hope was that France would at least meet it's commitment and do flat funding, as they are the third largest donor to the Global Fund."
French President Emmanuel Macron was due to open the conference on Sunday, but he didn't attend.
As Agnès Buzyn, French minister of solidarity and health, took to the stage instead, she was greeted by activists shouting, "Shame on Macron."
Macron not appearing does not mean he will not honor funding commitments, Beyrer stresses, "but the minister of health had nothing to announce," he said.
"We're very reliant that France does what it needs to do and the UK," added Bekker.
The UK is the second-largest contributor in the fight against AIDS and Beyrer is also concerned that after Brexit, their voice in support of HIV within the European Union will not be replaced. To date, no country or institution has matched the financial support of the US.
"If the US were to implement cuts on the level that the President has proposed, it's hard to imagine any of these donors being able to step up at that level," said Beyrer.
If the potential loss is not made up by the rest of the West, Sidibé believes it could be low and middle-income countries that step forward.
Rise in support from poorer countries
In 2015, the global HIV response saw a change in dominance as the scales tipped and low- and middle-income countries combined to provide more funding to control the infection than donors from the West. That year, 57% of the response budget came from domestic funding by the countries themselves, according to UNAIDS.
"We went to the African union and were able to share with heads of state the potential dependency crisis," said Sidibé. "Kenya, Ivory coast, are all increasing their domestic budget to deal with this epidemic."
South Africa are already spending $2 billion of their own budget on HIV programs, covering most of it, and Botswana pays 80% of its own response, while China and Brazil are also paying for their own control efforts, said Sidibé.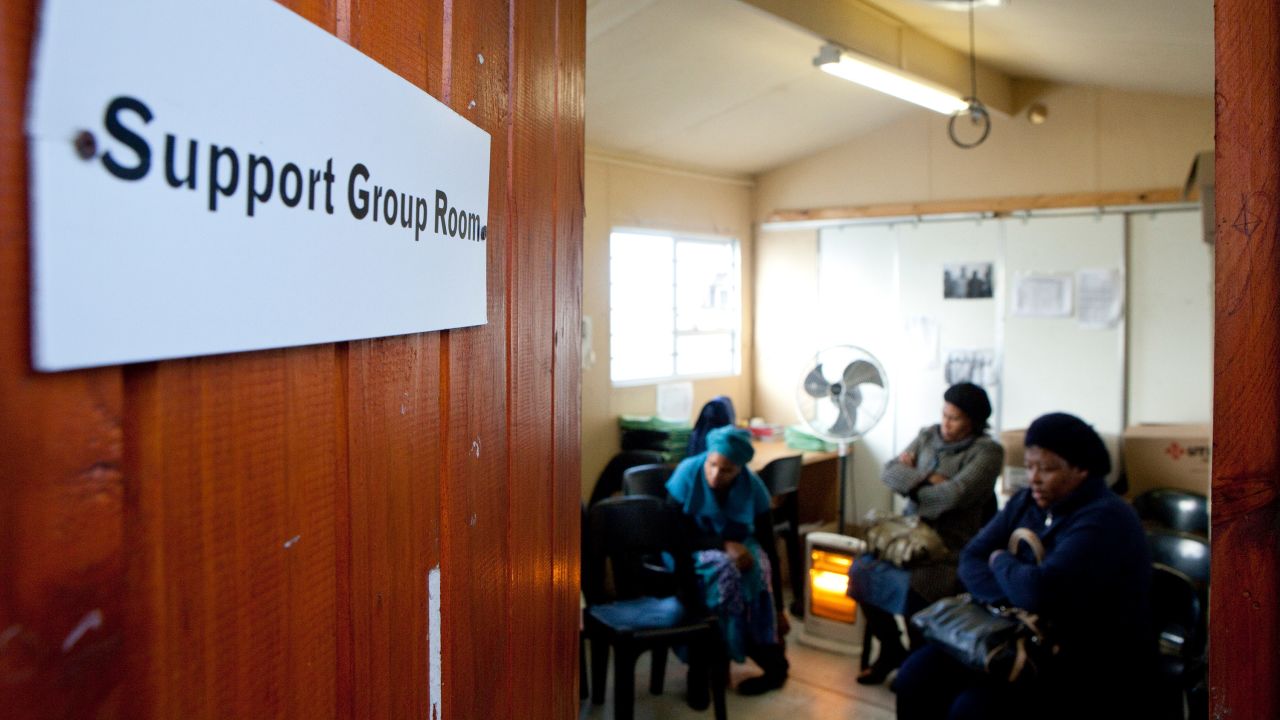 "South Africa has taken the epidemic response into its own hands," said Dr. Peter Piot, director of the London School of Hygiene and Tropical Medicine and formerly founding executive director of UNAIDS. "The country now hosts the largest treatment program in the world financed for the most part from domestic resources."
Piot further highlighted that Brazil was a leading light in the 1990s thanks to its comprehensive and proactive response, becoming the first middle-income country to provide free antiretroviral treatment in 1996. But today, new infections are rising in Brazil, he said, meaning the fight is far from over.
Now, Sidibé would like the countries comfortably supporting the control of HIV in their own countries to go to the next level – and become donors. "It's important to see how they can become progressively contributing to other parts of the world. Not just paying for their own," said Sidibé. "Countries who are able already to demonstrate they have fiscal space."
Beyrer has experienced, however, that countries often struggle to think more broadly when tackling the HIV epidemic on their own soil. During his time as IAS president, he explained, he spent time working with the governments of Brazil, Russia, India and China, emphasizing the impact of becoming donors, but with little progress. "They continue to make contributions to their own programs, but really did not step up as donors," he said.
More expense to come
Beyrer further worries that if funds are reliant on domestic governments fully paying for their own HIV control efforts, crucial elements of HIV control will be forgotten, or at least not prioritized. At particular risk are those targeting more marginalized groups, such as teenage girls, sex workers and drug users.
"Governments are willing to spend money on mother-to-child transmission, keeping blood supplies safe, doing education campaigns in schools," said Beyrer. "What they're not willing to fund is needle and syringe exchange … or programs for sex workers." As a result these programs are currently funded predominantly by external donors.
Follow CNN Health on Facebook and Twitter
Many experts further believe that the gradual increase in governments of high-rate HIV countries financially tackling their own epidemics, could be jeopardized if they feel like larger countries, such as the US, are bowing out.
"It's not the right time to send the message to them that donors are reducing their funds and disengaging themselves," said Sidibé . "It will have a major impact on security (and) sustainability."
Furthermore, economists and epidemiologists highlight that the next stage of HIV control is going to be the most expensive – such as enticing young people, sex workers and migrants to get tested, getting men who prioritize working to come into clinics, and helping drug users to realize they are at risk and need to stay protected. "More resources might be required," said Beyrer.
Whatever happens, Birx is ready to make the most of what she is given.
"My job is to take the resources that we have and make sure they have the biggest impact that they can possibly have," she said.
She exemplified this by revealing that over the last three years, PEPFAR have almost doubled the number of people on treatment and more than doubled the number of people accessing voluntary male circumcision, which can protect men from HIV by up to 60%, all on a flat budget. "We say this is what's needed and figure out how to make it happen," she said.