Story highlights
Sarah Huckabee Sanders became White House press secretary last week
She is the third woman to serve in the role
(CNN) —
With little pomp or circumstance, Sarah Huckabee Sanders stepped up to the briefing room podium and got straight to business Friday, reading announcements about "Made in America Week" and a new executive order on defense. Minutes later, newly minted communications director Anthony Scaramucci announced she was formally taking over as White House press secretary.
In the aftermath of a chaotic communications staff shakeup at the White House last week, there was little attention paid to a new milestone as Sanders assumed the role: With her appointment, the White House, Pentagon, State Department and Justice Department were all officially represented by female spokespeople.
The moment marks the first time that women have concurrently served as the face of the most high-profile roles in an administration.
Sanders joins colleagues Dana White at the Pentagon, Heather Nauert at the State Department and Sarah Isgur Flores at the Justice Department, who each speak on behalf of their respective principals as the administration seeks to promote its message. The press secretaries for the Departments of Education and Interior, as well as Health and Human Services' assistant secretary for public affairs are also women.
"Congratulations to @SarahHuckabee. We may disagree on policy, but always great to see a hard working woman rise to be public WH face," Obama White House communications director Jen Psaki tweeted to Sanders.
One of three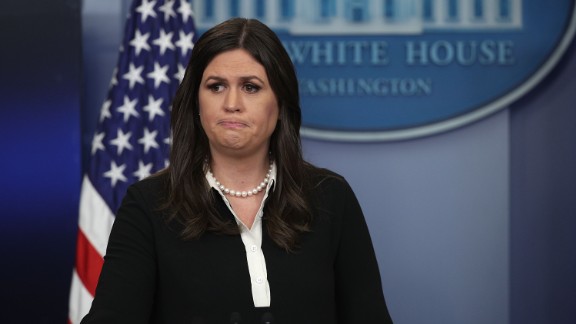 Alex Wong/Getty Images
Sanders is the third woman to serve as White House press secretary; Dee Dee Myers served the Clinton administration from 1993 to 1994 and Dana Perino served George W. Bush's press secretary from 2007 to 2009.
She is also the first mother to serve as press secretary (Myers had children after leaving the administration), injecting a new perspective to the role.
"To the best of my knowledge, I am the first mom to hold the job of the White House press secretary. That says less about me than it does about this President. It's not just with personnel, it's about people and it's about policy," she said at Wednesday's on-camera press briefing, speaking personally about her children in the context of the President's policies.
"I have three children, and the oldest, Scarlett, starts kindergarten in a few weeks. Scarlett and every little girl in America should grow up in a country that if we deliver on the President's agenda of better jobs, better health care, and a better tax system, that incentivizes women to work and raise children."
For Sanders, being the mom of three small children lends itself to a point of view not often heard from a briefing room podium. Asked about the "chaos" within the White House amid staffing changes on Friday, she brushed it off.
"You want to see chaos? You should come to my house early in the morning when my three kids are running around. That's chaos. This is nothing," she said.
Sanders assumes what has always been a challenging role as the public face of the administration to the White House press corps. That challenge is only compounded by a changing media landscape, a high level of scrutiny, and a President who frequently distracts from the administration's intended messaging with his use of social media.
Challenges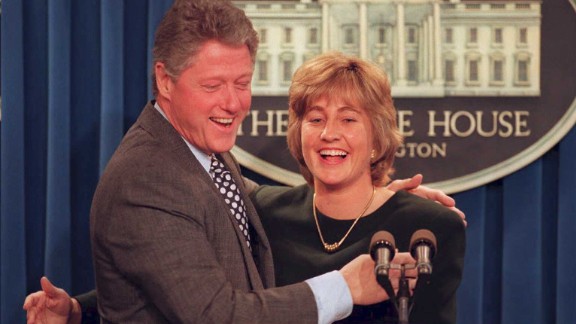 JOSHUA ROBERTS/AFP/AFP/Getty Images
But the women who came before her faced their own challenges.
Even though Myers had worked on Bill Clinton's 1992 presidential campaign and transition, her installation as White House press secretary wasn't a given.
"While I wanted to be press secretary – and I'd earned my stripes over the previous decade, particularly during the recently ended campaign – I knew I didn't have the perfect résumé. I was 31 years old, I had never lived or worked in Washington and I was a woman," Myers wrote in her 2008 book.
She was offered the job – but started with the lower rank of deputy assistant to the President, and a smaller salary.
"I didn't know what to say. I'd just been told I was going to be White House press secretary – a job that I had barely dared to dream about – but it wasn't quite what I'd imagined," she wrote.
Myers' no-nonsense, straightforward style earned her icon status – she inspired the fictional character of Bartlet administration press secretary CJ Cregg on NBC's "The West Wing."
Things had changed during the Bush administration: Dana Perino, the first Republican woman to serve as press secretary, served alongside a female Homeland Security adviser, Secretary of State, Secretary of Labor, Secretary of Education, Secretary of Transportation, counsel