(CNN) —
It was the evening of July 5 and Magdalena Freudenschuss hadn't heard from her partner all day. That was unusual, so she was worried.
Peter Steudtner, a human rights trainer, was at a workshop on IT security and mental health strategies for activists in Istanbul with several colleagues.
"We made calls to Turkey to find out what had happened, whether it was just an internet problem," Freudenschuss told CNN. "And then we found out through the consulate."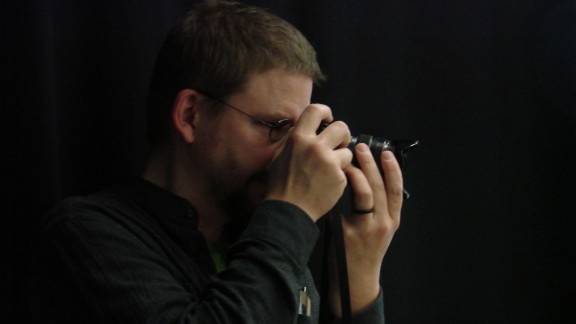 Family archive Steudtner
Steudtner had been detained along with another trainer and eight human rights activists, including the director of Amnesty International in Turkey, Idil Eser.
Three weeks later, all of them – now known as the "Istanbul 10" – remain in custody, accused by Turkish authorities of "committing crimes in the name of a terrorist organization without being a member."
Freudenschuss was allowed a brief phone call with Steudtner soon after his arrest, but "he couldn't tell me a lot," she said. "At that point we didn't foresee how long it would take."
At first, Steudtner and the others were kept in solitary confinement, but they have since been put together in one cell, Freudenschuss said.
He has started a yoga routine and leads his cellmates in classes, according to Freudenschuss' family representative.
But Freudenschuss knows little else about the conditions in which Steudtner is living, and can contact him only via messages passed on by his lawyer.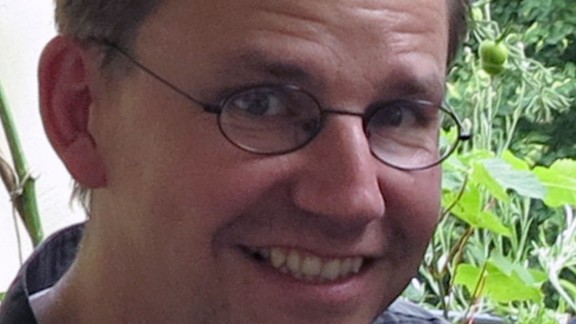 Family archive Steudtner
Freudenschuss and Steudtner, who live in Berlin and have been together for 10 years, have two children together.
"It's hard for them as well," she said. "There is a father missing, there's someone missing who reads books to them, who listens to me, to the kids."
The Turkish government has not responded to CNN's request for comment. But presidential spokesman Ibrahim Kalin last week defended the decision to detain the activists.
"They are people who according to the police and the judiciary are engaged in illegal or suspect actions," said Kalin, who called for Germany to "respect Turkey's judicial independence."
Arrests are 'a threat for everyone'
The allegations against the activists are "unjustified and obscure," said Markus Beeko, secretary general at Amnesty International in Germany told CNN.
"The Turkish authorities have used absurd allegations to try to justify this breach of international human rights standards," he said.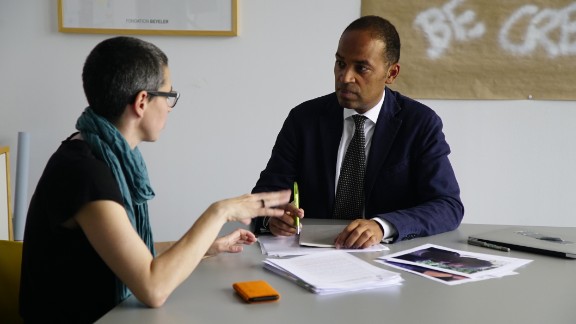 Claudia Otto/CNN
The arrests came just a month after the detention of Taner Kilic, Amnesty's Turkey chair, was charged with "membership of the Fethullah Gulen Terrorist Organisation" – the name given to followers of the exiled cleric Fethullah Gulen, who Turkey's government believes was behind last year's attempted coup. Gulen has denied involvement in the coup attempt.
"The two top representatives of Amnesty in Turkey are now detained and this is a first in the 56-year-history of Amnesty International," Beeko said.
Freudenschuss is concerned about the wider implications of the arrests.
"Of course it's something very personal for me, but it's also something which is a danger for human rights defenders everywhere in the world," she said.
"It's really an issue beyond these 10 people being charged with something they didn't do. There's more at stake if independent human rights trainers cannot go somewhere and support human rights defenders," she added. "I think it's a threat for everyone."
On Tuesday, protesters gathered outside European Parliament in Brussels – where EU foreign policy chief Federica Mogherini met Turkish Foreign Minister Mevlut Cavusoglu – to call for the release of the activists.
Statements given by Mogherini and Cavusoglu after the meeting suggested little progress had been made.
Erdogan has 'left European values behind'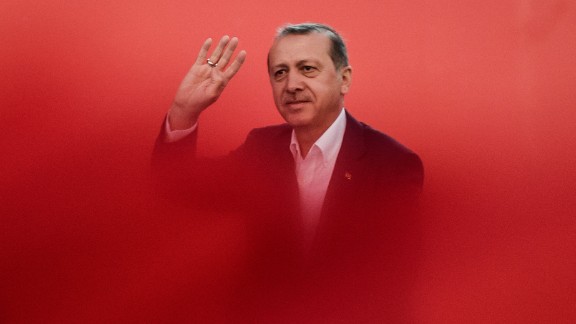 OZAN KOSE/AFP/Getty Images
German Foreign Minister Sigmar Gabriel said Monday that efforts to gain access to the activist thus far had been unsuccessful.
In a press conference last week, Gabriel called for Steudtner's release and had strong words for Turkish President Recep Tayyip Erdogan.
"What is happening in Turkey is blatantly obvious," he said. "Someone who detains law-abiding visitors to their country on the basis of outlandish, indeed absurd, accusations and throws them into prison has left European values behind," he said.
DPA/AFP/Getty Images
In the wake of last year's coup attempt, Erdogan has tightened his grip on power while overseeing a massive purge of those who he says rose up against him.
Over the past 12 months his government has clamped down on civil liberties across Turkey, gutted public institutions and universities, heavily restricted the media and ordered mass arrests.
More than 169,000 people have faced "judicial action" ranging from travel restrictions and detentions to arrest warrants since the coup attempt, according to the justice ministry, the state news agency Anadolu reported.
The news industry has been severely affected, with an estimated 150 media outlets shut down and 160 journalists jailed, according to Reuters, which cites the Turkish Journalists' Association.
A high profile trial of 17 staff members from Turkey's Cumhuriyet newspaper – the country's oldest newspaper and one its last last remaining opposition publications – began Monday. The defendants are charged with terror-related offenses in the wake of the failed coup and face prison sentences of up to 43 years if convicted.
German outrage has focused on the arrest of Deniz Yucel, a German journalist detained in February on charges of terror propaganda. The case has received widespread media coverage in Germany and inspired a social-media campaign – #FreeDeniz – to lobby for his release.
Erdogan claimed Tuesday that "agents" from western countries including Germany "come here, run wild and divide our country" during a speech to members of his ruling AK party, Anadolu reported.
A tipping point?
German-Turkish relations have also become strained.
An art installation in Berlin depicting Erdogan as a dictator – installed to coincide with the Group of 20 summit in Hamburg earlier this month – was met with anger by Turkey's Foreign Ministry, which described it as "a new example of rising racism and xenophobia in the country."
Two weeks later, Ankara reportedly refused to let German lawmakers visit soldiers at two air bases in Turkey.
At last week's press conference, Gabriel cautioned Germans against traveling to Turkey and suggested that the German government would review corporate investments in Turkey.
Turkish presidential spokesman Ibrahim Kalin strongly condemned Gabriel's remarks: "German citizens have been coming to Turkey for tourism, education, business, etc for years. We have no issue with that. They are our guests and we want to see more German tourists. Their wellbeing is precious to us."
Gabriel said Germany wanted to "prevent bridges from being burned" between the two countries, but suggested that German-Turkish relations had reached a tipping point with the arrest of Steudtner.
"We cannot continue as before. We need to be clearer than we have been so that those responsible in Ankara understand that this type of policy will have consequences," he said.
"We want Turkey to become – or, where it already is, to remain – part of the West. However, it takes two to tango."
CNN's Nadine Schmidt, Claudia Otto and Gul Tuysuz contributed to this report.