Story highlights
Some internet users have pointed to a poignant recent photo as a possible trigger
The country already operates one of the world's most restrictive internet filters
One of the most pressing questions facing millions of Chinese internet users right now seems to be: Have the authorities banished a honey-loving teddy bear from China's cyberspace?
The answer: Yes… to a degree.
For several days, the internet here has been abuzz with a newly discovered online ban on Winnie the Pooh, especially after the Financial Times covered the topic in a front page story Monday.
The newspaper printed a long-circulated picture showing the bear strolling with his tiger friend Tigger next to a photo of Chinese President Xi Jinping walking with his then-US counterpart Barack Obama in 2013.
When the image first appeared online, Chinese netizens began posting photos of Xi in, what they considered, similar poses.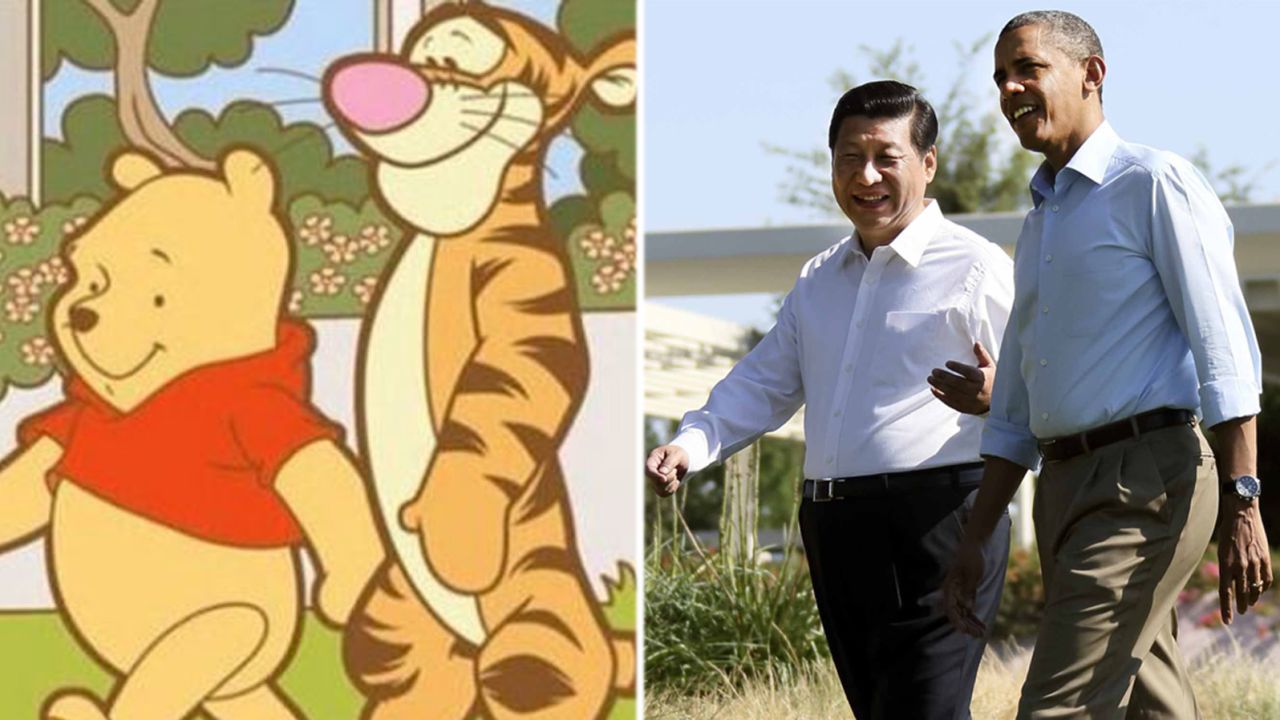 Putting pictures side by side
They juxtaposed a picture of a frosty handshake between Xi and Japanese Prime Minister Shinzo Abe with the image of Pooh and his gloomy donkey friend Eeyore.
Next to a photo that showed Xi inspecting troops from an open-top vehicle, they included Pooh standing in a tiny green car.
Their sense of humor is ostensibly not shared by China's increasingly sophisticated internet czars.
The country already operates one of the world's most extensive and restrictive internet filtering and censorship systems, known as the Great Firewall of China.
Cyber officials likely don't appreciate the implication their top leader is naive and slow-witted like Pooh.
Pictures don't appear
On WeChat, China's most popular social media platform, if one sends the famous image of Xi and Obama next to Pooh and Tigger in a group chat, other users won't see the picture.
This rule even applies to shots of Monday's Financial Times front page – but one-to-one chat sessions seem to be left alone for now, presumably due to their more limited impact.
Users have also found a set of animated emojis featuring Pooh Bear and his friends removed from the platform.
On Sina Weibo, often called China's Twitter, an attempted search for "Winnie the Pooh and Xi Jinping" in both Chinese and English will prompt a message that reads: "In accordance with relevant laws and regulations, results are not displayed."
Up to Tuesday evening, the censors also banned users from posting the phrase "Winnie the Pooh" in Chinese in any comments. A message window would pop up to warn anyone who tried that their comment was against platform rules and Chinese laws.
Amid growing attention on the so-called "Pooh Bear ban" from the international media and even American late-night comedians, the comment restriction on Weibo appeared to have been lifted by Tuesday night.
Pooh merchandise, including books and toys, are still readily available online in China for purchase.
CNN's broadcast, though, was blacked out in China throughout Tuesday every time the topic appeared on air.
Possible reason
Some internet users have pointed to a poignant recent photo as a possible trigger for the latest restrictions. In the picture, Nobel Peace Prize-winning Chinese dissident Liu Xiaobo, wearing hospital clothes, and his wife each held a Pooh mug, smiling at the camera with an empty chair in the background.
Liu died of liver cancer last Thursday at a hospital while still in state custody, following the authorities' denial of his request to seek treatment abroad. His wife, under house arrest since his Nobel win in 2010, has not been heard from, even after her late husband's cremation and sea burial Saturday.
In a moving award ceremony in Norway in late 2010, the Nobel committee placed Liu's medal and citation on an empty chair as the Chinese government banned the recipient – who was serving a lengthy prison sentence for his call for political reform – from attending the event.
Images of empty chairs have also been censored on Chinese social media platforms in the past.
As the ruling Communist Party prepares to hold a major national congress later this year that will decide a new leadership lineup, Xi continues to tighten his grip over the world's most populous nation – with 731 million internet users, according to government statistics.
For a country long symbolized by another cute bear, the battle is on between Pooh and the panda bear.