Story highlights
Tomic criticized for not trying at Wimbledon
24-year-old says he's "bored" playing tennis
Tomic has won almost $5M in prize money
(CNN) —
What is Bernard Tomic playing at?
First came the lackluster showing on court, tumbling out of the first-round in straight sets to Germany's Mischa Zverev.
Then came the media conference.
"I wasn't mentally and physically there – I don't know why," Tomic told assembled reporters, swiveling around in his chair.
"I felt a little bit bored out there to be completely honest with you. You know I tried at the end and stuff … but it was too late."
Warming to his theme of disenchantment, the 24-year-old Australian wasn't finished though.
"Holding a trophy or doing well doesn't satisfy me anymore – it's not there," he added later in the media conference.
"I couldn't care less if I make a fourth-round US Open or I lose first round. To me, its the same. I know I'm gonna play another 10 years and after my career I won't have to work again.
"So, this is mental," he added, pointing a finger to his head.
READ: The art of queuing for the Wimbledon Queue
READ: The making of Roger Federer
READ: Venus left tearful by car crash questions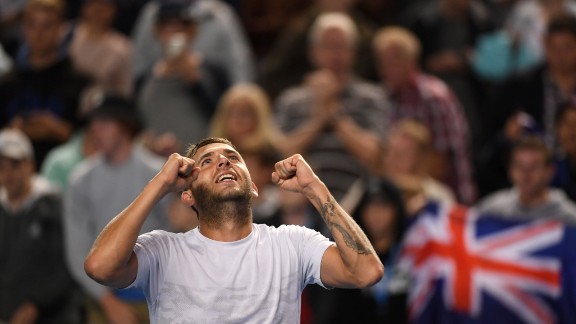 SAEED KHAN/AFP/Getty Images
It was an extraordinary outpouring of emotion that left many ex-players "cringing," according to 1987 Wimbledon champion, Pat Cash.
Australia's tennis legacy
"I don't think Bernie by a long shot represents everybody, Australian players," Cash told the BBC.
"He can do a lot worse than that to ruin the image that we've created. But a lot of ex-players are cringing, Aussies, especially the guys who started this pro circuit. We wouldn't be here without these guys."
Cash is one small part of an Aussie tennis legacy that includes Rod Laver, Ken Rosewall, John Newcombe, and, in the modern era, Lleyton Hewitt and Pat Rafter.
The group have won 31 grand slam singles titles between them and collectively they have helped develop the game Down Under and forge a formidable reputation for Australian tennis around the world.
Alongside the questionable on-court antics of fellow Aussie Nick Kyrgios, Tomic's attitude is presenting a unfamiliar role model for tennis-mad teens in Australia.
READ: Bernard Tomic: Tennis' tainted talent?
Nine-time women's singles champion Martina Navratilova suggested Tomic should quit the sport altogether after seeing Tuesday's performance.
"It's disrespectful to the sport and disrespectful to the history of the sport. If you can't get motivated at Wimbledon it's time to find another job," Navratilova told the BBC.
"The spectators paid good money to come here and watch Wimbledon and the guy shows up and doesn't try, he can't be bothered. Just stay at home."
READ: Tennis locker room confidential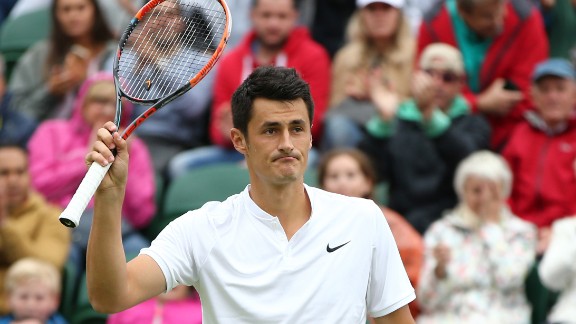 JUSTIN TALLIS/AFP/AFP/Getty Images
Too much, too young?
Tomic is currently ranked No. 59 in the world but only last year reached a career high ranking of 17.
His best performance in a grand slam, perversely, came at Wimbledon in 2011 when he became the youngest player since Boris Becker to reach the quarterfinals – losing in four sets to eventual winner Novak Djokovic.
Still only 24, Tomic has already spent nearly a decade on the ATP Tour – he burst on to the scene as a 16-year-old reaching the second round of the 2009 Australian Open.
He has won three senior titles to date – the last coming in Bogota, Colombia two years ago – and amassed almost $5 million in prize money.
While Tomic's form has fluctuated he's had a number of issues off court to deal with – notably his relationship with his father.
Visit cnn.com/tennis for more news and videos
Tomic's first-round "efforts" at Wimbledon saw him walk away with £35,000 ($45,000) nudging his year earnings towards $400,000.
"It's tough to find motivation out there – I think this is my eighth Wimbledon already and I'm 24 years old," Tomic lamented.
"I've got to find a way to get back and enjoy tennis again."
Cash, meanwhile, has some advice for Tomic – if he's serious about rediscovering his love for the game.
"He needs to go and work in a factory, do some labor and see what it's like to really work out there," Cash told the BBC.
"He is too rich, too early – it's as simple as that."