Venice Beach, California
CNN
—
As a small child, she played hide-and-seek with nurses, ripped out IVs to race around the hospital floor naked and left an explosion of glitter in her wake.
As a teen, she got boys to carry her uphill when she was tired, taught her best friend how to flirt and watched her doctor squirm as he gave her the safe-sex talk.
And as an adult, Claire Wineland has continued living out loud, even as her body fails her.
Claire, 20, has cystic fibrosis, a genetic and terminal progressive disease that's landed her in the hospital for a quarter of her life. Ask what's on her bucket list, and she'll say she doesn't have one.
Fixating on a checklist of goals before she goes "sounds exhausting," she says, especially "when you've been dying your whole life." Instead, she'd rather focus on doing all she can in each moment.
It's a sort of wisdom that makes some describe this California free spirit as "an old soul" or "a little Buddha."
I meet Claire in a Venice Beach café; everyone who works there seems to know her. She's on a mission to normalize sickness, push back at those who pity her and have a meaningful life for however long it lasts. Although she certainly has her down days – "Who doesn't?" she notes – this self-described "goofball" tackles life with humor and the sort of charisma that draws people to her.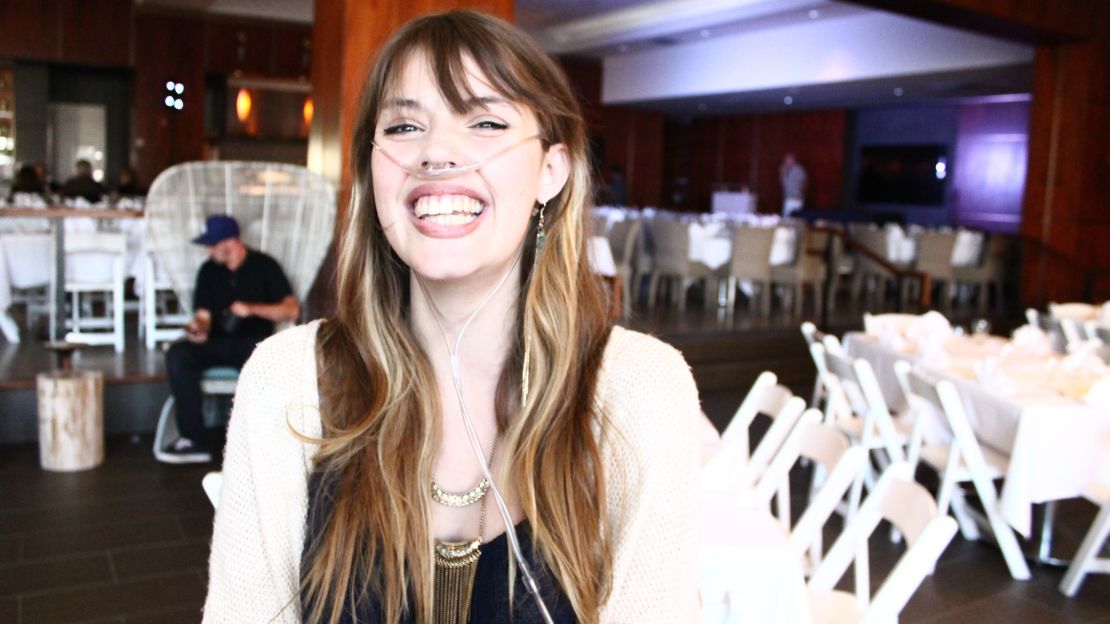 Still, she says, she must train people to feel comfortable around her.
"I can't just expect people to know what to say," she says, "I have to make them see me as more than my illness."
She's been working at it on a number of fronts: In high school, she created a series of videos that went viral and penned pieces for national audiences, including one for CNN. She's appeared in magazines, on television shows and at teen award ceremonies. She's heading up a foundation, writing a book – she promises it's not "another happy sick person book" – and packing in as much as her 5-foot-2, 95-pound frame can handle.
Through it all, she gives public talks. On this day, that's at a TEDx event in Encinitas, a beachside community 100 miles south of her apartment in LA's Venice Beach.
We'd arranged to take the train down for the event. But she'd been fighting a fever as high as 103 the day before, the result of one of many infections her body continuously fights. When I offer to drive instead, she seems relieved. I am, too.
She's chatty and bubbly for most of the two-plus-hour trip, until she feels the fever coming back and curls up in the passenger seat for a nap. The only sound from her now is an occasional cough and the pumping of a portable oxygen concentrator, which gives her the air she needs without the burden of a tank. When I glance over, I spot a tattoo on her left ankle: the "thumbs up" logo from "The Hitchhiker's Guide to the Galaxy," with the phrase "DON'T PANIC."
But I start to do so when she wakes up and says her lungs feel "funny." At the venue, she makes her way to the "green room," where she sits, eyes closed, willing stomach pains to subside, trying to pull it together. She's set to go on in 20 minutes, and I'm afraid she won't make it.
More than a sick kid
She's been riveting audiences since she was 14, when she first stepped on a stage in a new ruffled dress. When I picked her up at her apartment, she wore faded black jeans and a black T-shirt that read "Sexual Intellectual."
"Life is too short to not be yourself," she said.
Ever since she was little, she found it strange how people treated her. They'd peer down with sad eyes and say, "I'm so sorry." It was a statement she heard so often, it was hard not to internalize. And in a society consumed with being healthy, she grew confused.
"What happens when you have an illness where you're never going to be healthy?" she asked. "Does that mean I'm never going to have a life? Am I never going to do anything or be anything other than a sick kid?"
Claire is one of 70,000 people worldwide, 30,000 in the United States alone, who live with cystic fibrosis, the Cystic Fibrosis Foundation estimates. To have the disease, both parents must be carriers of the CF gene. If they are, there's a one in four chance their children will be born with the disease.
Cystic fibrosis leads to an overabundance of mucus, which blocks airways and traps infections in the lungs, complicates digestion, affects the pancreas and other organs and, with time, causes respiratory failure.
At last count, Claire says, she's had more than 30 surgeries. On a daily basis, she takes about four dozen medications, including self-administered shots for her CF-related diabetes, and might spend up to six hours on breathing treatments.
She dons a vest to shake her lungs and loosen mucus, and uses a nebulizer to blow in steam and inhale medicines. She can cough up enough mucus each day to measure in cups. She gets admitted to the hospital for regular tuneups and intensive treatments.
All the while, with her lung capacity diminished, her body works harder to breathe.
"It's like I'm jogging 24/7," she said. She must consume as many as 5,000 calories a day to maintain her weight – forget about gaining any.
That explains the two large pastries she ordered for lunch when we met, and the French fries she got to go. And it's why her younger sister, Elanore Nordquist, 13, used to get miffed whenever she wasn't allowed a second piece of cake but Claire could always have as much as she wanted.
Even with this carte blanche for consumption, Claire takes in 2,000 calories through a feeding tube as she sleeps, while a machine helps her breathe so her body can rest.
Pineapples and mushrooms
Claire can laugh at the absurdities in her life. She tells stories of strangers who've approached her with unsolicited prescriptions for cures. The produce section of Whole Foods is ripe for material, she says. One shopper told her she simply needed to eat more pineapple. Another said all she required was a mushroom cleanse.
And then there was the homeless guy outside a gas station who insisted that the mind can change reality and that she didn't need to be sick. She remembered thinking, with a laugh, "If that's true, why are you homeless?"
But it was a friend who, when Claire was 11, changed her outlook by handing her a book he insisted she see.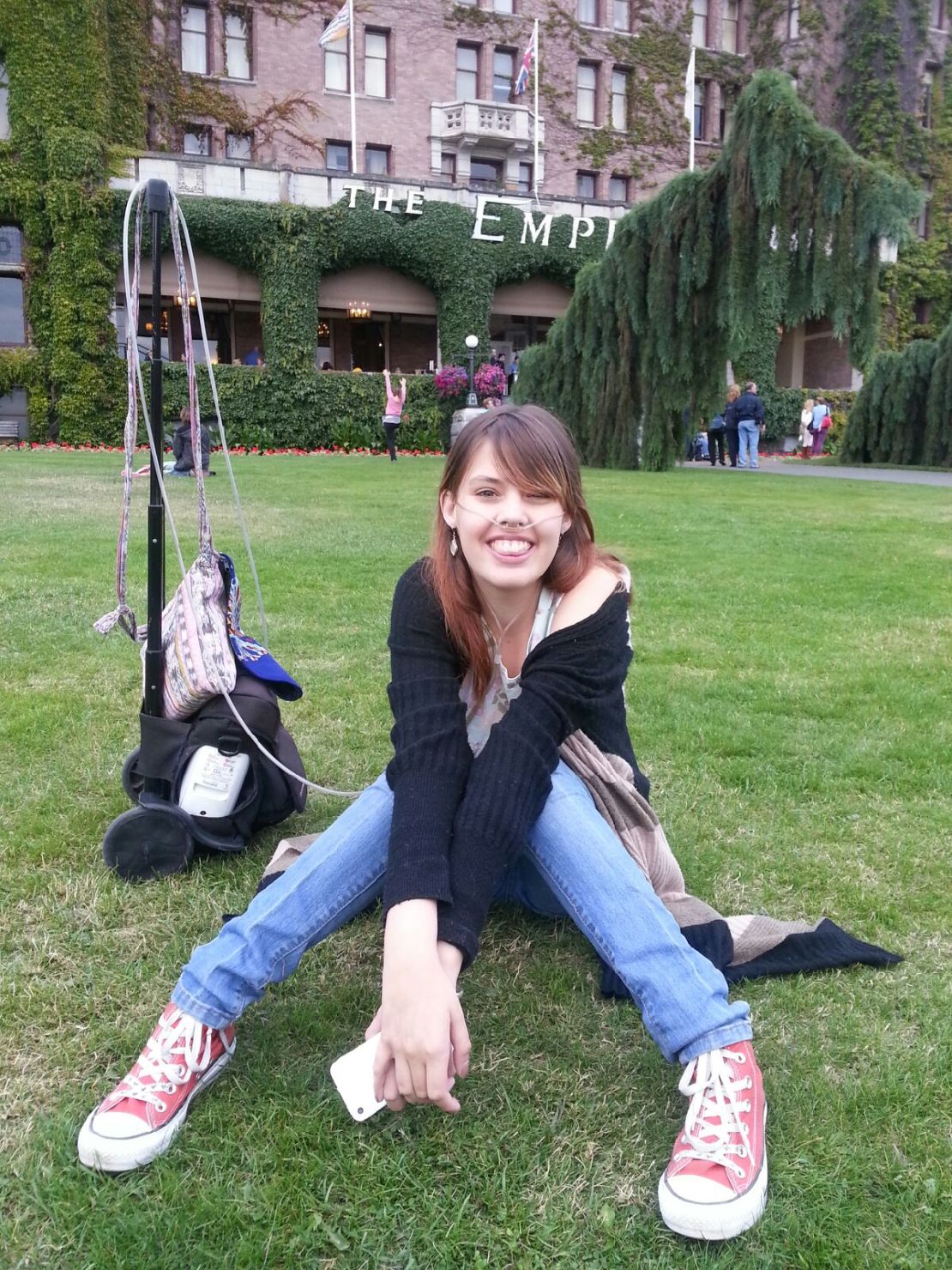 It was Stephen Hawking's "A Brief History of Time." The cosmology book blew her young and curious mind, and she rushed to the library to learn more about its author. Only then did she find out that Hawking had ALS, or Lou Gehrig's disease, and was terminally ill, too.
Until that moment, Claire – an avid reader – had yet to find any role models, examples of sick people doing remarkable things.
"His body was completely failing, but he was contributing something incredible to society," she said. Hawking's diagnosis did not define him. "He transcended it."
In him, she found inspiration, though it would take a steep downturn for her to see her way up.
Flatlining
The sicker a person with cystic fibrosis gets, the more work they need to do to stay relatively well – and the harder it is to do that work. It's enough to make some "CFers," as Claire calls them, stop trying.
She gets it because she was once there.
"It's not that I wanted to die," she said. "But I didn't know how to live."
At 12, she feared that she was surviving just to survive.
During a hospital stay, she had become close friends with Vanessa, another girl with cystic fibrosis. CFers aren't supposed to be together, as they carry bacteria that can be deadly if shared. But these two girls connected at a safe distance, doing art projects across the room while wearing protective masks. They made disco balls for the nursing station out of crushed CDs and glue, shared an understanding and a sense of humor and, over the course of a year and a half, a deep friendship. And then, Vanessa died.
Bereft and facing a lifetime of treatments, Claire asked herself, "Why am I doing this?"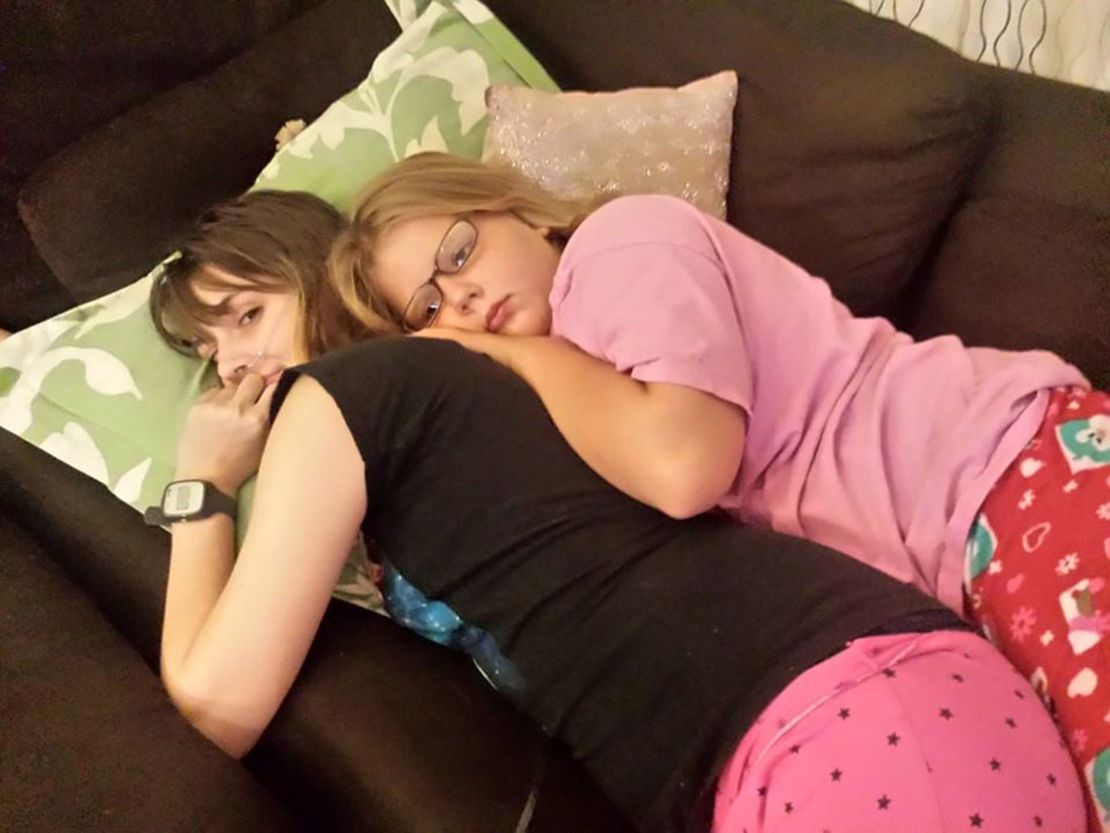 So she began to lie, saying she took her medications and treatments when she didn't. For a year, her health slipped, and she said no one could figure out why. Claire, who'd always peppered her doctors and nurses with questions, knew the language and how to trick everyone.
The day after her 13th birthday, a straightforward surgery to deal with acid reflux spiraled into chaos. She contracted a blood infection that attacked her lungs. She could feel them failing.
As her oxygen levels plummeted, she began hallucinating. In a moment of clarity, she thought, "I don't want to actually die. I want to see what happens in life. I want to see where it goes."
She was placed in a medically induced coma, intubated and hooked up to an oscillator, a machine that gently puffed air into her fragile lungs. No child with CF had successfully come off an oscillator, doctors told her parents. Claire says she was given a 1% chance of survival. She flatlined twice.
Her little sister was 6 at the time. Elanore remembers a social worker talking to her before she went in – "all sanitized and in a gown" – to see Claire.
"They told me to say goodbye," Elanore said. "They told me 'she's probably not going to wake up.' "
A winter wonderland
There was no white light. Instead, Claire transported herself to a place she'd never been: Alaska.
Her subconscious journey began beneath ice water, she says. When she surfaced, she peered up at a mountain of snow. She sat amid ice-crystal-covered pine trees, floated on ice sheets while looking up at stars and hung out in a woodland house where animals streamed in to visit her.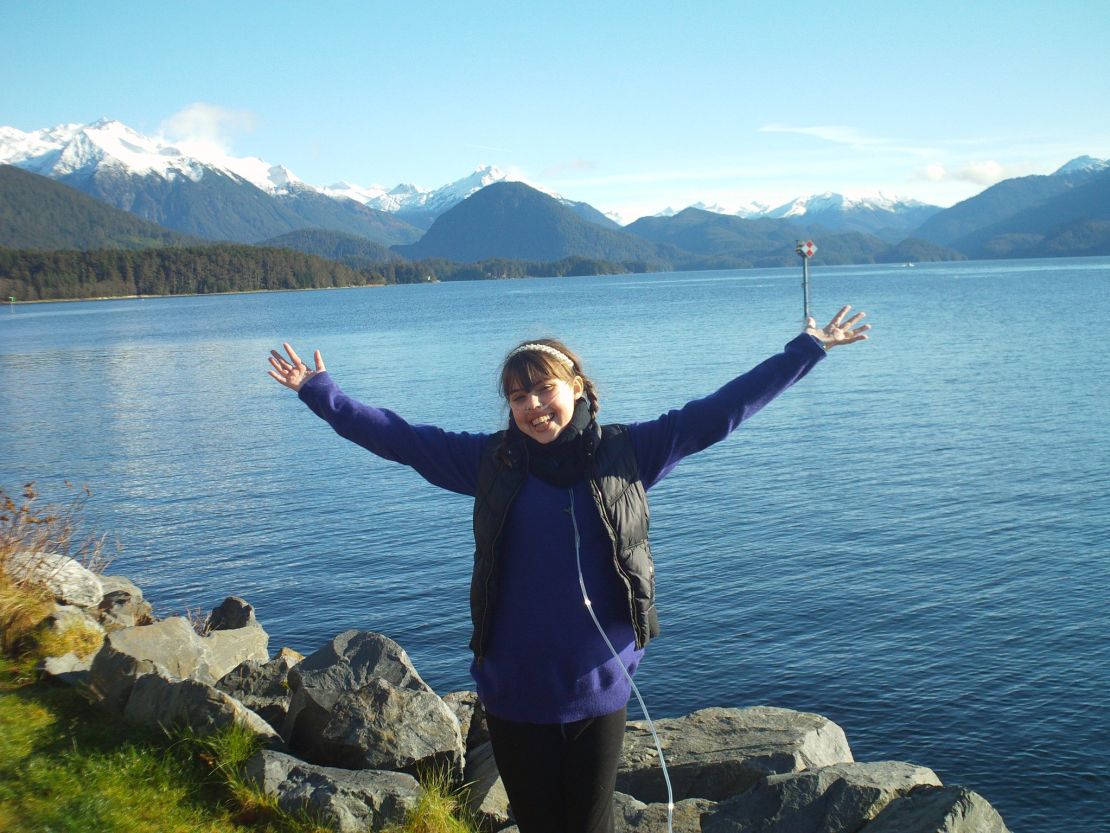 Claire remained in a coma for more than two weeks. When she woke up, she learned that her dream world had unfolded while she had been submerged in an ice bath to bring down her fever.
Though conscious again, she couldn't walk, sit up or hold silverware. She had to wear diapers. Her mom called her "Grandpa," a memory that still makes her laugh.
"My body had no reserves left," she said. "It was kaput."
In the many months she worked to get stronger, she found renewed purpose.
"I feel like she had a spiritual experience," said her mom, Melissa Nordquist Yeager. "She came out inspired to help others."
Finding meaning by giving back
Claire entered the world the way she lives: boldly.
Yeager was overdue to give birth to her firstborn when a routine ultrasound morphed into a scene of terror.
She watched the doctor's face as he studied the screen. He ducked out and returned with another doctor. They told her that something was wrong with the baby and that Yeager had to be induced immediately.
Claire was born with meconium ileus, a bowel obstruction that is a telltale sign of CF. Her bowel had ruptured, leaving her belly protruded, and she was whisked off for the first of many surgeries.
"The prognosis was five years," Yeager said, "and that was a maybe."
Claire spent the next seven weeks in neonatal intensive care. Her father, John Wineland, recalls peering down at his daughter as she screamed amid the medical equipment and tubes. Their eyes locked.
"It's going to be OK," he remembers telling her. "We're in this together."
Just like that, Claire's parents, who then lived in Austin, Texas, were jolted from naiveté.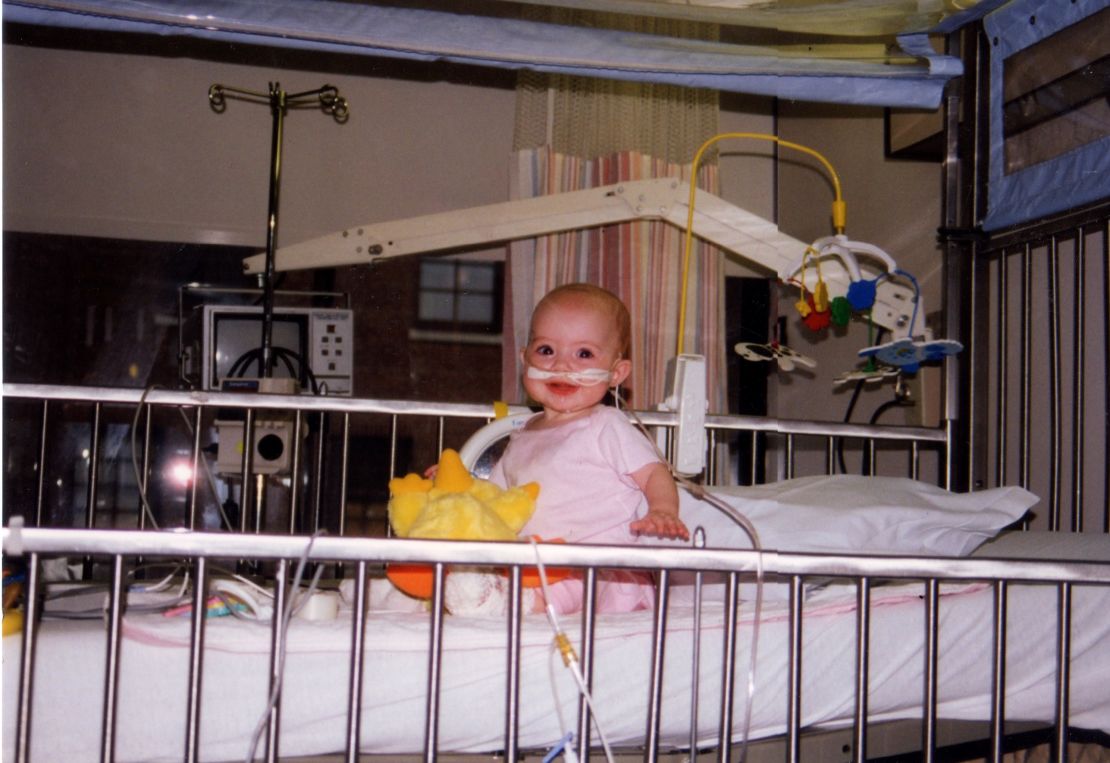 Raising a daughter with CF "has consumed most of my attention, most of my life," said Yeager, who now lives in Seal Beach, California. She and Wineland, of Santa Monica, never married and decided to split when Claire was 3, but they remained close friends and have continued to tackle Claire's care together.
With Claire in the hospital two or three months a year, Yeager never felt that she could build a career. She lost a handful of jobs and quit others as hospital stays dictated. She'd take the day shifts with Claire while Wineland took nights. He'd hunker down next to Claire in the hospital, watch movies with her at 3 a.m. when she couldn't sleep, and head to work in the morning.
All the while, Claire's parents – and, by extension, Claire – were surrounded by friends. They'd come to the hospital with meals, stick around