Story highlights
North Korea claimed Tuesday to have successfully tested an ICBM
US, China and their allies are split over how best to rein in the rogue state
A paradigm-changing North Korean missile test has left the United States and China split over how to deal with the aggressive rogue state.
While China and Russia have called for concessions on both sides, the US so far has made no public move to open talks, instead opting to engage in a renewed military show of force with its South Korean ally.
North Korea announced Tuesday it had successfully tested an intercontinental ballistic missile (ICBM), which state media said had reached an altitude of 2,802 kilometers (1,741 miles), its highest ever missile test.
State media in Pyongyang said North Korea now had the power to now strike the American mainland with a nuclear warhead. While experts caution against taking North Korea's claims at face value, the Pentagon and South Korea's intelligence services have said they believed the missile was an ICBM.
Experts say that if the missile had had been fired on a normal trajectory instead of at a high altitude, it would have reached about 6,000 kilometers – enough to put Alaska within range.
In a joint press statement issued by Russia and China, the two countries reiterated their call for North Korea to stop its missile and nuclear tests in exchange for the US and South Korea holding off on future large joint military drills.
However, within hours of the statement, the US and South Korea announced they had held a new ballistic missile drill to counter "North Korea's destabilizing and unlawful actions."
"(The drills) showcased precision targeting of the enemy's leadership in case of an emergency," a South Korean Defense Ministry statement said.
North Korea's latest test, and the accompanying bellicose claims, have rattled its allies as well as its enemies. But the contrasting responses expose the diplomatic divisions over how to deal with an increasingly aggressive North Korea.
Speaking alongside Chinese President Xi Jinping at a Moscow press conference Tuesday, Russian President Vladimir Putin said both leaders wanted "peace and stability" on the Korean peninsula.
"It is very important to push forward our joint initiative on settling the Korean problem with a view of immediately freezing the ballistic missile strikes and also dealing with the US deployment of weapons in South Korea," he said.
Joe Cirincione, president of the Ploughshare Fund, an organization working to stop nuclear proliferation, told CNN North Korean officials had previously expressed willingness in unofficial two-party talks to pause their weapons programs if US and South Korean exercises were suspended.
South Korea has been a longterm ally of the United States since the two states fought together during the Korean War in the 1950s. Russia alongside China is one of the few nations to take the side of North Korea, calling for an end to US "intimidation" in May.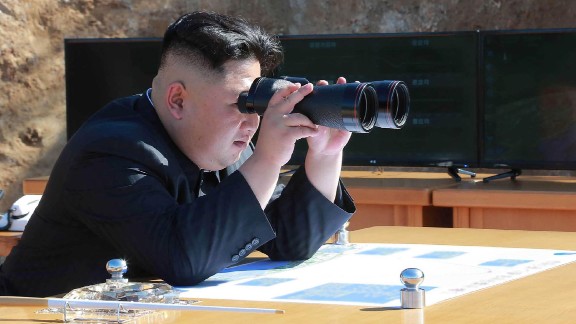 AFP PHOTO/KCNA VIA KNS/Getty Images
Tillerson: 'Global action' need to stop North Korea
The United States and South Korea regularly hold annual military drills in March and April which often provoke a fierce response from North Korea, often including missile launches and nuclear tests.
China first suggested a suspension of drills in exchange for North Korea's nuclear program in March, when Chinese Foreign Minister Wang Yi said the US and North Korea were set for a "head-on collision."
The latest United States and South Korea drills held Wednesday were designed to display both countries' own missile strength, Pentagon spokeswoman Dana White said in a statement.
The night before the drills commenced, US Secretary of State Rex Tillerson described the ICBM test as a "new escalation," adding "global action" would be needed to stop North Korea
"As we, along with others, have made clear, we will never accept a nuclear-armed North Korea," he said.
Cirincione said while the US drills were "legitimate," it was important for the US administration to begin negotiations with the North Koreans.
"There is no military option here. Even a limited military strike could escalate to a major war … (We should) have talks about talks with no preconditions. This is what China and Russia and South Korea and Japan are urging us to do," he said.
While South Korea joined in Wednesday's drills, new President Moon Jae-in has long advocated a policy of engagement with North Korea, rather than confrontation.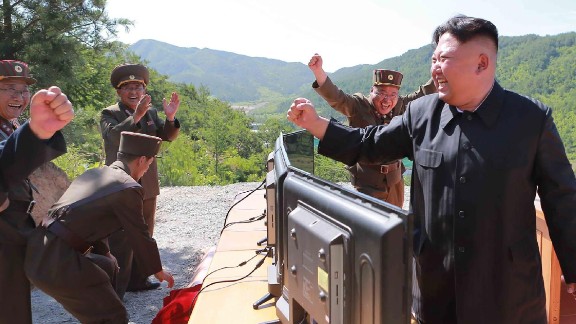 AFP PHOTO/KCNA VIA KNS/Getty Images