Story highlights
Communities can add context to them, move them to museums, or move them elsewhere
They shouldn't be destroyed, historians say, since they can impart lessons about the past
Confederate landmarks – as they originally were intended and in the ways some communities have sought to change them – reflect the ever-evolving story of America.
South Carolina removed the Confederate flag from statehouse grounds in 2015, after a self-described white supremacist killed nine black churchgoers in Charleston.
Since then, a movement to pull Confederate iconography from government and public property has been gathering steam.
The effort pits those who see the symbols as tributes to Southern heritage against others who regard them as a glorification of a sordid history of racism.
Suddenly, a question long debated among historians has become the subject of a national conversation: What should happen to these relics of a bygone era? There's no clear consensus, but most historians agree: It's up to individual communities to make decisions that reflect their values.
Many historians also agree that Confederate monuments shouldn't be destroyed, since they can impart important lessons about the ugliness of the past. That leaves three ways in which cities around the country could deal with them: keep them and add context, move them to museums, or move them elsewhere.
Still, some are finding it hard to locate new homes for these items – many monolithic in scale – sometimes because of the history they represent.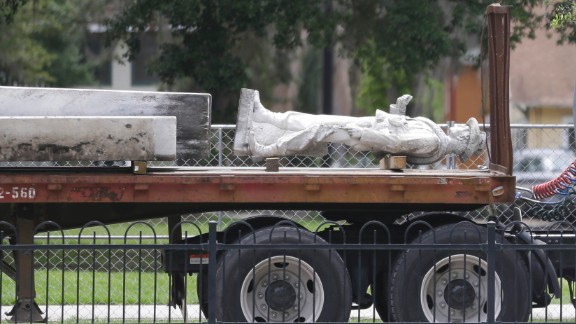 John Raoux/AP
Keep them and add context
Monuments don't build themselves; as such, they say more about the people who made them than the figures they portray.
Southern heritage groups were responsible for most monuments erected across the country during Reconstruction, the post-Civil War era marked by a backlash to integration that fueled Jim Crow policies of legalized discrimination and led to more than 4,000 lynchings of black people in the Deep South.