Story highlights
Travis Roy was paralyzed in his first college hockey game
Now he helps others with spinal cord injuries
(CNN) —
Travis Roy grew up in Augusta, Maine. Many of his earliest memories are of playing hockey.
"I was at the rink at 20 months old. My dad, he found a pair of skates small enough to fit on my feet. We went down to the rink, he laced them up and sat me down on the ice," Roy recalled.
His dad was one of his coaches early on.
"There was one rule, and it was always 'Come on, get up. You're not hurt,'" he remembered his dad saying.
Courtesy Travis Roy
As Roy got older, hockey became a big part of his life.
"I just always had this desire. How good could I be?" Roy said. "Could I play in college? Could I play in the professionals some day?"
It was a dream come true when Roy earned a scholarship to Boston University.
"At the time, they were the powerhouse in the country, in the mid '90s. They were the defending national championship team," he said.
There were six freshmen, but only four would dress in the first game.
"Coach (Jack) Parker let me know I was going to play in the first game," he said. "It was everything I could have hoped for."
'I'll never forget it'
But on October 20, 1995, Roy's life changed forever.
"It was the best day of my life and by the time it was over, it turned into the worst," he recalled. "From the time they dropped the puck until the time they blew the whistle, it was 11 seconds."
Roy skated onto the ice for the first time after his team scored. The opposing defenseman picked up the puck, and Roy went in to deliver a shoulder check.
"I lost my balance and fell head-first into the boards," he said. "It just basically drove my head into my shoulders. … I couldn't feel anything. I couldn't move anything."
After the doctor and trainers came onto the ice, Roy asked if they could find his dad in the stands.
"It was the same as always. It was 'Come on Trav, let's go. There's a game to be played.' Then he knelt down, and I said, 'Dad, I'm in big trouble.' Then I said, 'But Dad, I made it,'" he recalled. "It was the best 11 seconds of my life to realize that dream."
Almost instantly, Roy exploded his fourth and fifth cervical vertebrae.
"I knew I was paralyzed probably before the first trainer even got there," he said.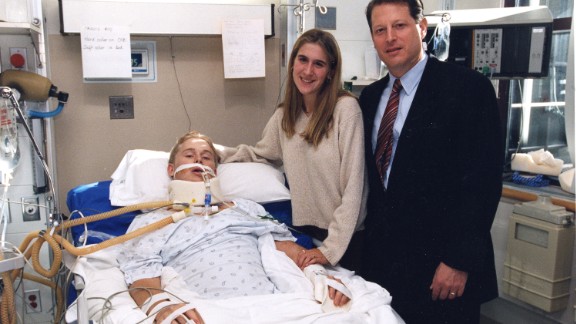 Courtesy Travis Roy
Roy spent six months in the hospital before starting rehab at the Shepherd Center in Atlanta.
"The rehab and recovery, it was tedious. It was slow," he said. "I just have a little bit of my right bicep … but I had to make the best of what I had."
Eventually Roy went back to Boston University, and earned his degree in 2000.
"I figured I have to move on and establish this new life, new identity," he said.
From passion to purpose
When he was still in the hospital, Roy saw other families dealing with paralysis.
"It turned out I had great insurance. There was money that had been raised to fill in the blanks. Other families didn't have any of that," he said. "That was when I thought maybe we can raise money and help cover some of these expenses for other spinal cord injury survivors."
Twenty years ago, he started the Travis Roy Foundation. Half the money raised goes toward adaptive equipment grants and the other half goes toward research.
"I wanted to use the attention my story kept getting to help others," he said. "I wanted the hope of a cure to be real. The only way that is real is through funding."
Since then, the organization has raised more than $10 million and helped close to 1,500 individuals with spinal cord injuries.
Join the conversation
"You give a family the right lift … to get their husband, their wife, their daughter in and out of bed safely. It changes their life," he said.
Along with his work at the foundation, Roy travels around the country as a motivational speaker. He also wrote a book called "Eleven Seconds: A Story of Tragedy, Courage & Triumph."
Roy, now 42, is still heartbroken over what could have been. But he describes living the first half of his life with passion and the second half with purpose.
"There are times when we choose our challenges … and there's other times where the challenges simply choose us. And it's what we do in the face of those challenges that really defines who we are and more importantly who we can and will become."