Story highlights
"We know what it means to be hungry," one restauranteur, an immigrant, said
"We wanted to give back," his partner said of the free meals they offer
A free meal and a friendly smile aren't easy to come by.
But a pair of Muslim immigrants changed that for some in Montreal with a sign in their restaurant window.
Motivated by their own experiences with hunger in Iraq and Iran, they offer a free meal to anyone in their adopted community who needs it – no questions asked.
"We went through this," said Ali Amiry, 51, who left Iraq in 1992, fleeing the regime of Saddam Hussein and crippling sanctions. "We know what it means to be hungry."
'I was looking for a job'
Amiry and Yahya Hashemi, 58, who fled war in Iran in 1987, opened a Middle Eastern restaurant and grocery store called Marche Ferdous in a bustling part of downtown Montreal near Concordia University.
"There are many homeless people in this area," Amiry told CNN. "Sometimes they (come in and) ask for money, and we ask them 'Why?' They say for food."
So, three years ago, the pair decided to provide.
"It is something personal to me and my partner," Amiry said. "First of all, we believe in charity, in donation, and sharing things. And also, we notice there is need for this because there are many homeless people."
While Amiry and Hashemi ask for nothing in return, some of those who benefit most refuse to take a handout.
An Egyptian immigrant came in this week to get food but didn't want to take it for free. Amiry and Hashemi needed a cook, so they hired him.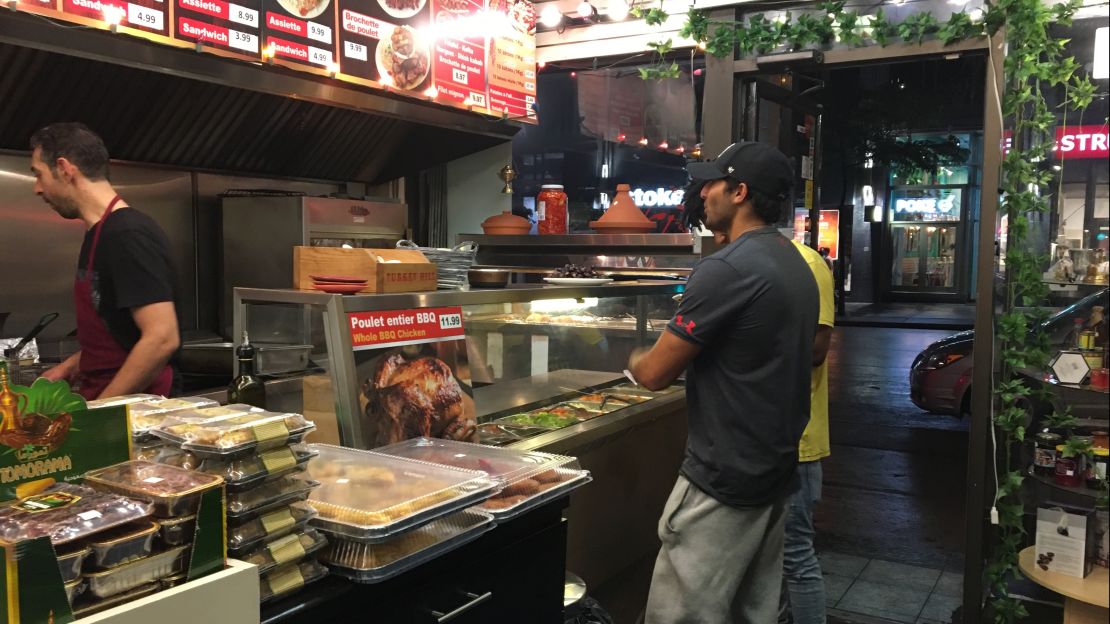 "Sometimes when you're out of work or out of sources like money, you can't get decent food. At best you'll find it for $4 or $5; it might be a lot for a lot of people. So I came here for the free food. I was looking for a job as well," said Ahmad Badawi, 42.
"We always say you have to work for your own hat," he said. "Rather than take free food, I prefer to eat from my own hand. You're at the end of the month, looking for a job. I said 'I'm looking to work, and to eat from my own hand.' The store manager said, 'We are hiring', and I had restaurant experience. Now I get paid and I get free meals."
A sign of welcome
Amiry's 16-year-old daughter, Ramin, made a sign about nine months ago to hang at the restaurant, inviting people to eat free if they couldn't pay.
"People with no money welcome to eat free," the sign read in English and French.
A man tested the policy and, finding it to be true, shared the sign on social media. Requests for free meals ramped up.
Before long, the duo was giving away as many as 20 meals per day. Demand diminished as other restaurants followed their lead.
Meantime, some customers started giving a bit extra to help offset the costs of free meals.
The offer came at the perfect time for 27-year-old Kris Begg. The struggling musician recalled how his mother sent him a link about the restaurant.
"I was having a tough time," he said. "They gave me rice and meat and potatoes."
There was no judgment, just goodwill.
"I've gone there three times," he said. "I don't go there everyday, I go maybe once a week. I don't want to be the guy who's always asking for free food. Get it when you really need it. It's a great service. They are really nice; they don't judge you."
'We wanted to give back'
Providing the food is just part of the business' expenses, Hashemi said.
But the sign has come down – as some local businesses complained the restaurant put it up to get publicity.
Still, Marche Ferdous continues to give free meals. Needy people in the area know about the generosity, with or without the sign.
"We appreciate Canada," Hashemi said. "We wanted to give back what we have been given in these years."
Adam Kovac contributed to this report.