The documentary "Separated: Saving the Twins" with Dr. Sanjay Gupta is an exclusive one-hour special that airs Friday at 10pm ET on CNN.
Story highlights
Rehab has been marked with highs and lows for Jadon and Anias McDonald
"It has literally been the journey of sickness," their mother says
Nicole McDonald eases her silver minivan across Bear Mountain Bridge and hooks a right onto the steep two-lane highway.
The road twists like a snake up the mountainous incline, an old route where the road's edge blends into beautiful greenery and perilous cliffs overlook the Hudson River. Where your knuckles turn white from clutching the steering wheel and a knot grows in your belly.
Nicole makes this trip every day from her home in upstate New York to see her twin sons, Jadon and Anias. The 21-month-old boys are at Blythedale Children's Hospital 40 miles to the south, where they've been undergoing rehabilitation since mid-December. The twins, born joined at the head, captured the world's attention after a marathon surgery to separate them last fall.
Separated: Saving the Twins
Watch "Separated: Saving the Twins," an exclusive one-hour special hosted by CNN Chief Medical Correspondent Dr. Sanjay Gupta, tonight at 10ET on CNN.
The journey to go see them, Nicole says, is similar to the one her boys have been through: setbacks and victories, nerve-wracking and awe-inspiring.
"It's like climbing a mountain," she says, "and you get to the place you thought was the top only to realize you have another mile to go and you don't have the supplies for it."
She thinks back to a moment weeks earlier when she reached a breaking point. Jadon and Anias had been sick off and on for nearly a month. Her other child, 3-year-old Aza, battled high fevers and croup. Amid it all, Mom got sick.
But after a few days, finally, it seemed everyone was healthy. Nicole visited the boys at the rehabilitation center. Jadon fell asleep in his crib, and she worked to put Anias down. He was laughing, but in an instant, he unleashed a scream and vomited. Again and again, until nothing was left.
Nicole stood, drenched in vomit, and held her 25-pound boy for more than six hours. Then, Jadon awoke, "just puking nonstop." She wondered why, after everything her boys have gone through, they couldn't seem to catch a break.
In that moment, she closed her eyes. "I quit," she thought. "I can't do this anymore."
Seconds later, though, she snapped back. Amid the desperate exhaustion, she found strength. She became more focused, more determined, more resilient. Her boys needed her. Her family needed her.
She didn't sleep for two days, tending to their every need.
A physical therapist by training, she learned that she could rely on her instincts – and that no matter what was thrown at her, she was strong enough to take it.
"My 'I quit' moment shoved me into the mindset of 'I can do this,' " she says. "Not only can I handle it, I can handle it on my own. It was about being free, even though it's hard."
She took that moment almost like a rallying cry for her boys. And she found it both exhilarating and rewarding: "I can be their mom without some nurse coming in every two seconds. Eventually, I'm going to have to do this at home. It was proof for me in that 'I quit' moment that I can."
What drives her is the sheer joy that spreads across her boys' faces when she enters their room. Most of all, she just wants to bring them home.
She mashes the accelerator on the road to see her boys.
'Just trying to survive'
Christian McDonald climbs the extension ladder and rips rotted wall studs from the outside of the family's split-level ranch house. His shirt is peeled off, and sweat drips from his chin.
While Nicole works with the boys, Christian works to ready their newly purchased home for the twins' return. The work has allowed the former truck driver to return to his blue-collar roots. Knocking down walls and ripping up siding has been good for his soul, a way to relieve the stress of dealing with everything Jadon and Anias have gone through.
The wood-shingled house, nestled in Orange County with views of the Catskill Mountains, is the family's third home in less than two years.
In February 2016, they transported their lives from small-town Illinois to the Bronx to be near the Children's Hospital at Montefiore Medical Center, where the twins' surgery took place. They lived in a rental home for more than a year.
Once the twins were moved to rehab at Blythedale, in Valhalla, the family moved too – in part to get away from the hectic pace of the city.
The house, which had been a foreclosure, is in need of what a real estate agent might call "a little TLC." The stairs leading up to the front door have been demolished – one of many projects on Christian's to-do list. He's refinished one bathroom, turning it into showroom quality.
Nicole and Christian hope to flip the home eventually; they say they wouldn't have been able to afford it if not for strangers who donated more than $330,000 on their GoFundMe page. Neither parent has been able to work since their journey to New York began.
"We're just trying to survive, really," says Nicole, "and this is how we're trying to survive."
Christian says he doesn't quite understand why so many people have found inspiration in their story. In his view, he and Nicole are just regular folks going through an ordeal, not too much different from other families with sick children. He's grateful and thankful not just for the donations but for all the messages of support.
Nicole draws inspiration from them, too. She holds one note especially close, written by a woman who said she had planned to commit suicide until she read about the McDonalds' struggle and found hope in their story.
Even with the ongoing renovations, their home feels warm and inviting. The message on one living room wall reads "Live, Laugh, Love." On the other, "Peace, Love, Dream." Collages of photographs show the boys from before and after the 27-hour surgery in mid-October.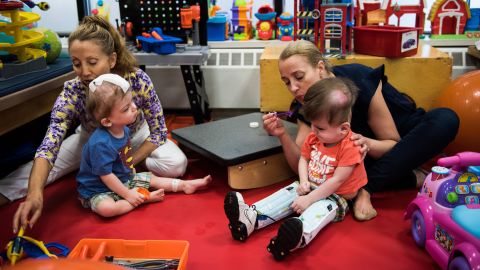 The McDonalds gave CNN exclusive access to the surgery and allowed us to follow them in the months since. Their story will be featured in an hour-long special, "Separated: Saving the Twins," hosted by CNN Chief Medical Correspondent Dr. Sanjay Gupta on Friday night at 10 ET.
Much has changed since the surgery. Although it might have been the most difficult medical task, the parents knew what to expect. The doctors essentially gave them a road map of the procedure and the care that would follow. Emotionally, they were prepared.
But rehab has been different: filled with sick boys, constant worry and extreme ups and downs. While the care has been great, the parents say, there was just no way to be prepared for the various health scares.
"Every day is a new day with a new challenge," Nicole says. "It has literally been the journey of sickness for the last couple months."
One night, a feverish Anias suffered a lengthy seizure and stopped breathing when his temperature rose too high, too fast. Two fluid-filled cysts have emerged on the top of his scalp, doubling his head's normal weight. He had to have his skull cap removed due to infection and will undergo another surgery when he is 7 to insert bone.
Jadon has battled infection, too. Dissolvable plates that were inserted during the surgery have pushed up through his scalp. "I pull out pieces of plate from his head," Nicole says, "and every day, it breaks my heart."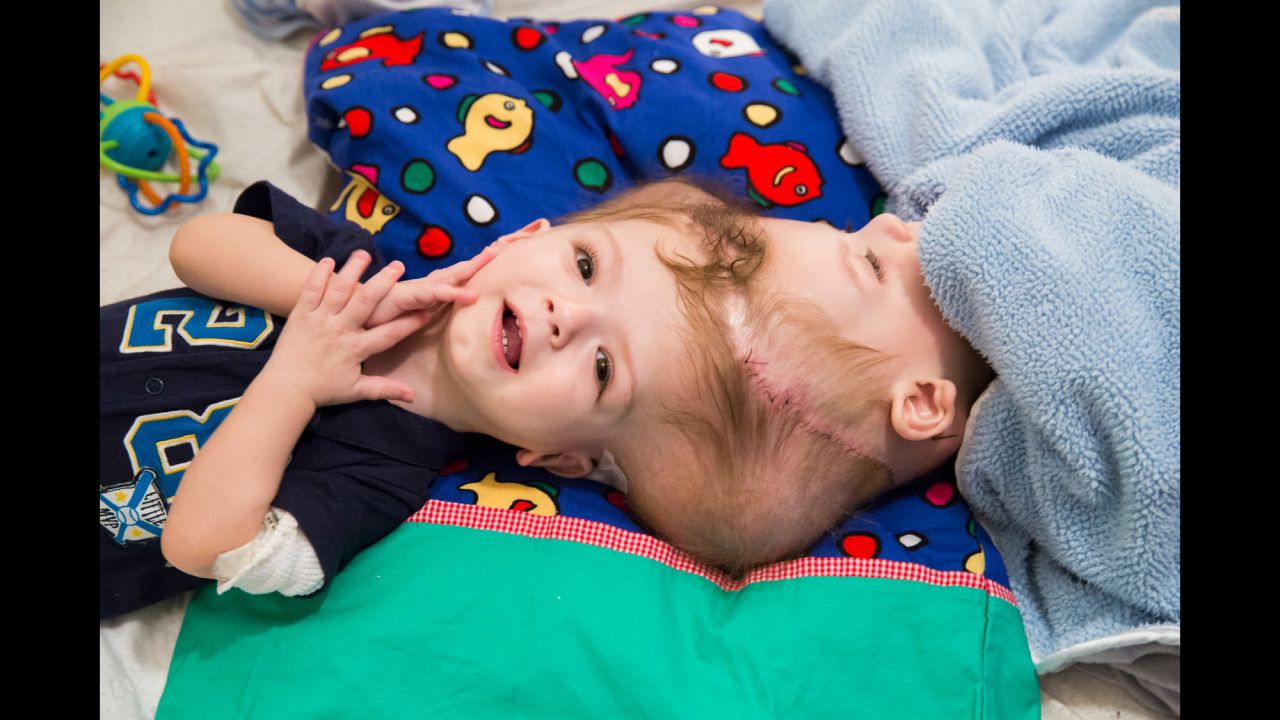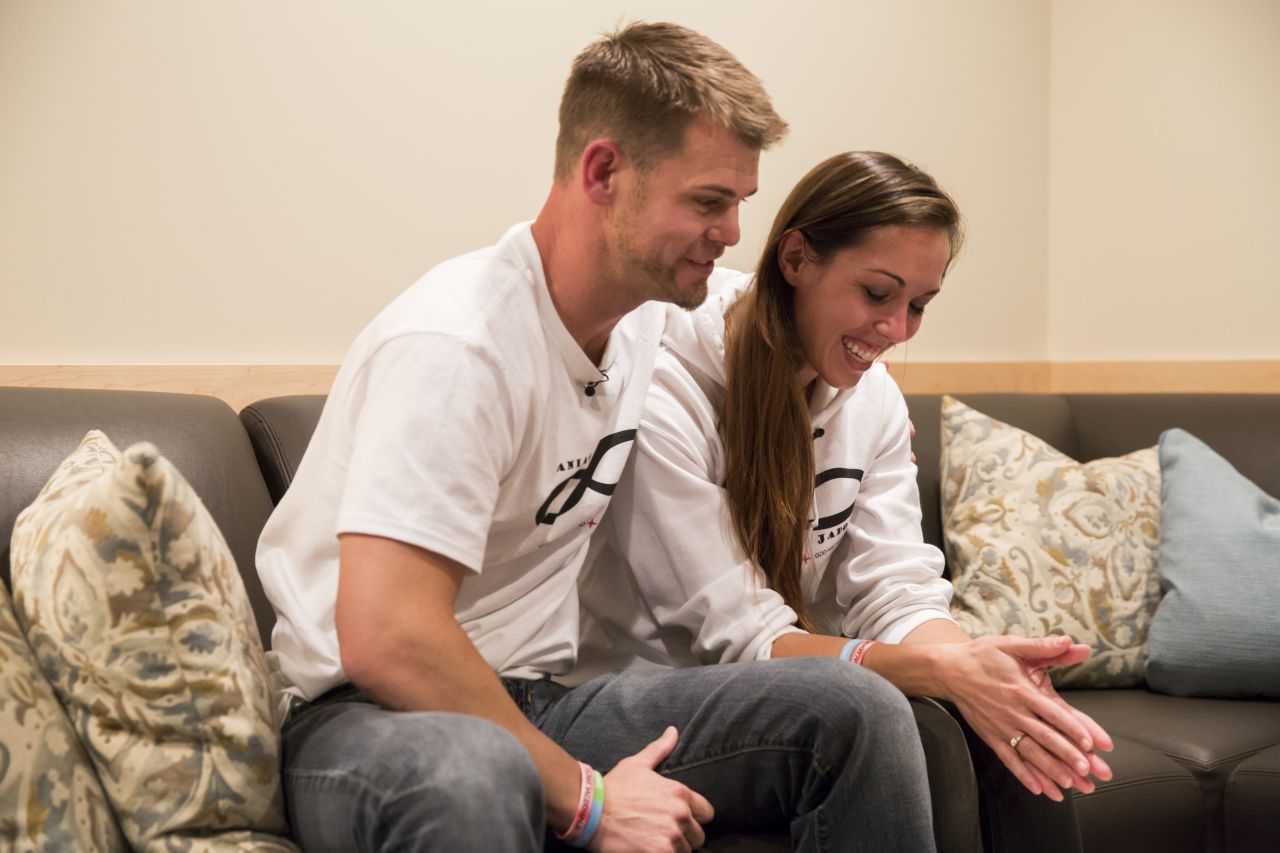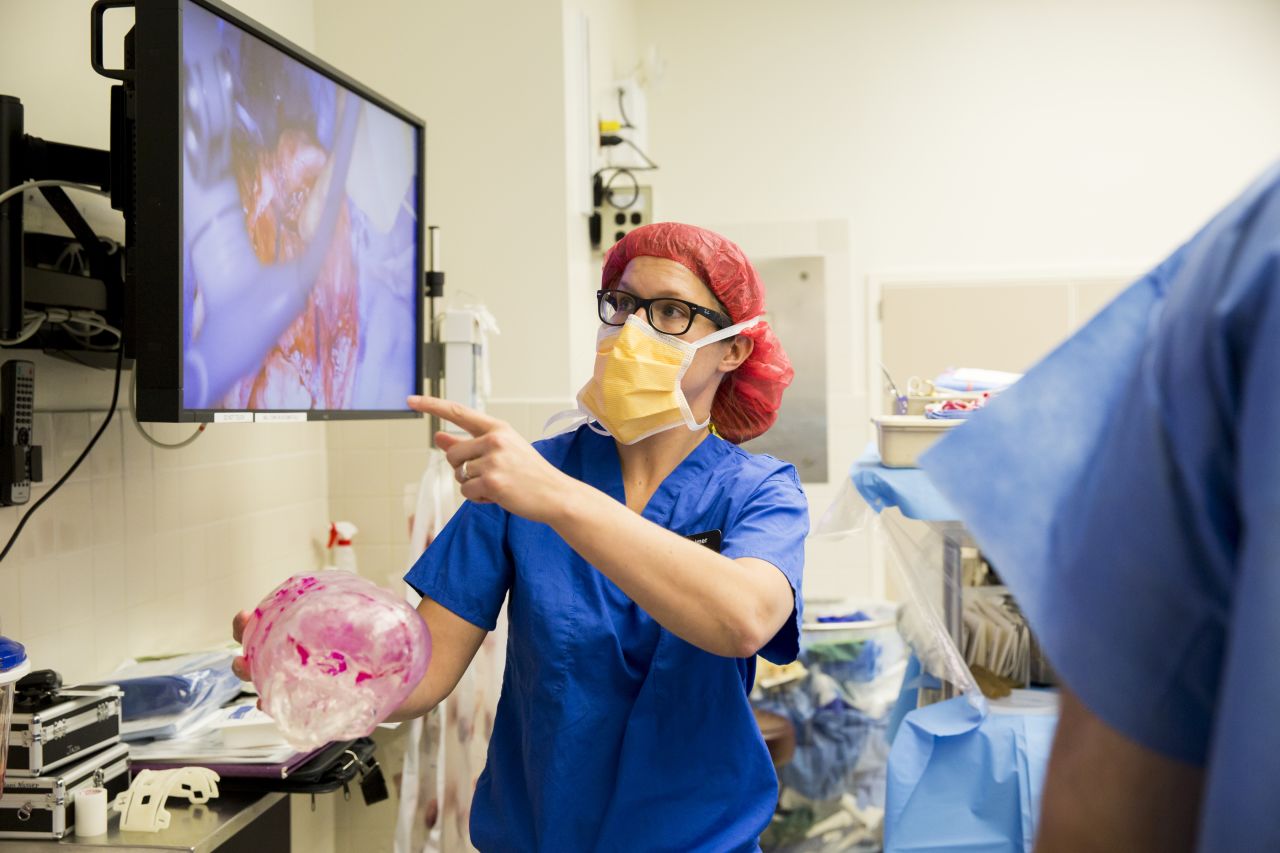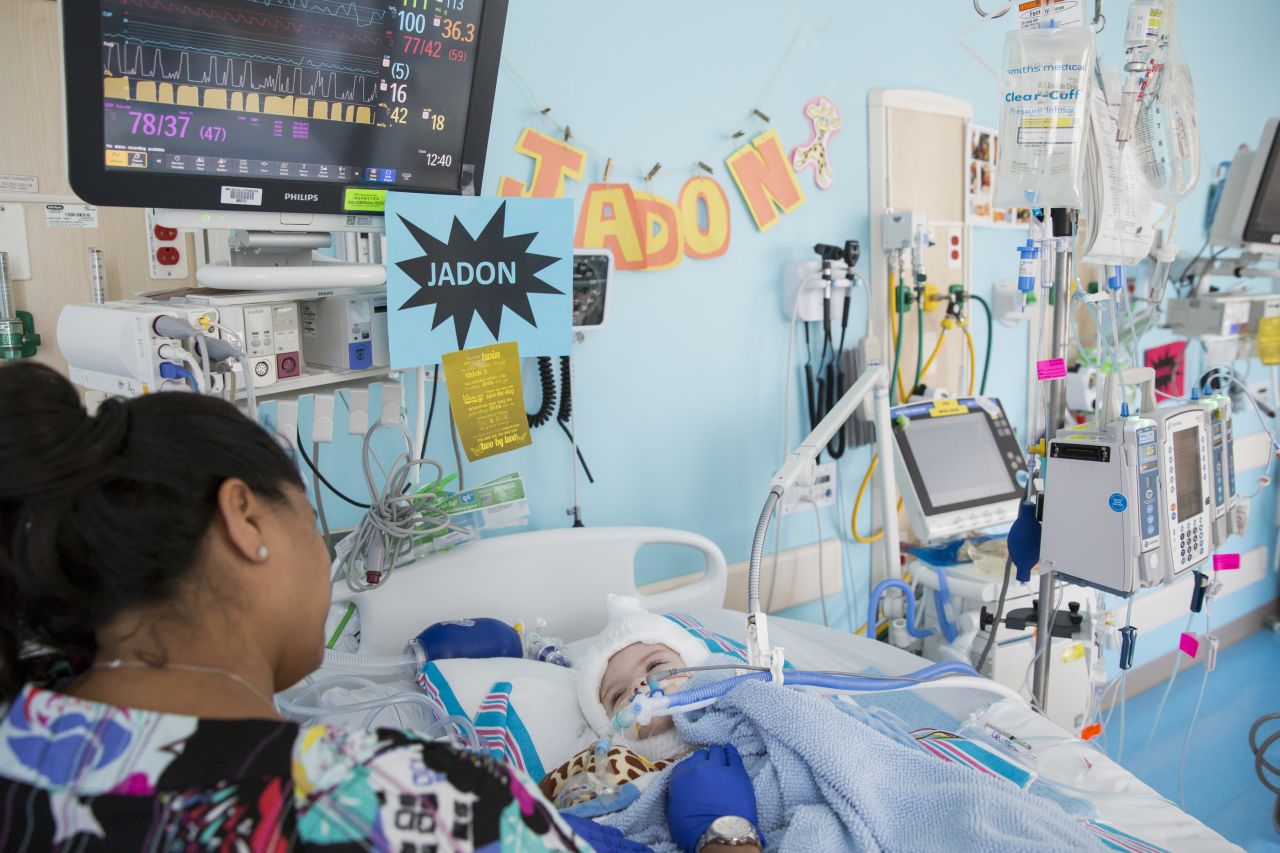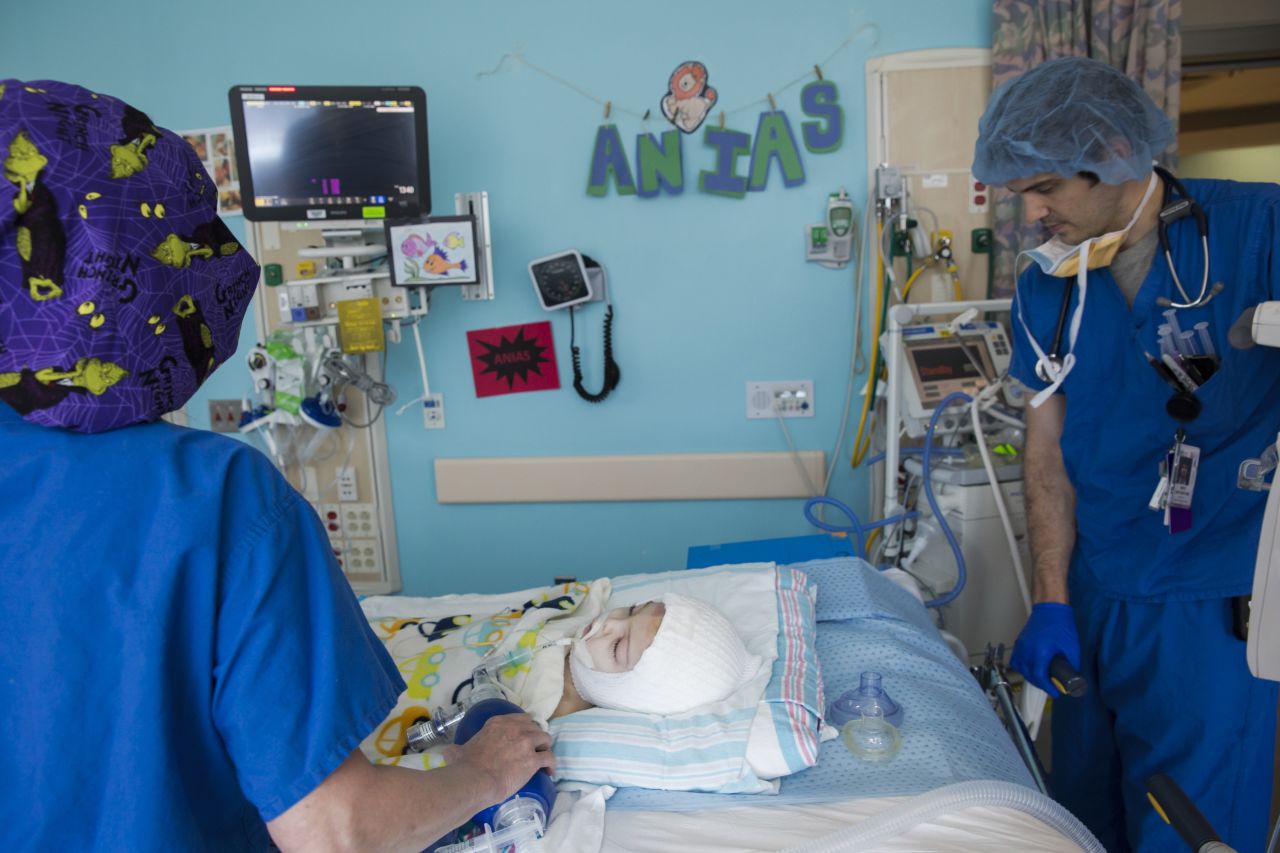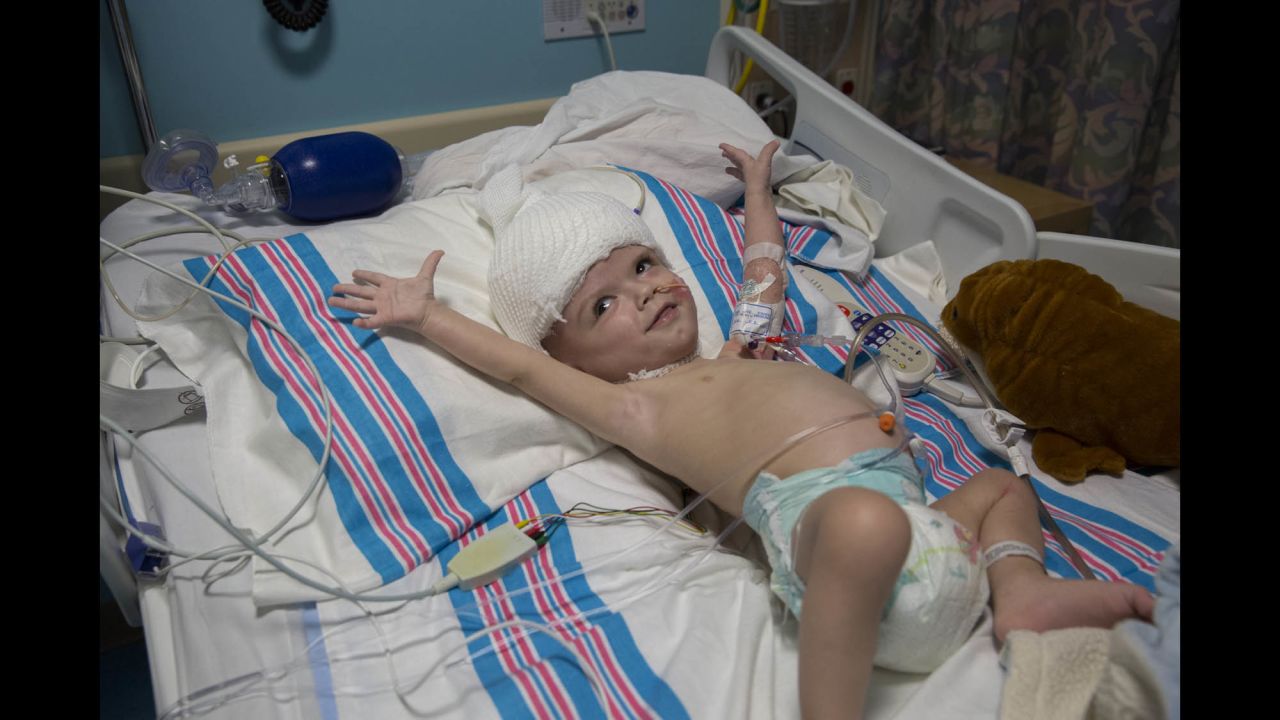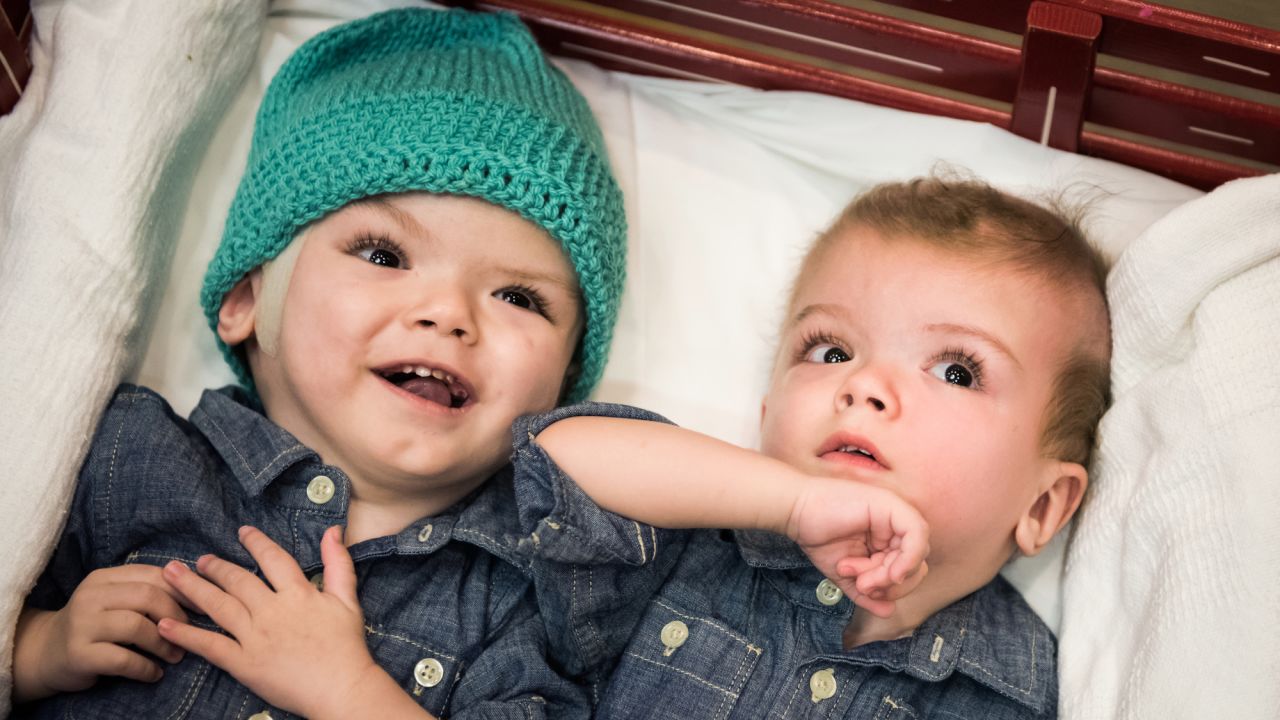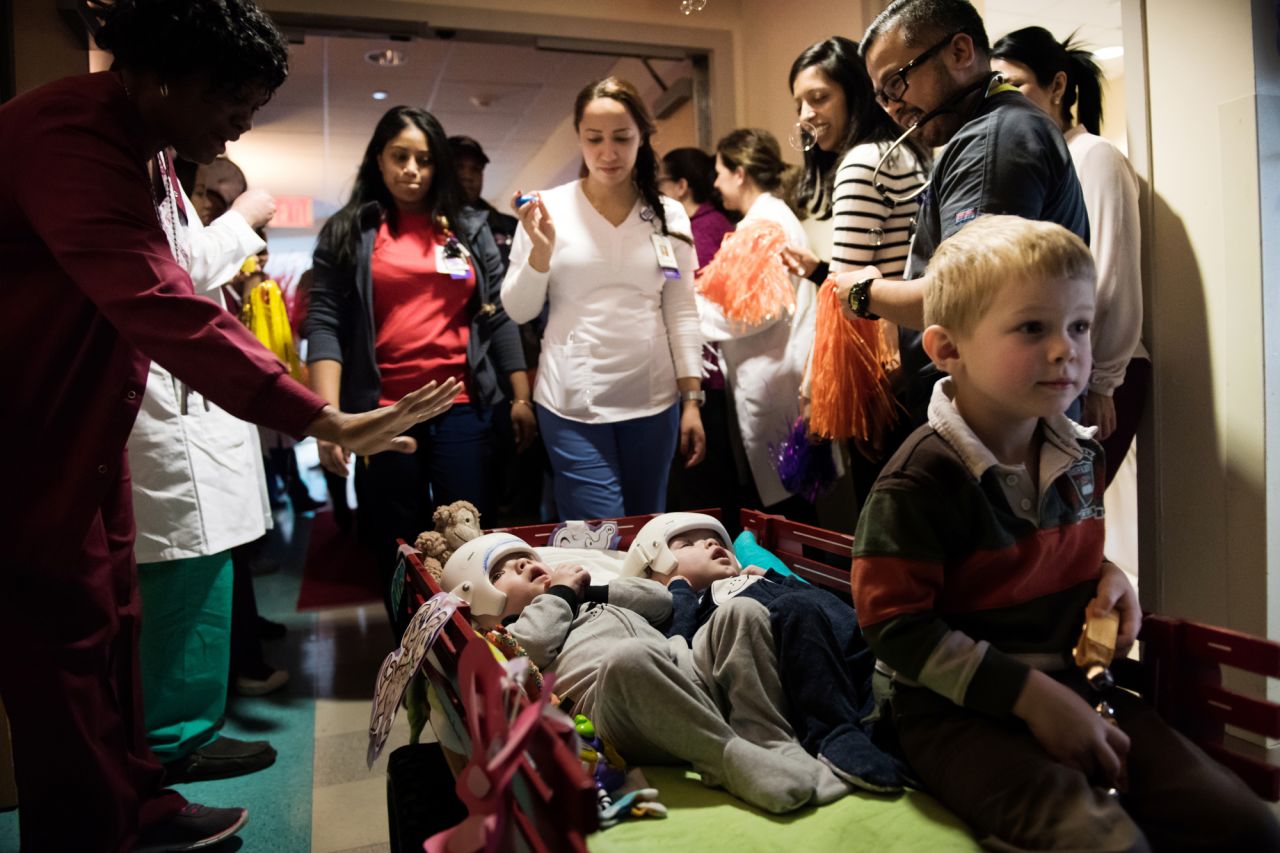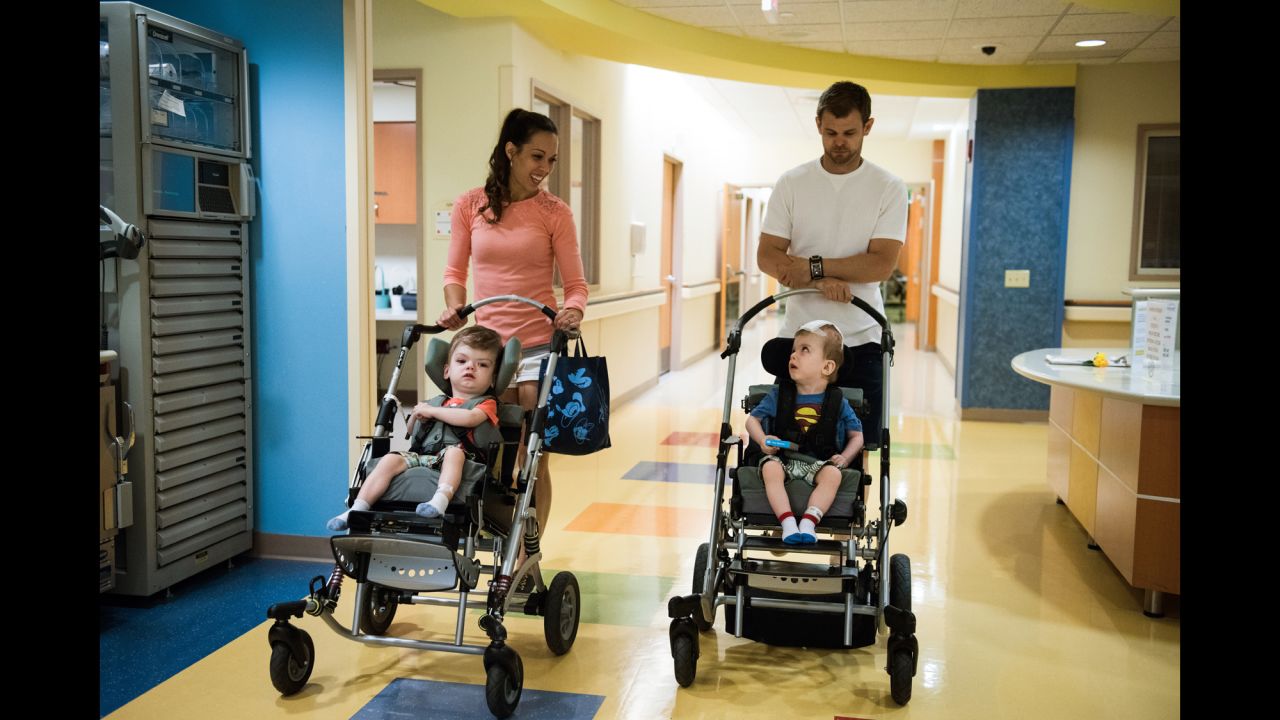 Anias has struggled the most, both before and after the surgery. When they were joined at the head, Jadon was more dominant, his body working overtime to keep Anias alive.
The boys were 13 months old when they were separated. Developmentally, the surgery set them back to infancy. They've had to learn how to use muscles they never knew they had. Jadon has progressed largely on track; like a 9-month-old, he is almost crawling. Anias is beginning to hold his head up, more like a 5-month-old, his mother says.
Anias also has limited mobility on the right side of his body and must be fed via a tube. When he has a cold, his nose becomes so stuffed that he struggles to breathe, waking about every 10 minutes crying. "It's awful," his mother says.
Despite the struggle, Mom and Dad say they have no regrets about going through with the surgery. Studies have shown that 80% of twins joined at the head, called craniopagus twins, die of medical complications by the age of 2 if not separated.
"They'll be able to have a life," says Nicole, sitting on with her husband on a couch in the living room.
That thought flashed through Christian's mind too when he recently visited the boys.
"I was like, 'Oh, man, I'm so glad. It was definitely the right decision,' " Christian says. "I was just looking at Jadon. He's probably going to be a normal little boy. Before, without the surgery, it would have been horrible for him and Anias. Then, I looked at Anias, too. And I was thinking about him. He's going to be a lot better off than he would've been if he hadn't had the surgery."
How do they maintain a semblance of sanity amid the stress?
"Those little smiling faces when you walk in," says Christian. "They smile so big at you, and they get so excited to see you. … It's amazing how happy they are.
"Everything they go through, they're just always smiling and happy. We learn a lot from them."
Excited boys, ecstatic mom
Nicole pops into the boys' room at Blythedale. The two are sitting in high chairs in opposite corners. Their faces immediately light up at her presence, and their arms and legs kick excitedly.
She rushes to Anias first and smothers him in kisses. "Anias, I see you," Nicole shouts.
She admires his onesie adorned with images of a magnet and a baby chicken. "Chick magnet," it reads.
"I love your shirt today," Nicole says.
Across the room, Jadon points to the buckles keeping him locked in his chair, as if to say, "Undo these, please!"
Nicole rushes to see him, unbuckling his strap and lifting him into her arms. She gives him kisses. He responds with kisses of his own. "Thank you for the kisses," she says. "Now your brother is jealous. We've got to go get him."
They join Anias in his section of the room. A physical therapist soon enters and takes Jadon away for a 30-minute session. As he's leaving, he blows his mom a kiss and tells her, "Bye."
This has been their life on the good days: moments of sheer joy and love.
In addition to physical therapy, the boys receive speech and occupational therapy.
Jadon has started doing block puzzles and making animal noises. His expressive language is also about that of a 9-month-old. He rolls across the room, lifts his head and sits up by himself. He learns new tasks fast. He can roll a ball while he's sitting, and he can get up on his hands and knees and rock back and forth.
Anias is still learning what things are. His speech is delayed. He makes sounds like "bah-bah-bah" during speech therapy and is able to say "da-da."
The physical therapist in Nicole has prepared her well. She works with Anias on getting him to stand and track objects with his eyes. Because he struggles with his right side, she places toys on that side to make him work harder. He'll track the toy and then roll, lift his head and stretch ever so gingerly with his right hand.
"He's my slow, steady turtle," Nicole says. "Anias is going to do it all. It's just going to take more time."
Lead neurosurgeon Dr. James Goodrich and lead plastic surgeon Dr. Oren Tepper say they are pleased with how the boys are progressing. The situation is understandably stressful for the parents and the boys, but from a medical standpoint, the twins are doing well.
In the weeks after the surgery, Goodrich's biggest concerns were bleeding, fluid buildup and infection of tissue surrounding the brain.
"We've been able to avoid all of that, which is very gratifying," he says. "In rehab, they're actually starting to develop what infants are supposed to do in the sense of being able to sit, stand, hold their heads, and starting to stand with assistance."
Tepper adds, "I can tell you the trajectory looks very good for both boys right now. (Their infections) have been local with no signs of meningitis, which would be essentially an infection surrounding the brain or something deep. Neither one have had any problems like that."
Both credit Nicole for getting the boys this far – a combination of her effusive love and her years as a physical therapist.
"Nicole's abilities as a parent and skills as a medical professional are really quite unique," says Goodrich. "She has spent every day, pre- and post-surgeries, strengthening Jadon and Anias, in every respect, from physical therapy to wound care management to interaction and play time. She has dedicated herself to helping them thrive."
Her husband says simply, "She is Superwoman."
The real work, she says, will begin when she and Christian can bring their boys home. Jadon's wound dressings have to be changed twice a day. Anias eats via a tube every four to six hours. There will be diapers to change, mouths to feed and constant tasks. In between, she'll have to dedicate time to her 3-year-old, Aza.
Still, she's looking forward to the job.
Her plan is to work with Jadon and Anias on simple tasks, getting them to repeat each one 20 to 30 times so they can thrive. "Every way that I hold them, every way that I sit them, every way that I position them is in thinking with what's going to improve their condition," Nicole says.
She says she can tell Anias will have some delays and is eager to work consistently with him. "I can foresee him walking, and I can see him doing all the things he needs to do to function in a community and in his home environment," she says.
"I just want to get them home so I can practice with them all day long."
Late last week, Nicole and Christian learned that may soon happen. A doctor at Blythedale told them the subject of Jadon and Anias going home was brought up at the medical team's weekly meeting.
"I don't want to scare you with this concept," the doctor said, "but what do you think about moving in this direction?"
Nicole's heart swelled. She says she nearly jumped out of her chair. She's thought about that moment almost all day, every day. The picture is clear in her mind: She and Christian are sitting in their living room, each holding one of the boys, while Aza runs up and hugs them. There's no worry about them being sick or sleeping in a sterile hospital room without their mother.
"It's just bliss," she says.
She's thought of practical things too, like getting them cribs and preparing their room.
"We just want to be a family," Christian says.
The date of their return home has not been set, but the preparation has begun.
It's the start of making their family whole. A new life, together.
CNN's Roni Selig contributed to this report.