Story highlights
The 10,000-ton USS Fitzgerald and the ACX Crystal collided early Saturday
Japanese coast guard revises its crash time estimate to 1:30 a.m.
(CNN) —
Nearly an hour passed before the crew of a container ship reported its collision with a US destroyer, according to the Japanese coast guard, raising more questions about the sequence of events that ultimately led to the death of seven American sailors.
The 10,000-ton USS Fitzgerald and the ACX Crystal, a 29,000-ton container ship flagged in the Philippines, collided early Saturday local time off Japan's Izu Peninsula, officials said. The area sees heavy maritime traffic, with 400 to 500 vessels crossing it daily.
Initially, the Japanese Coast Guard said that the distress call from the ACX Crystal came at 2:25 a.m. on Saturday – five minutes after it crashed into the USS Fitzgerald at 2:20 a.m.
But after interviewing the ACX Crystal's crew, the Japanese coast guard revised its crash time estimate to 1:30 a.m.
Japanese officials say a delay of 50 minutes or more between when the collision occurred and when it was reported would not be unusual for the merchant ship, as the crew could be busy determining damage to the vessel and avoiding other craft in the busy shipping lanes.
The US 7th Fleet is maintaining that the collision occurred at 2:20 a.m. – and both US and Japanese officials have declined to explain why there is a discrepancy regarding timing.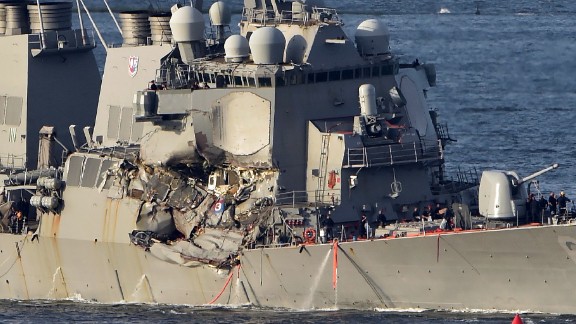 KAZUHIRO NOGI/AFP/Getty Images
Timing will play a critical role in determining exactly how the collision happened, particularly as the shipping data from Marinetraffic.com appears to indicate that the ACX Crystal made a sharp right turn at close to 1:30 am – the time that the Japanese coast guard said the crash occurred.
On Sunday, Vice Adm. Joseph Aucoin, commander of the US 7th Fleet, would not speculate on how the accident occurred, but said there would be multiple investigations into the collision, including one by the Navy's Judge Advocate General and one by the US Coast Guard.
Other investigations could come from the Japanese and Philippine authorities, because of where the accident took place and the Philippine registration of the container ship.
Japanese officials say the investigations are expected to take months, if not years.
The US guided-missile destroyer suffered severe damage to its starboard side, while the container ship sustained light damage. A 7th Fleet statement said the collision caused "significant damage and associated flooding to two berthing spaces, a machinery space, and the radio room."
Searchers found the bodies of the seven missing sailors on Sunday in the ship's flooded berthing compartments.
President Donald Trump took to Twitter on Monday to offer his condolences.
"My heartfelt thoughts and prayers are with the 7 @USNavy sailors of the #USSFitzgerald and their families," Trump tweeted.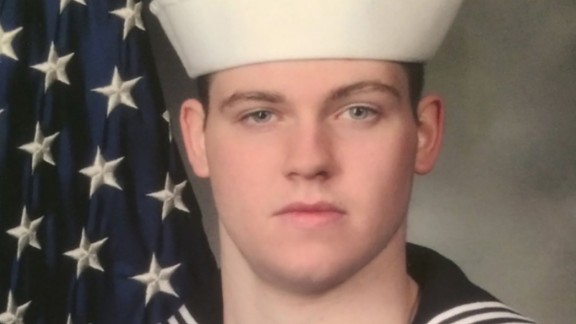 Photos: The seven sailors who died in USS Fitzgerald collision