Story highlights
The seven sailors killed aboard the USS Fitzgerald ranged in age from 19 to 37
"He was the one who made it," said the cousin of one. " And we were so proud of him"
The youngest was 19, a Virginia volunteer firefighter described as a "positive, uplifting guy." The oldest was a 37-year-old from Ohio, just three months short of retirement.
All seven were driven by a mission to serve and a passion for the sea. Many followed their parents into the Navy. It was their calling.
All were killed when their warship, the USS Fitzgerald, collided with a merchant vessel Saturday in the crowded waters off Japan's Izu Peninsula.
Most were asleep when it happened. They were found in the destroyer's flooded berthing compartments.
The Navy released the sailors' names Sunday. Here are their stories.
Shingo Alexander Douglass, 25
Rank: Yeoman 3rd Class
Hometown: Oceanside, California
Douglass, a 2010 graduate of Fallbrook High School north of San Diego, was an avid video game player who followed his dad into the Navy, his father told the San Diego Union-Tribune.
"We're still in sort of a state of shock," said retired US Marine Corps Master Sgt. Stephen Douglass.
Douglass was born at the naval hospital in Okinawa and spent many summers as a boy in Japan, learning to speak fluent Japanese, according to a family statement. He was proud of both his Japanese and military family background, they said.
Douglass enlisted in 2014 and joined the destroyer in early 2015 after entry-level training at Naval Station Great Lakes and in Mississippi, the paper reported.
In a 2015 interview with the Military Press, Douglass said he was proud to be serving his country. His duties included maintaining the outside of the ship by sanding and painting, line handling and raising and lowering the rafts.
"The Navy is allowing me to travel, get a better understanding of how they operate while out at sea," the sailor said.
His family described him as an adventurous young man, who loved to travel.
He was a certified scuba diver and a Black Belt in karate, and played tennis. He was also an avid gamer, studied computer game design and loved to attend Comic Con, they said in a statement.
In a post on Facebook the mother of one of Douglass' friends called him "a very sweet kind boy with a big bright smile that lit up the room."
"Shingo served his Nation proudly, and we are also very proud of him and his service. We loved him very much and his parents and younger brother will miss him more than words can express," his family said in a statement.
Noe Hernandez, 26
Rank: Gunner's Mate 2nd Class
Hometown: Weslaco, Texas
Hernandez' cousin says that pictures the sailor shared of his travels brought them closer, even though they were separated by thousands of miles of ocean.
"We lived through his experiences. His travels," Aly Hernandez-Singer told CNN affiliate KTVT. "We were just proud that our boy was up there."
The cousin said Hernandez died in the collision from a head injury as he slept.
"When they confirmed it, it was like a kick to the chest," she told KTVT.
Noe met his wife Dora, who was in the ROTC, in high school.
"That was his first love… his only love," Hernandez-Singer told the affiliate.
Hernandez also is survived by a young son, Leon. The family's next step is to come together to honor his life and legacy.
"We all came from poverty in Guatemala," says Hernandez-Singer. "He was the one who made it. And we were so proud of him."
Ngoc T Truong Huynh, 25
Rank: Sonar Technician 3rd Class
Hometown: Oakville, Connecticut
Huynh's family moved to Connecticut when he was in eighth grade, his sister Lan Huynh told WVIT.
The siblings graduated from Watertown High School, Lan Huynh said. Her brother, who went by the name "Tan," attended Naugatuck Valley Community College before joining the Navy in 2014.
The family moved to Oklahoma after Huynh enlisted, and that might have led to a delay in notifying them of his death, according to his sister.
"We got a phone call from the Navy personnel in Connecticut. He couldn't find us because he didn't know we had moved to Oklahoma," Lan Huynh told WVIT. She said the family is coping as best they can.
"He was a really quiet person. He was also very nice, very selfless. He helped us, the family with a lot," she told WVIT. "He had the brightest smile."
One friend posted on Facebook how much she cherished her memories of Huynh: "You were such a genuine and kind hearted person and it pains me that you are no longer here."
Xavier Alec Martin, 24
Rank: Personnel Specialist 1st Class
Hometown: Halethorpe, Maryland
When Darrold Martin saw the Navy chaplain at his front door on Sunday – Father's Day – he knew his son was gone.
"It's very hard. He's my only child, he's all I have," Martin told CNN affiliate WJZ of son Alec, who joined the Navy to follow in his father's footsteps.
Martin said he raised his son as a single father for most of the young man's life and that they shared a close bond. They even had matching tattoos.
His son graduated from Lansdowne High School with honors in 2010.
Now Martin is trying to come to grips with his new reality – and encouraging others to appreciate what they have.
"It just occurred to me call everybody … every dad that I knew, and say 'Happy Father's Day," Martin said.
Gary Leo Rehm Jr., 37
Rank: Fire Controlman 1st Class
Hometown: Elyria, Ohio
Rehm Jr., from a suburb west of Cleveland, was just three months shy of retirement from the Navy, friends say.
His wife, Erin Rehm posted to Facebook after his death: "We were obsessed with each other. I'm just so lost right now," she said in response to a friend's comment.
His uncle, Stanley Rehm said he heard from Rehm's father that his nephew made heroic efforts to save his fellow sailors.
"He went back down to where the other ones were at to save them," Stanley Rehm told CNN afiiliate WJW. "The ship was flooding so fast they had to close the hatch to save the ship. They had to sacrifice the few to save the many. Guess he died a hero."
"The world has lost a wonderful person," another family friend posted on Facebook. "I can confidently say that he was one of the best people I had the pleasure of knowing."
Dakota Kyle Rigsby, 19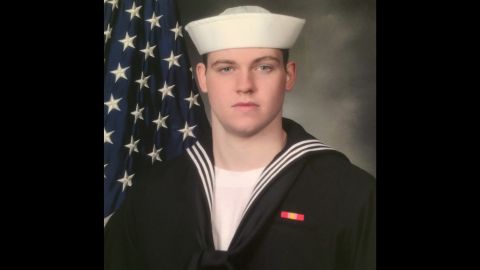 Rank: Gunner's Mate Seaman
Hometown: Palmyra, Virginia
Dakota Kyle Rigsby graduated from Fluvanna County High School in rural central Virginia, where he played football. His friend Ryan Boon told CNN affiliate WVIR that Rigsby was "one of the most positive, uplifting guys I knew in school, no matter what."
Before joining the Navy, Rigsby served as a volunteer in the Lake Monticello Fire Department.
"He grew into what we would consider a good man," Assistant Fire Chief Jean Campbell said at a press conference Sunday, as reported by WVIR. Rigsby's family was originally set to speak at the press conference but were too overwhelmed to do so.
The fire department's flag is flying at half-staff, and the department has changed its Facebook profile image to a portrait of Rigsby.
"It's a tragic loss and he was definitely taken entirely too soon …" Campbell said. "We just know that he is watching over us right now."
Carlos Victor Ganzon Sibayan, 23
Rank: Fire Controlman 2nd Class
Hometown: Chula Vista, California
Carlos Victor Sibayan was always smiling.
"There was never a time that Carlos wasn't making people laugh," Chase Cornils, a fellow cadet in Chaparral High School's Naval Junior Reserve Officer Training Corps, told the San Diego Union-Tribune.
"He always had a cheerful attitude and a smile on his face. When I think of Carlos, I can only remember an extremely happy guy who was willing to help all of his friends."
Sibayan grew up in a military family, as his father served 21 years in the military, his mother told NBC7 in San Diego.
Carmen Sibayan said that while her husband was away, her eldest son became the "dad" of the family.
"In every sense of the word, he is my hero," she told the news station.
Friends said Sibayan was driven to enlist in the Navy as soon as he graduated high school.
One posted on Facebook, in part: "Carlos was such an amazing guy and great friend. He could always bring a smile to your face with his humor and personality. He served our country well."
CNN's Melanie Whitley contributed to this report.