Story highlights
NEW: Andrea Constand's attorney says her client is entitled to a verdict
The judge says he'll try to schedule new trial within 120 days
Norristown, Pennsylvania
CNN
—
The high-profile case accusing Bill Cosby of aggravated indecent assault ended in a mistrial Saturday after a Pennsylvania jury was unable to come to a unanimous decision.
The outcome leaves one of America's most recognized entertainers as well as his accusers without vindication, but prosecutors immediately announced they will retry the case.
About an hour into the sixth day of deliberations, Judge Steven O'Neill declared that the jury of seven men and five women were hopelessly deadlocked in a legal battle closely watched by the public as well as dozens of women who have accused Cosby of similar misconduct in the past.
Courtesy Christine Cornell
"Do not feel like you've let the justice system down," O'Neill told the jurors, who labored for more than 53 hours and asked 12 questions of the court during deliberations.
Addressing Cosby, who appeared stoic and calm at the inconclusive finale of his trial, O'Neill said: "It's not a failure or a victory."
Outside court, Cosby, 79, was silent, but spokesman Andrew Wyatt pumped his fist in air and declared that Cosby's "power is back." A spokeswoman for Cosby's wife, Camille, delivered a statement blasting the prosecution, judge and media:
"How do I describe the district attorney? Heinously and exploitively ambitious. How do I describe the judge? Overtly and arrogantly collaborating with the district attorney. How do I describe the counsels for the accusers? Totally unethical. How do I describe many, but not all, general media? Blatantly vicious entities that continually disseminated intentional omissions of truths for the primary purpose of greedily selling sensationalism at the expense of a human life."
Bill Cosby: A big legacy, forever tarnished
Angela Agrusa, a member of Cosby's legal team, also took aim at the prosecution.
"Juries are stuck when a prosecutor seeks to put someone in prison for things that are simply not presented in the courtroom," she said. "And the jury stuck to what they were asked to do, and that is to review the evidence before them and there simply wasn't enough."
Cosby lawyer Brian McMonagle thanked the jurors and said, "We came here looking for an acquittal but like that Rolling Stones song says, 'You can't always get what you want. But sometimes you get what you need.'"
'It's too early to celebrate'
At a news conference afterward, Montgomery County District Attorney Kevin Steele said prosecutors will "evaluate and review our case" and retry Cosby.
"Our plan is to move this case forward as soon as possible," he said.
He expressed disappointment over the mistrial, praised the "extraordinary sacrifices' of the jury and said one of the "good outcomes" of the trial was that two Cosby accusers "got to face the defendant in court."
Steele said Andrea Constand, the woman who accused Cosby of drugging and assaulting her, would not be speaking to the media. He praised her courage.
Hollywood reacts to Bill Cosby mistrial
"We are just in awe of what she has done," Steele said. The decision to retry Cosby "lies in the fact that she's entitled to a verdict in this case."
The judge said he would try to schedule a new trial within 120 days.
Dolores Troiani, Constand's attorney, said her client consoled other accusers who broke down when the mistrial was announced.
"You know, she is a rock," Troiani said of Constand. "Everyone else was so upset and she's there saying, 'You know this was meant for a reason.' … We did what we came here to do – which was share what had happened to her and hopefully encourage other women to come forward. I think she accomplished that."
Courtesy Christine Cornell
Attorney Gloria Allred, who represents many of Cosby's accusers, said she hopes the court will allow other "prior bad act witnesses" to testify at the next trial.
"We can never underestimate the blinding power of celebrity, but justice will come," she said.
"If the court allows more accusers to testify … it might make a difference. In other words, it's too early to celebrate Mr. Cosby. Round two may be just around the corner."
Gloria Allred: "Round 2 is coming"
Linda Kirkpatrick, one of the accusers who stood with Allred outside the courthouse, said of Cosby, "He thought he could bury us. He didn't know we were seeds. We are sprouting up. We are looking for reform, uncovering the rape culture in this country where victims are blamed and shamed."
In a statement, Cosby accuser Beth Ferrier said, "The day has finally come that now the world can see firsthand why so many survivors of sexual assault, domestic violence and rape wait to report."
Carl Tobias, a law professor at the University of Richmond, said the jury's deadlock was not a surprise.
"When a jury deliberates that long and hard, it often does not convict," Tobias said.
"The fact that the case turned substantially on one person's testimony may have made it difficult to win and the defense counsel made many efforts to undercut her testimony. The retrial happens next, and the prosecution may try to call other accusers."
Cosby faces lawsuits, eyes return to comedy
More questions
In all, jurors have asked 12 questions of the court during deliberations, essentially asking to hear the evidence for a second time. The jury's continued questions leave open the possibility that jurors may remain deadlocked and unable to reach a unanimous verdict on any of the three counts of aggravated indecent assault that Cosby faces.
One of the questions from Friday was: "What is reasonable doubt?"
Prosecutors say Cosby drugged and sexually assaulted Andrea Constand, the former director of operations for Temple University's women's basketball team, at his home near Philadelphia in January 2004. Cosby pleaded not guilty to the charges.
Thursday, jurors told the court they could not come to a unanimous decision beyond a reasonable doubt, which is required in criminal cases.
O'Neill asked the jury to go back into deliberations for another attempt to reach a verdict, an instruction known in Pennsylvania as the Spencer Charge. It's a set of instructions that asks jurors to re-examine their own views and opinions, and there is no limit to how many times a judge can issue it.
If, after further deliberations, jurors still cannot reach consensus, the judge can choose to declare a mistrial. Defense attorneys have repeatedly asked for O'Neill to declare a mistrial based on the jury's length of deliberations, but the judge has denied their request.
A mistrial means Cosby was not found either guilty or not guilty. Still, the conclusion represents a major win for his defense team, which argued the case never should have reached court.
Bailey: Everything about Cosby case is awful
The jury is made up of four white women, six white men, one black woman and one black man. They were bused to Norristown from Allegheny County near Pittsburgh and have been sequestered in a hotel for the trial.
He said, she said
The three charges accuse Cosby of assaulting Constand without her consent, assaulting her when she was unconscious and assaulting her using drugs to substantially impair her ability to consent. If found guilty, he could face up to 10 years in prison for each charge.
Prosecutors called 12 witnesses, including Constand, over a week of testimony but presented almost no forensic evidence. Cosby declined to testify in his own defense, and his attorneys called only one witness. Cosby's defense attorneys argued the sexual contact was consensual and worked to highlight inconsistencies in Constand's testimony on cross-examination.
Legal experts said the trial fits the "he said, she said" arguments that are common in sexual offense cases.
'They're your friends'
Matt Rourke/AP
Constand testified over two days last week for the prosecution. In clear and firm statements, she said Cosby, a powerful Temple alumnus, mentored her and took an interest in her career like a father figure. The comedian, 37 years her elder, twice made what she called "suggestive" passes at her, but she rebuffed him, she said.
But when speaking about her career plans one night at his home, the sweater-wearing actor known as "America's Dad" gave her three blue pills that he said were herbal and would help her relax, she testified.
"Put them down, they're your friends. They'll take the edge off," Cosby told her, she testified. "I said 'I trust you.' I took the pills and I swallowed the pills down."
The Bill Cosby mistrial: How we got here
She began slurring her words and felt dizzy, and told Cosby so, she said. Shortly after, she became incapacitated and felt "frozen," she testified. Cosby then placed her on the couch and sexually assaulted her without her consent, she said.
She woke up on the couch early in the morning with her clothes disheveled, she said.
"I felt really humiliated and I was really confused," she said through tears. "I just wanted to go home."
Cosby lowered and shook his head in the courtroom as she spoke.
Gianna Constand, the accuser's fiercely protective mother, testified that Cosby apologized over the phone to her and her daughter and offered to pay for her schooling. Cosby also declined to tell her what pills he had given Andrea Constand, but he did say they were from a prescription bottle, she testified.
'I was mistaken'
Defense attorneys argued that the sexual contact was part of a consenting relationship between Cosby and Constand. They cast Cosby as an unfaithful husband – but not a criminal.
In a tense cross-examination, defense attorneys pointed out that several of Constand's initial statements to police, including the date of the alleged assault, were later proved to be false.
"I was really nervous and wasn't able to recall every particular moment that I had seen Mr. Cosby in order of dates," she explained.
In addition, Constand initially told police that she had not been alone with Cosby prior to the alleged assault and that they had little contact after. However, she testified that she had been alone in a hotel room with Cosby beforehand, and that there were 72 calls between the two afterward.
She also asked Cosby's representatives for free tickets for her and her family to see Cosby's stand-up show in Toronto in August, half a year after the alleged assault.
But she said the hotel room meeting was not romantic, and explained that she made those phone calls as part of her job responsibility at Temple. She got the show tickets because her family loved Cosby, and she hadn't yet told them about the alleged assault, she said.
Defense attorneys said those were not the actions of a sexual assault victim and suggested she was lying.
"I was mistaken," she said. "It was a lot of confusion putting a lot of dates together."
Jurors did hear Cosby's side of the story – but not in his voice. Prosecutors and police detectives read aloud portions of Cosby's statements to police in 2005 and in a civil deposition in 2006. In those interviews, Cosby admitted to sexual contact with Constand and said they had previously had a romantic encounter.
He also said the pills he gave her were over-the-counter Benadryl, which he admitted can cause sleepiness.
In the civil deposition, Cosby admitted that he had previously obtained prescriptions for Quaaludes, a powerful sedative, with the intention of giving the drugs to women with whom he wanted to have sex.
Prosecutors say his prior use of Quaaludes shows that Cosby had knowledge of what he was doing when he gave her the pills.
How we got here
Photos: Who are Cosby's accusers?
Photos: Who are Cosby's accusers?
Photos: Who are Cosby's accusers?
Photos: Who are Cosby's accusers?
Photos: Who are Cosby's accusers?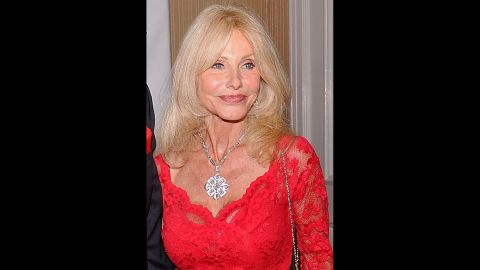 Photos: Who are Cosby's accusers?
Photos: Who are Cosby's accusers?
Photos: Who are Cosby's accusers?
Photos: Who are Cosby's accusers?
Photos: Who are Cosby's accusers?
Photos: Who are Cosby's accusers?
Photos: Who are Cosby's accusers?
Photos: Who are Cosby's accusers?
Photos: Who are Cosby's accusers?
Photos: Who are Cosby's accusers?
Photos: Who are Cosby's accusers?
Photos: Who are Cosby's accusers?
Photos: Who are Cosby's accusers?
Photos: Who are Cosby's accusers?
Photos: Who are Cosby's accusers?
Photos: Who are Cosby's accusers?
Photos: Who are Cosby's accusers?
Photos: Who are Cosby's accusers?
Photos: Who are Cosby's accusers?
Photos: Who are Cosby's accusers?
Photos: Who are Cosby's accusers?
Constand initially told police about the alleged assault in January 2005, a year after she says it took place. The district attorney at the time declined to press charges, citing insufficient evidence. She sued Cosby in a civil suit and settled for an undisclosed amount in 2006.
In late 2014, dozens of women went public with accusations that Cosby drugged and sexually assaulted them over the course of his lengthy comedic career.
In July 2015, a judge unsealed Cosby's deposition in that 2006 civil lawsuit. Cosby's admissions in that deposition led Montgomery County prosecutors to file charges against him.
The trial started June 5. Cosby, who is legally blind and carries a cane, has arrived in court each day with someone from the world of entertainment. Keshia Knight Pulliam, who played Rudy Huxtable on "The Cosby Show," escorted Cosby into court on the first day of the trial.
His wife, Camille, walked into court with him Monday, her first appearance at the trial.
CNN's Lawrence Crook III reported from Norristown, Pennsylvania, and Ray Sanchez and Eric Levenson reported and wrote from New York. CNN's Jean Casarez, Steve Forrest, Laura Diaz-Zuniga, Evan Simko-Bednarski and Chris Welch contributed to this report.