The only smiles around the blackened husk of Grenfell Tower are on the faces of the missing.
Their pictures are everywhere, taped to walls or clothes, each with a name and a desperate plea for information.
Children, their parents, young people, old people, different ethnicities – the posters reflect the diverse community that calls this part of west London home.
But as they smile from their photos, the other people gathering at the Latymer Christian Centre to see the makeshift memorials have tissues in their hands, their swollen eyes hidden behind large dark sunglasses.
Here, flowers and candles line the foot of the walls. Well-wishers from the close-knit community have written heartfelt messages to place with their offerings. And above are so many of those posters.
CNN was turned away by several families as we tried to approach them to ask about their missing relatives. Always politely declining, the raw emotion of the situation etched on their faces. One young man gently waving us back, saying, "I'm sorry, it's too soon. The time isn't right."
Since the early hours on Wednesday, rescuers have precariously scoured the remains of the burned-out tower knowing that they aren't likely to find survivors any more. Now they search for the dead.
On Friday afternoon, firefighters donning florescent orange bodysuits could be seen bravely clambering from the rooftop inside to the top floor in search of victims.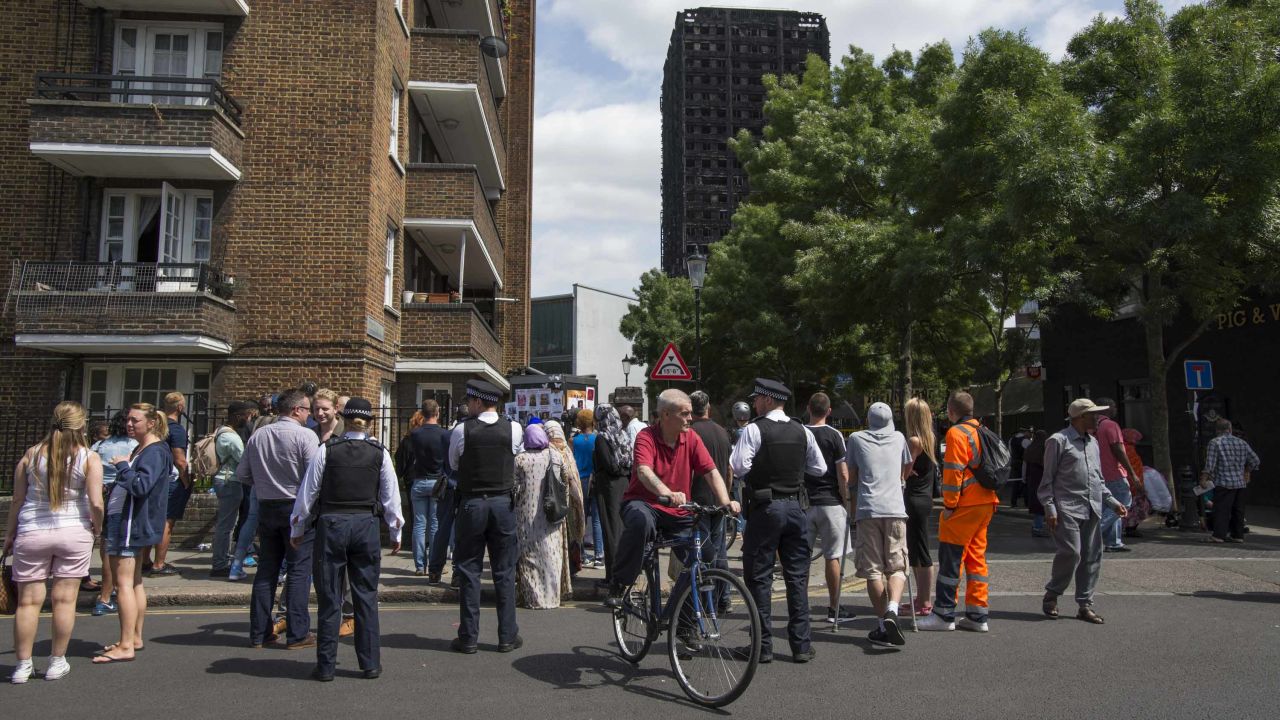 Knowing that people are missing and that others are risking their safety to try to recover them, puts the suffering of survivors into a grim perspective.
"We've been out of our flats, staying with friends since Tuesday – no clothes, no money. But people are still missing and we fear for them," Nesrine Achiou, a mother of four who lives in the community tells CNN. "One of them is the teaching assistant of my son who goes to nursery, Nadia. He loves her so much."
She's talking of 33-year-old Nadia Choucair who works at the nearby Avondale Park Primary School. She had been at home with her mother Sirra, her husband Bassem and their three children on the 22nd floor when the fire broke out. The family haven't been heard from since.
Related: London fire victim was on phone to parents when she died
In the absence of word from authorities, Choucair's sister Sawsan has plastered the streets and shops nearby with posters of her six missing family members. The gutted building still stands in the background like a dark stain against a brilliantly sunny summer's day. An ever-present and brutal reminder her family are still missing.
"I feel really angry inside. I can't do anything. I'm just looking at that building, I'm like, God help these people," Sawsan tells CNN. "I'm just hoping they are in hospital, they've made it through the stairway, got out. Everyone not just my family … every single person in there. I'm praying for them."
But others in this part of the Kensington community – like Achiou, the mom of the young boy in Nadia Choucair's class – are less certain.
She says: "I've lost any hope because we've seen the scene: how they ordered them to stay in their flats, how they stopped people from going in to help. How can anyone escape that fire? I don't believe it.
"I saw people knocking on windows. Stuck with no help. Nothing."
Dozens are already known to have died, and officials have said they expect that death toll to rise.
Achiou says the surrounding community all know one another and laments the local council as unresponsive to their needs.
"They don't respond when we need maintenance," she explains. "They don't want to spend any money. This area is one of the poorest areas of the borough. If it was Notting Hill or Holland Park, then maybe this would have been prevented, but not us."
The impact of the fire has been felt across the public housing estate that has the tower as its center.
It was just after 1 a.m. on Wednesday when Emma Spinola stood in her nightgown, her eyes transfixed on the 24-story high-rise as flames licked the outside of the building. Within 30 minutes, it had been completely engulfed in a hellish inferno.
Just moments before, she and her husband Liniker had scooped their two young children from their beds – leaving all their worldly possessions and the pets behind – and fled their home in one of the blocks below the tower to safety.
They'd been evacuated as a precaution. Fire trucks and police had arrived on scene and there were fears the fire could spread to surrounding buildings on the estate.
As the hours passed, the crowd watched helplessly as smoke billowed from the building and some of its residents stumbled out. Like so many others there, Spinola wanted to rush forward and help but emergency services held them back.
"I was born on the estate, I've always lived there. And that's the only place I see as being home. I've lost friends in that fire – it's just unbelievable," Spinola says standing in a borrowed dress outside a donations shelter.
"And why tell them to stay inside? That door is not going to hold a fire forever. It may work for half an hour but longer? That's not possible. And that's why we're all upset because as as a community we wanted to help," she says, suddenly incensed.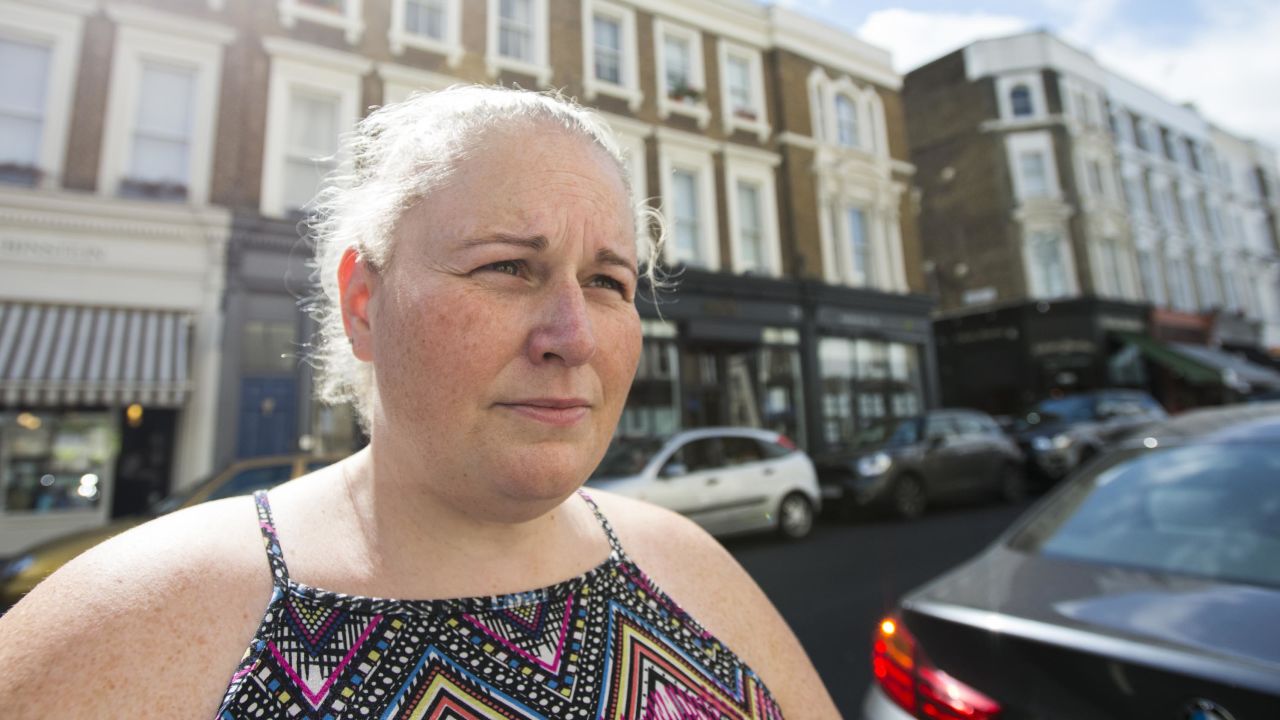 Related: Harrowing tale of brothers separated in fire
Spinola looks tired but determined. She says she hasn't slept since the fire and has come to Notting Hill Community Church – one of the community centers that flung its doors open to help the dispossessed – to "beg" for nappies and baby food. Like others, she hasn't been allowed back home and doesn't know when that will happen.
An outpouring of public generosity has seen mountains of donations come from near and far. But the Royal Borough of Kensington & Chelsea council, the management organization that oversees the estate and the UK government have fielded fierce criticism in recent days over its handling of the disaster.
"We haven't been able to get home since. We haven't seen anyone from the estate since this happened. The council didn't take any contact details, nothing. To be honest, I don't think they really care," Spinola wearily says as she half-heartedly swats some loose hair from her eyes.
It's a feeling held by many residents of the Grenfell estate in the wake of the disaster.
The neighborhood has now been pushed behind a police cordon, where charred debris and trash is visible in the deserted streets behind the tape.
Many stood in clusters in the Friday afternoon sun along Bramley Road, angrily questioning how authorities could have allowed this to happen.
Related: Is Grenfell Tower Britain's Katrina?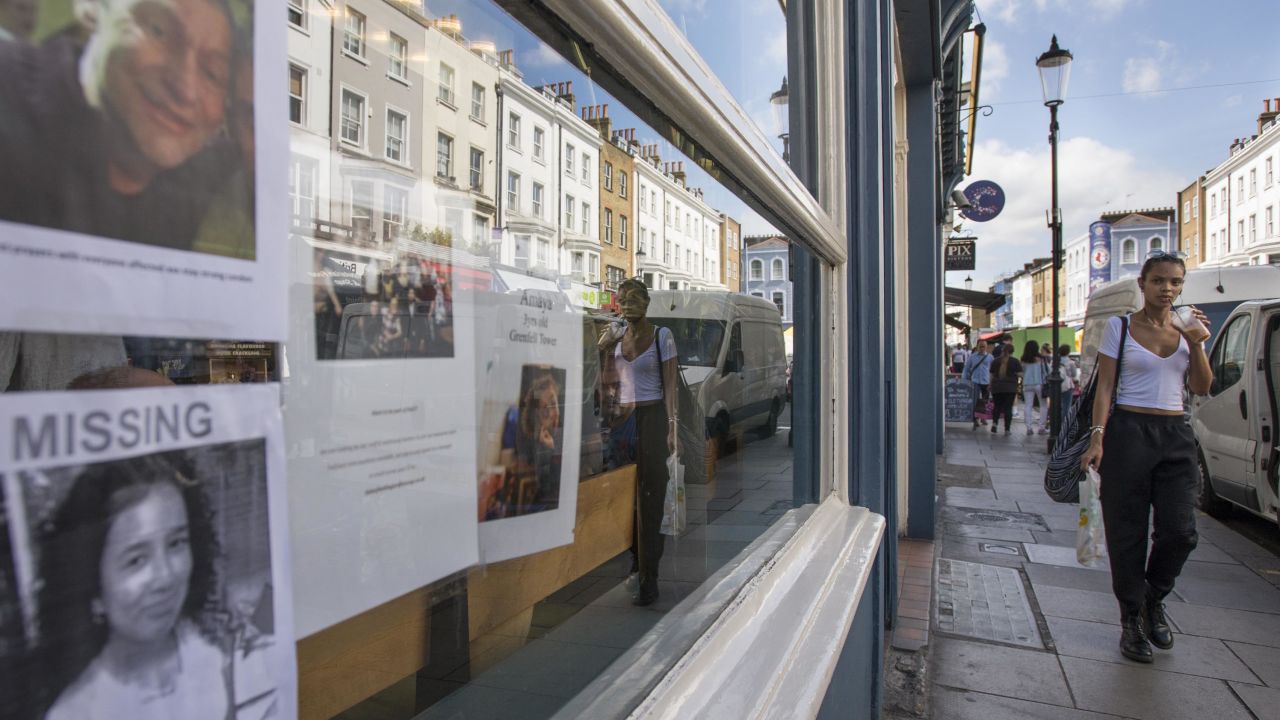 In the days since the fire, the central complaints from residents have been that social housing in London's richest borough has been inadequate for years and that the recent redevelopment around the Grenfell estate was to placate the rich who reside in the leafy streets nearby.
Grenfell Tower is just a couple streets away from row upon row of grand Victorian houses and candy-colored terraces in the gentrified and highly sought-after Notting Hill and Holland Park residential areas.
Several high-profile politicians including former Prime Minister David Cameron and Environment Secretary Michael Gove are believed to own houses in the vicinity.
And while it may be the same borough, for many, it might as well be different worlds.
"I've never been anywhere where the divide, the disparity between rich and poor is so pronounced," says Danny Vance, the 30-year-old associate pastor coordinating community donation efforts at the church. "You are literally a street's distance from million-pound mansions and social housing."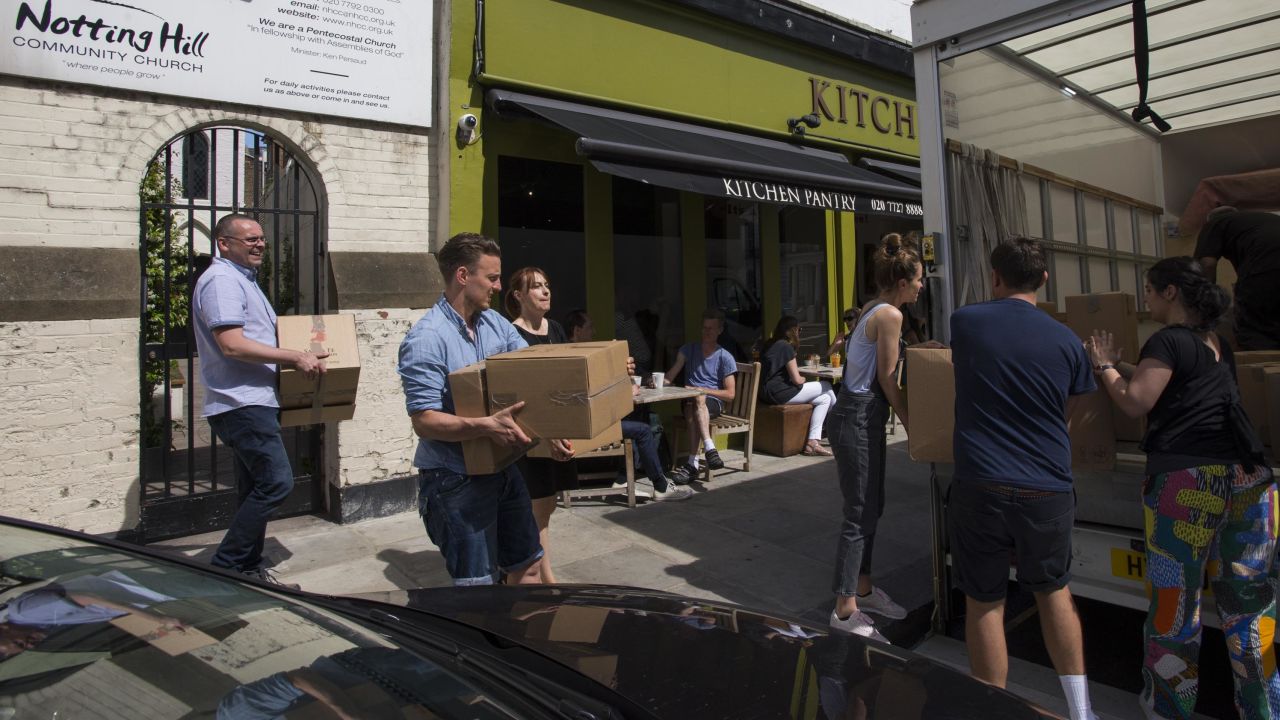 At several of the donation centers, CNN saw few signs of council involvement. Vance said that all the work at the church was thanks to volunteers from all across London and until today, he'd heard little from the council.
Residents and Londoners are so furious and dissatisfied by how the disaster has been handled that they descended on the local town hall on Friday afternoon chanting, "We want justice."
Holding fliers, placards and wearing T-shirts with images of missing people, protesters climbed the building's front steps and shoved their way in.
Across town, a second protest flared up in central London, bringing popular shopping destination Oxford Circus to a standstill as demonstrators staged a sit-in during the city's rush hour.
Back in Kensington, Vance continues to shepherd boxes to a council van as we talk.
"I think there has been this myth in society for probably the last 10 years that if you are poor, you are there because you are not working hard enough, you are there because you are trying to rip off the state… and now they are being called sponges and skivs and benefit dodgers when the people that we really know are dodging taxes are the rich. That's what we all feel like."
He continues: "Something has to change – in this country, in this city. They cannot keep doing what they are doing to the poor."
And with the truck loaded, he turns to thank the volunteers for their efforts and despite looking exhausted, smiles as he reveals his thoughts are starting to turn to Sunday's sermon.
"Jesus doesn't care if you are rich, doesn't care if you are poor but he stands with those who are broken and that's what our church is about," Vance says as he cradles his son in his arms.
"It needs to be something that's encouraging and hopeful but there will be anger about what's happened because this cannot happen again."
CNN's Erin McLaughlin, Barbara Arvanitidis and Chris Jackson contributed to this report.